The Tempest
William Shakespeare
Stafford Festival Shakespeare
Stafford Castle
–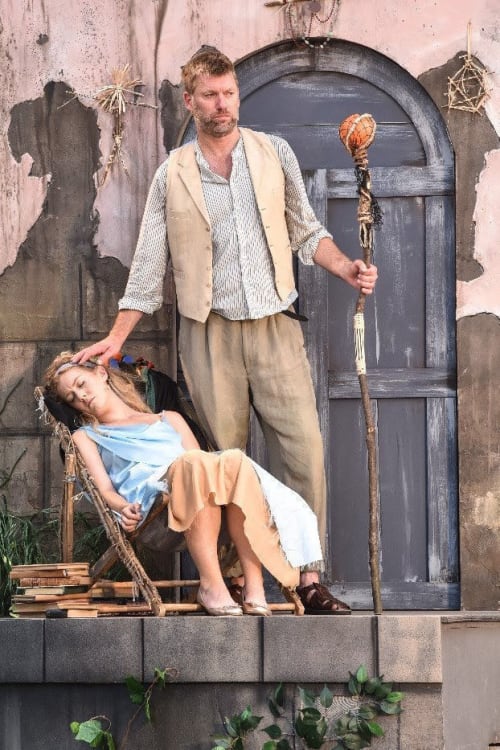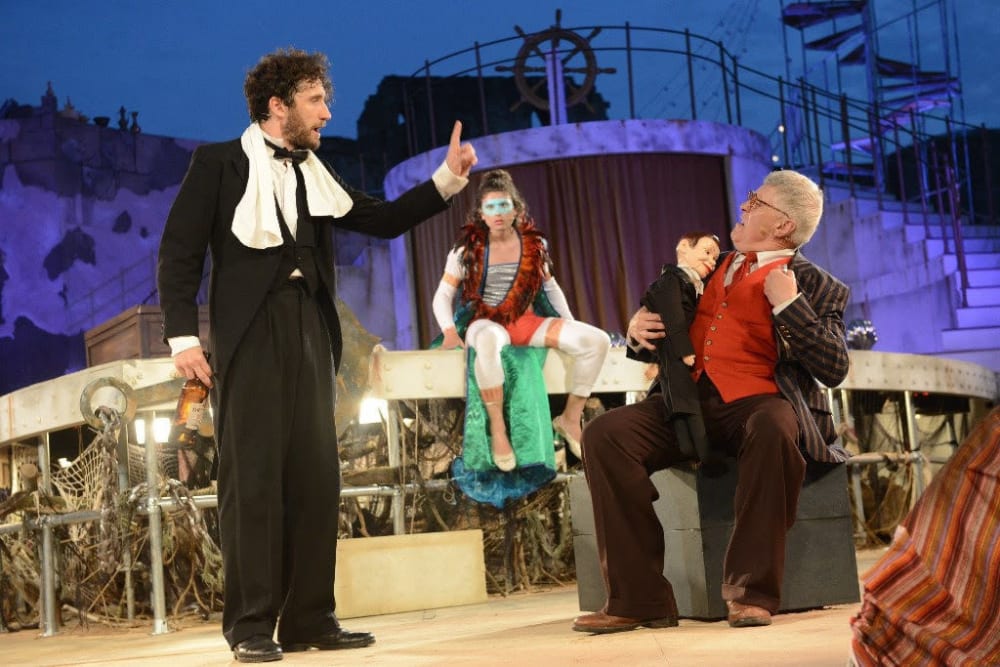 It's 1924. Prospero is shipwrecked with his young daughter. He pulls out a pistol and shoots. Cut to New Year's Eve 1936. Passengers on a cruise liner groan as a ventriloquist delivers a number of dreadful jokes. A singer bursts into a rendition of "It Don't Mean a Thing if it Ain't Got That Swing" as two tap dancers take to the stage.
For 12 minutes, it's obvious that this is a version of The Tempest like no other. Purists will undoubtedly baulk at the liberties taken by director Clare Prenton. But it's one of the reasons why Stafford Festival Shakespeare has a broad appeal and often attracts people attending their first play.
Prenton opts for a post-colonial take on Shakespeare's late romance. The production is set on an Italian-occupied island off the coast of Somalia against a backdrop of luxury liners and Hollywood glamour.
This allows Prenton to look at Caliban as an ordinary Somalian. This is the main drawback with the interpretation because Zephryn Taitte's appearance doesn't sit well with the repeated references to him as a monster.
Some of Prenton's detailed touches may also be over the heads of the audience which is a pity. Once you accept that Prospero is younger and Ferdinand older than they are usually portrayed and lords have become ladies, this version of The Tempest has a lot to commend it.
After the opening sequence, the ship carrying the king and his courtiers is wrecked in spectacular fashion, although the sound effects are too loud and drown out Gonzalo's reassuring words.
Stephen Beckett who plays Prospero admits in a trailer for the show that he didn't know the play before he was cast. This means he approached the role with no preconceived ideas. Beckett, known for playing PC Mike Jarvis in the television series The Bill, gives an arresting performance. He grows into the role, being totally convincing by the time he gets to the line "the rarer action is in virtue than vengeance" as he forgives those who have wronged him.
With tuition from magicians Morgan and West—who are hardly credited in the programme—Beckett performs a couple of clever illusions, at one point making a bottle of wine disappear.
James Hornsby (Trinculo), Jonathan Charles (Stephano) and Taitte have more conventional ways of making wine disappear. Their scene in which all three are drunk and Caliban decides to make Stephano his new master is hilarious and expertly played.
Gavin Swift gives Ariel an earthy quality. He is a mature spirit whose imprisonment by the witch Sycorax made him a reluctant servant—but his love for Prospero emerges gradually.
Grace Carter shows us a feisty Miranda who is bewildered yet elated with the brave new world she experiences while Reece Richardson gives Ferdinand the stately bearing of a future king despite having to carry out menial tasks.
James Lawrence and Morgan Philpott catch the eye as the scheming Sebastian and Antonio. There is also an excellent portrayal by Richard Gibson of wise old counsellor Gonzalo.
This version of The Tempest may cause a storm of protest among those who prefer their Shakespeare in a traditional form. But Prenton's insightful direction and Frances Collier's delightfully atmospheric set ensure it takes audiences on a memorable journey.
Reviewer: Steve Orme