The Tempest
Peter Wood
Theatre Royal Bath
–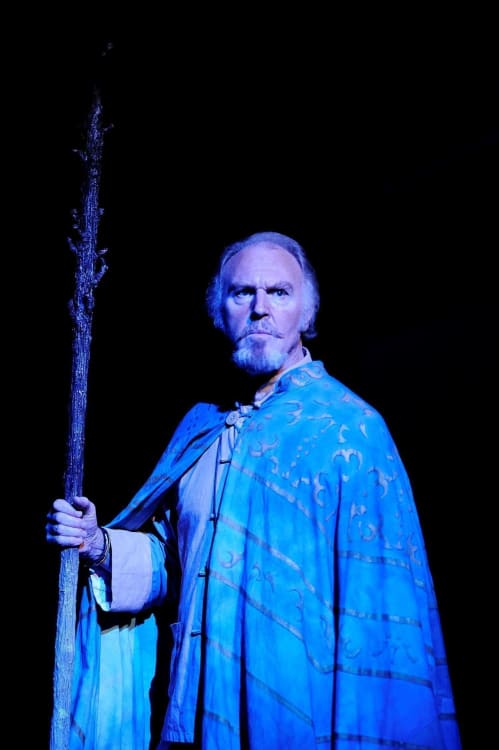 When it opened Stateside last year, Adrian Noble's production of The Tempest went down a storm. Newly re-cast with English actors, it blew into the Theatre Royal Bath for its only performances in this country, which is a pity since it is an admirably clear staging, very well-acted with much to commend it.
Like, apparently, Trevor Nunn's revival before it last year in London's West End, Noble opts for entertainment first and foremost rather than a more searching exploration of some of the darker themes of the play. This isle is indeed full of sounds and sweet airs with plenty of song, puppetry and dance.
A technical hitch with a length of blue cloth that serves variously as a sail and the sea forced the re-start of the play 10 minutes in on the night I saw it, but that was the only hiccup in an otherwise flawless evening.
The staging is uncluttered: bare boards flanked by two platforms resembling the sides of a ship, up and down which spirits, dressed somewhat bizarrely as hospital orderlies, flit.
After a somewhat distracting opening—the spirits conjure up gale-force winds by flapping the coats of the cast—and a lengthy exposition by Prospero to Miranda on how they came to be on the island, the production quickly gathers pace and power. Tim Piggott-Smith, who recently enjoyed acclaim as King Lear at the West Yorkshire Playhouse, is on fine form as the exiled magus.
Heavily bearded and wearing cut-off trousers and a blue cloak decorated with cabbalistic signs, Piggott-Smith delivers the lines with supreme authority. His Prospero is full of paternal affection but not unduly rancorous or vengeful.
Mercifully, we are spared yet another seemingly now obligatory reading of the play as an attack on imperialism. Ariel (Mark Meadows), here a cross between one half of Jedward and Visage's Steve Strange, is perhaps a little fey for some tastes while Caliban (a vigorous Matt Ryan) is only somewhat bestial. Best of all, Piggott-Smith aside, are Geoffrey Freshwater's drunken Stephano and Mark Hadfield's Trinculo who make fine fists of roles that all too often deliver unrewarding comic business.
Also commendable are the reliably excellent Philip Voss as Gonzalo and Michael Mears as Antonio while Mark Quartley is an ardent Ferdinand.
Though perhaps a touch sweet for some palates and, like Nunn's work these days, heavily orchestrated, this is a fine, well-spoken production, no small thing these days.
As Oscar Wilde remarked of the cigar, for him the perfect pleasure, "It is exquisite and leaves one unsatisfied. What more can one ask?"
Reviewer: Pete Wood