The Tenant of Wildfell Hall
Deborah McAndrew, based on the novel by Anne Brontë
York Theatre Royal and Octagon Theatre Bolton
York Theatre Royal
–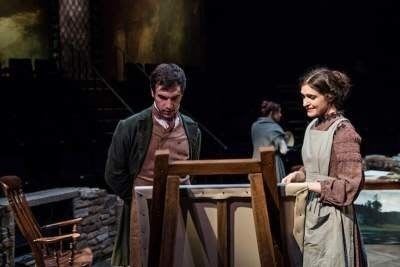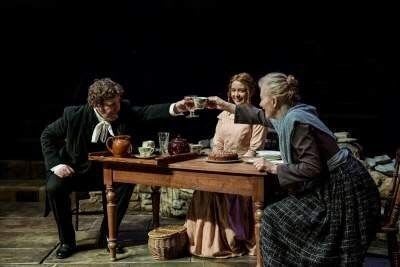 The Tenant of Wildfell Hall caused a sensation when it was first published in 1848, but today it is not as widely read as either Jane Eyre (1847) or Wuthering Heights (1847). Whereas these two novels have entered the public imagination, inspiring numerous films, TV programmes and stage productions, Tenant remains sadly underappreciated.
One possible explanation for this neglect is the fact that Anne Brontë's second novel lacks the romanticism of her sisters' more famous works, offering readers a tough-minded narrative that grapples with alcoholism and domestic abuse in a surprisingly unflinching way. Perhaps if Anne had created a Byronic figure of her own—her very own Rochester/Heathcliff—then Tenant would be more popular. No matter: the novel is superb and deserves to be revisited.
When a young widow, Helen Graham (Phoebe Pryce), takes up residence in Wildfell Hall with her young son, she becomes the subject of gossip amongst the local residents of Linden-Car village. Who is she? Why does she live in seclusion? Why is she so strict with her son?
Gilbert Markham (Michael Peavoy), local farmer and eligible bachelor, is initially wary of Helen, but soon finds himself drawn to her lively intelligence and reserved beauty. When vicious rumours begin to circulate about her sexual propriety, Gilbert refuses to believe them at first, but later begins to suspect that the landlord of Wildfell Hall, Mr Lawrence (Philip Starnier), is the real father of Helen's son.
In a bid to clear her name, Helen allows Gilbert to read her diary, which reveals that she has moved to Wildfell Hall in order to escape her appalling husband, Arthur Huntingdon (Marc Small)—an unrepentant adulterer and wife-beater with an all-consuming addiction to alcohol. Brontë enthusiasts will appreciate the similarities between Huntingdon and Anne's unfortunate brother, Bramwell, whose dissolute life meant that he never fulfilled his artistic promise.
Deborah McAndrew is fast becoming one of the UK's most respected stage adapters. Her recent version of Edmond Rostand's Cyrano de Bergerac (1897) for Northern Broadsides was a delight. Although Tenant doesn't scale the heights of that particular production, McAndrew does a solid job of condensing the plot of Brontë's novel into an engaging two-and-a-half-hour stage play.
Due to the need for narrative compression, the second half of the play lacks the nuance of Brontë's novel. Phoebe Pryce excels in the first half as the mysterious new tenant whose views clash with the local villagers, but once her secret is revealed she ceases to be a complex human being and becomes a dreary paragon of female virtue.
The truncated second half also means that Marc Small is given little to do as Helen's abusive husband. In the early scenes, he does an excellent job of conveying the character's hollow charms, but once he reveals his true colours he ends up being stuck in out-and-out bastard mode for the rest of the production. If he had a moustache, he would probably twirl it.
The rest of the cast give vivid performances, although some of the characters are somewhat two-dimensional. Overall, I thought Michael Peavoy stole the show as the play's romantic hero, powerfully conveying Gilbert's emotional and spiritual development over the course of the play. The simmering romance between Pryce and Peavoy is well-handled and delivers some of the evening's most pleasing moments.
Amanda Stoodley's simple set design, with its dry-stone walls and roaring fire, skilfully evokes the novel's countryside setting, and Johanna Town's lighting is subtle and unintrusive. I admired certain aspects of Ben Occhipinti's sound design, particularly the howling winds, but I found the cello music used to bridge scenes rather overemphatic.
Director Elizabeth Newman's production is slick and sure-footed if rather conventional. Although I enjoyed the experience overall, I couldn't help but wonder how Brontë's novel might have been opened up in new and interesting ways had a less orthodox approach been adopted.
Reviewer: James Ballands