The Terminal Velocity of Snowflakes
Nina Berry
Live Theatre Company
Live Theatre
–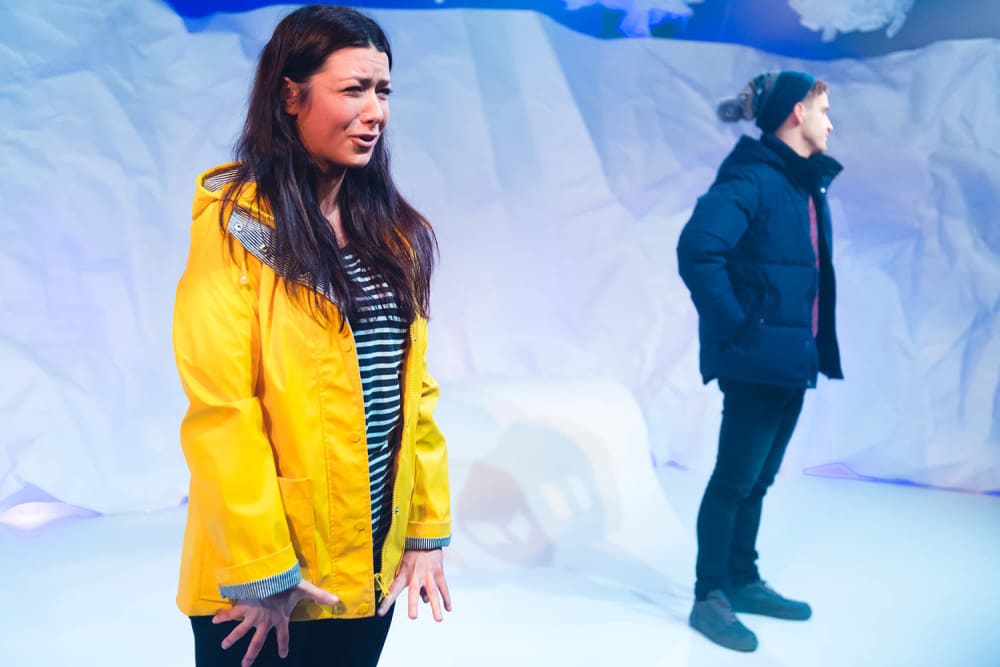 Nina Berry's smash hit debut play is almost a season ticket holder at Live Theatre. It was premièred last year, returned in a 20-minute version and is now back at its full length (70 minutes without an interval) upstairs in the studio.
You can see the attraction. In many ways, this is an old-fashioned love story tracking two people through the years. We first encounter Rosie (Heather Carroll) and Charlie (Daniel Watson) aged seven and nine, then jump forward seven years when they meet again, another five year leap, another accidental meeting. Yet barely a line of dialogue is actually exchanged between the two.
We, the audience, are taken into their confidence as they paraphrase their speech, reveal to us their feelings and instincts about each other, their fears and insecurities in life generally, building a picture of the worlds they inhabit. The technique makes them specially vulnerable (and appealing) as they move round one another (symbolically and physically as director Graeme Thompson keeps everything nicely animated).
At one stage, they are both in their 80s. Yet the longer the play proceeds, the less certain are we, the audience, that what we are witnessing took place or is merely one of various possibilities of what might have happened.
Humans, the play suggests, are like snowflakes which change almost beyond recognition during their descent, with infinite possibilities as to their eventual shape. Luke W Robson's brilliant white set is all giant snowflakes and banked snow through which Nick Rogerson's lights occasionally flash and shine like diamonds.
Sometimes, the couple are in the same city (Newcastle), sometimes apart with Rosie as a student in London, as they both wrestle with life—families, sex, drink, work, relationships. They can seem terribly lonely yet inextricably linked, ecstatic, then despairing. They are utterly normal and unique, they are part of us, trying to make sense of the world and one another.
I'd say the play was a powerful piece of existentialism if I was sure what that meant. There are times it becomes over-entangled with its ponderings on the likes of relativity and quantum mechanics and I didn't always followed its metaphysical logic (I'm not sure I know what that means either). I think it could lose a few minutes—for instance, the time when it hi-speeds forwards and backwards through the years of different possibilities—this proved distracting and never dwelling long enough to convince. We always see this couple as young.
But at its core, it evokes powerful human emotion and builds an empathy with its audience, several of whom took to their hankies, not in the way of an exploitative Hollywood weepie but because the writing, the terrific performances and the sensitive direction convince us it is real.
Neat title too. One question though. Several times the point is made that no two snowflakes are ever identical. How could anyone possibly know?
Reviewer: Peter Mortimer