The Things I Never Told You
Tim Honnef
Tim Honnef (Jonas Müller)
Assembly Rooms
–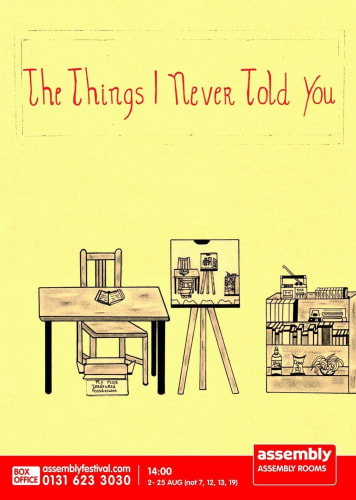 Tim Honnef has graced the Fringe stages more than once, at times in the guise of his alter-ego Jonas Müller and at others as himself, or a version of himself perhaps. In each case, the staging is simple, consisting of a sparse clutter of objects and the man himself. In this case, the staging is doubly apt, as the performance directly relates to those things we posses, both within and outwith.
The conceit of the play is that Honnef has come by a box of items left to him by a man who lived on his street, something that meant a lot to him, particularly as a bad reaction to medication left him mentally unwell. Or is that the conceit? It's hard to say, as the entire performance is laced with moments where he admits to having lied during the performance. Honnef's previous Fringe shows have even been a tiptoed meander through the realms of almost surreal testing of where the line between reality and fiction lies.
If taken at his word, and accepted wholesale, then The Things I Never Told You is a touching and quirky peering into illness, obsession and the desperate struggle to find meaning and survival through art. If not, then it's a magical journey through the mind of one of the most fascinating experimental theatrical minds at the Fringe. Either way, it's an enriching journey, well worth taking.
Reviewer: Graeme Strachan