The Thread
Artistic direction and choreography by Russell Maliphant, music by Vangelis
Lavris Productions, Athens
Sadler's Wells Digital Stage
–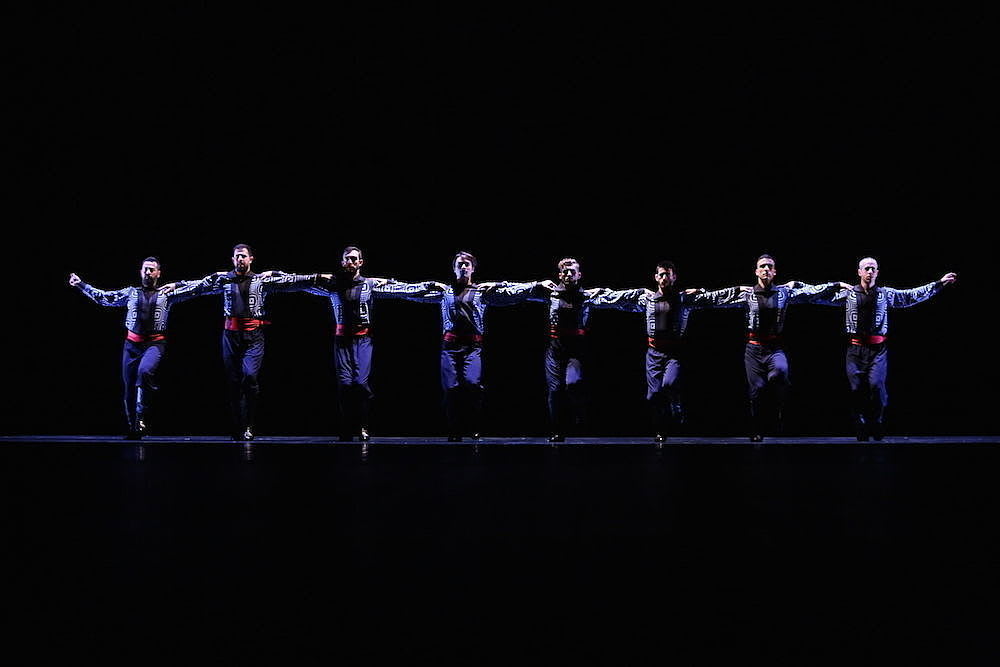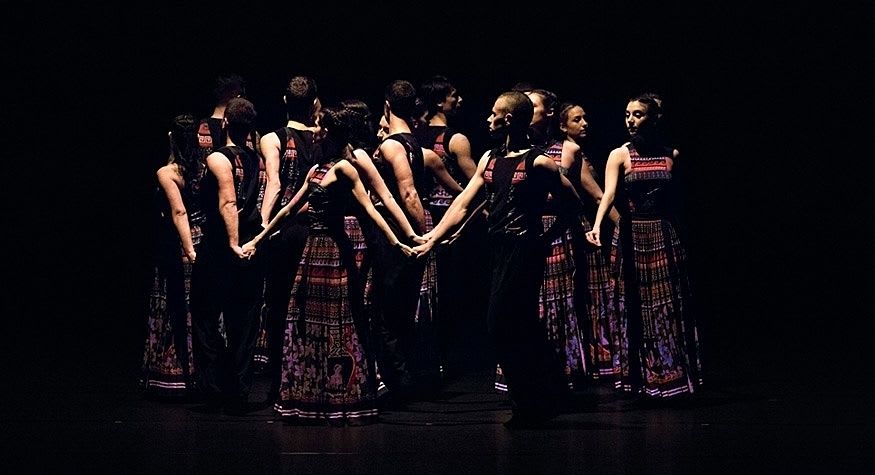 This weekend is Greek Easter so this recording, that premièred at Sadler's Wells in spring 2019 and is now made available as part of Sadler's Wells Digital Stage, makes an appropriate Easter gift. It was commissioned from Russell Maliphant and Vangelis by the Athens-based company Lavris, whose producer, Georgia Illiopoulou, suggested a work inspired by traditional Greek dance.
The result is a dance work performed by a company made up of twelve contemporary dancers and six trained in folk dance that alternates and blends styles to music by Vangelis that is a far cry from the folk songs to which purist traditionalists would dance them.
The Thread takes the form of a dozen separate sections usually divided by a lighting fade that seem to stretch back in time as they are danced to the thrumming sounds of Vangelis's hypnotic music. It begins with two concentric circles that, seen from above, seem to open like a flower in a ritual that calls up thoughts of Rite of Spring before they take on the form of village circle dance and then divide before forming into a long line that snakes around the stage before being led offstage in smooth, almost stately procession then returning, reforming circles and making new patterns before the lights fade.
Already, though the rhythm has seemed regular, they have moved through the handholds, the head turns and the steps of a number of different dances and this sets the pattern of what follows, though sometimes, as with a foot-stamping Cretan dance, a dance remains as you might see it at a village panagiri.
As light seeps back, it defines a clear area in one of Maliphant's signature effects with lighting designer Michael Hulls, where dancers in a looser style turn, fold backwards, spin crouching and bounce up, as the light creates new areas of action, eventually linking them in a gyrating line.
The move from traditional forms to contemporary choreography has a strange sense of continuity, helped by the music and fashion designer Mary Katrantzou's costumes which, rather than the nineteenth-century folklorique of village history, seem to reach back much further to patterns and shapes that might be Minoan.
That snake-like line is one thread and the costumes bring up memories of Ariadne, the tightening and unravelling circle of the labyrinth and the thread that she gave to Theseus. There's a thread in the way that traditional dance connects here with the new choreography.
Succeeding sections include a romantic, slow pas de deux to a gently throbbing drum beat, bold male solos, entwined trios but there is a sense of continuity rather than contrast. There is a rich musical texture that mixes traditional instruments (did I hear a lyra and a tsambouna?) with what may be electronic elements.
As the dances draw their steps from across Greece—Crete and the islands, the mainland and the Pontic (though a much less strict version than those shaking, stamping lines that were seen at the closing of the Athens Olympics)—they form another thread, the connection between dancers and between dances.
Lines of dancers in traditional dances are like the repetitious patterns on some ancient vases, Maliphant's controlled placing like classical friezes, but this is new choreography that holds the attention for an hour and a quarter, the folk dance forms ones still danced in village squares today and by Greeks across the world diaspora.
It is easy to applaud the bravura displays of male lead dancers and the more vigorous numbers as the audience did at this recording but the video presentation makes you notice the intricacy of steps and the changes of patterns to match musical rhythms below long skirts that don't so easily register in the theatre.
The Thread doesn't have a narrative but it reaches into origins of dance and unites them with today in dances that bind people together, express feeling and give joy, what Greeks would call Kefi.
Reviewer: Howard Loxton