The Three Musketeers: A Boutique Panto
John Savournin
Charles Court Opera
Rosemary Branch Theatre, London
–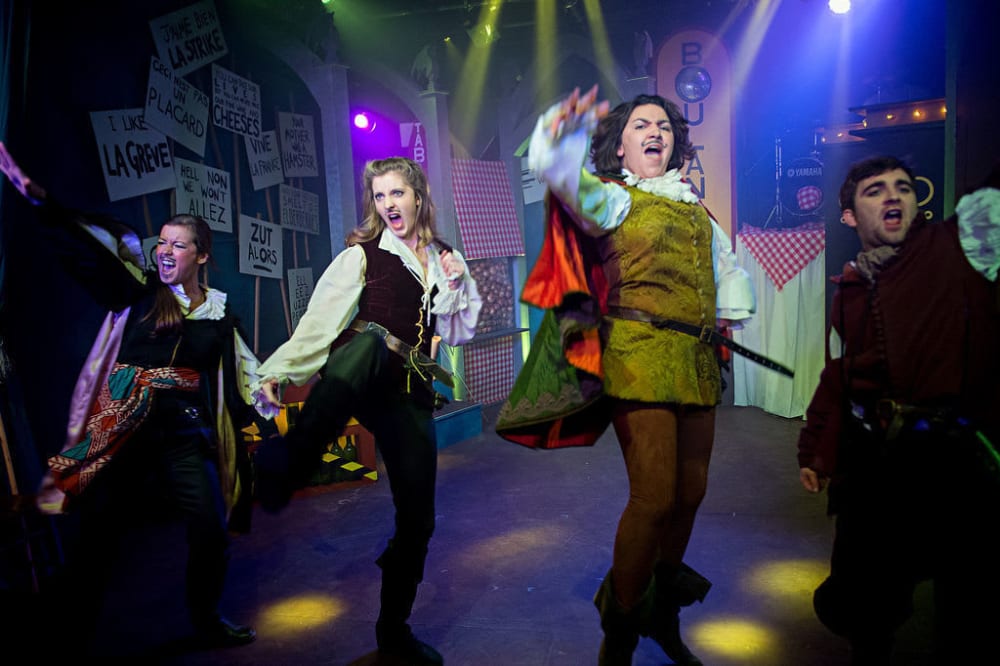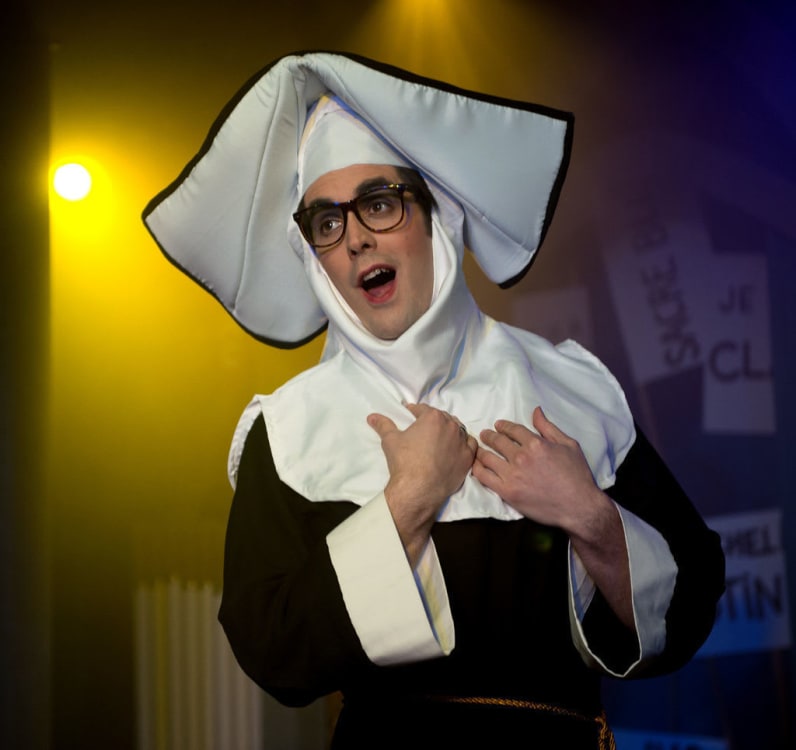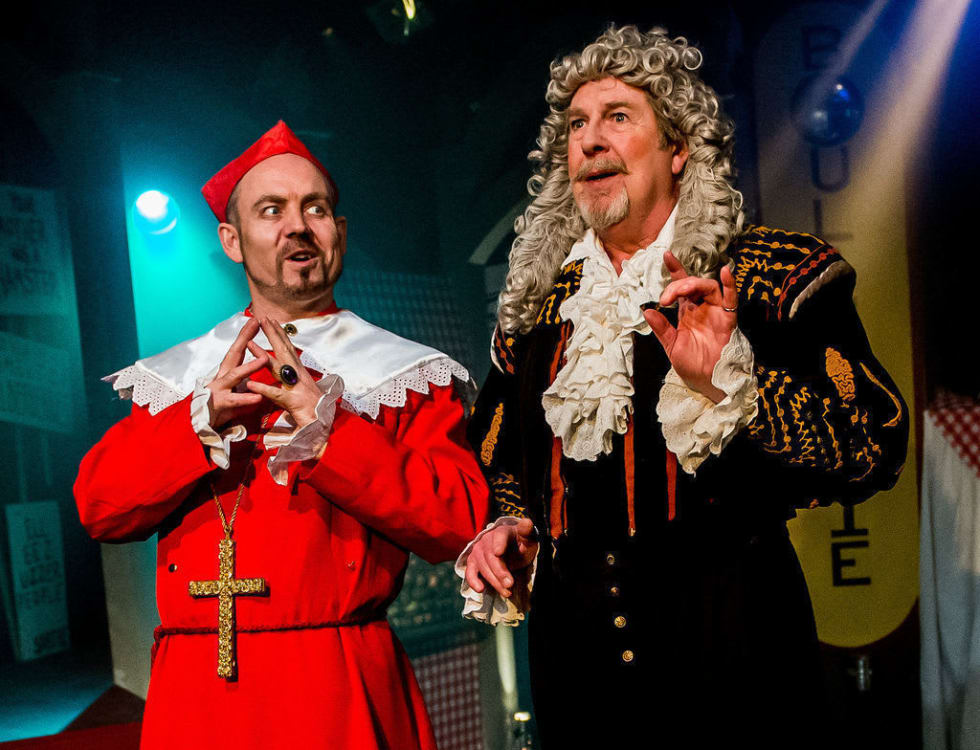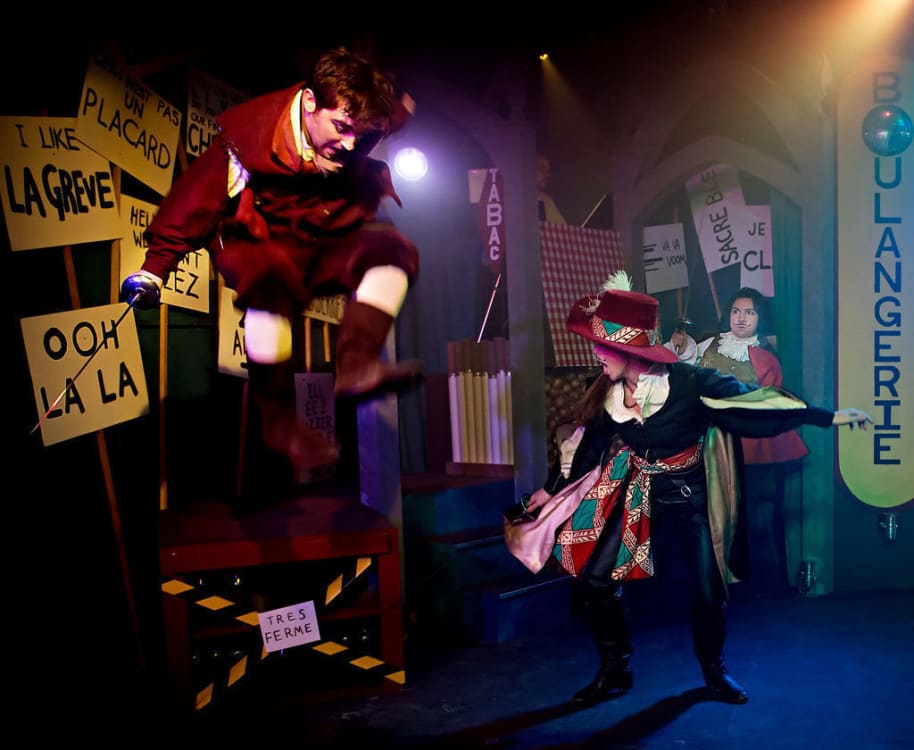 Is this the first time that Dumas tale has had the panto treatment?
I am no longer surprised at Charles Court Opera's seasonal originality—last year they successfully tackled Beowolf. Actually this is quite a long way from Dumas. There has to be the three musketeers and their new mate D'Artagnan—"all for one and one for all"—and Cardinal Richelieu as their enemy. Savournin makes him a real baddie who has killed the King. Milady de Winter becomes Milord, the Cardinal's henchman, and D'Artagnan turns out to be the heir to the throne.
If you are a literary purist just dump Dumas—this is panto. Sit back and enjoy it. With a pocket stage and a cast of seven, this is a fun-filled, indulgent evening, expertly matched to venue and a company of excellent voices (well, it is the Charles Court Opera company!).
In the intimacy of the Rosie, anything goes. With deliciously fake accents, jokes like putting lipstick on your forehead to make up your mind to a ghastly running gag of "Oui! Oui!" answered by "I've been", this is a company that makes the audience complicit. Someone (it could be you, not just the front row are in danger) could find themselves… No, I'm not going to tell you.
This show's D'Artagnan has been reared in a convent by its full-blooded Mother Superior who still has hankerings and needs our help to avoid temptation. "Remember your rosary, keep on your hosiery" she entreats us to remind her. John Savournin, writer and director, is also the Reverend Mother with a succession of wimples that challenge other Dames' hats.
Athos is around to teach the young lad swordsmanship, played in best principal boy style by Lexi Hutton, his comrades also en travesie. Amy J Payne's wine-guzzling Porthos is no Parisian sparrow but would be quite at home at the Olympia as she delivers "Je ne regret rien" and Nichola Jolley's Aramis is the other brave confrere.
Kevin Jones is a leering Cardinal as demon king in his red-robes and Simon Masterton-Smith, an old hand at this game, Milord. These two have the audience against them so they don't stand any chance of winning against the Gascon friends.
Matthew Kellett's D'Artagnan is a simple sort of lad, a perfect match for Holly Julier's sweetly innocent novice Justice. You know from their first meeting she won't end up a nun.
The music, under David Eaton's direction, sometimes sounds very familiar to those who know their opera and musicals. (Guess what the Mother Superior's big number is. You are right of course.) David is not only at the keyboard, supported by different percussionists as the run proceeds, he also contributed the lyrics where they are new.
James Perkins's set crams in every possible reminder that the scene is supposed to be La France and Mia Walden's lavish costumes look amazing. How does she do it on their budget?
Director Savournin eschews the puppet chorus of his last couple of years at the Rosie but the actors are kept so busy you'd think there were twice as many of them and of course there is a slapstick scene and a song sheet. The jokes come thick and fast with double entendres that make one wonder just what else they could have in store for their special adult nights—there is a special matinée for little children too.
The mixture of stylish performance in the best coarse acting tradition, great singing, an outrageous sense of humour and a Devil-may-care attitude that hides a great deal of sophisticated professionalism is making the Charles Court Opera "boutique" panto a seasonal treat not to miss. It is perfectly matched to the venue. It certainly tickles my fancy and that of other aficionados. Long may they continue.
Reviewer: Howard Loxton