The Three Musketeers
John Nicholson and Le Navet Bete
Le Navet Bete and Exeter Northcott Theatre
York Theatre Royal
–

Listing details and ticket info...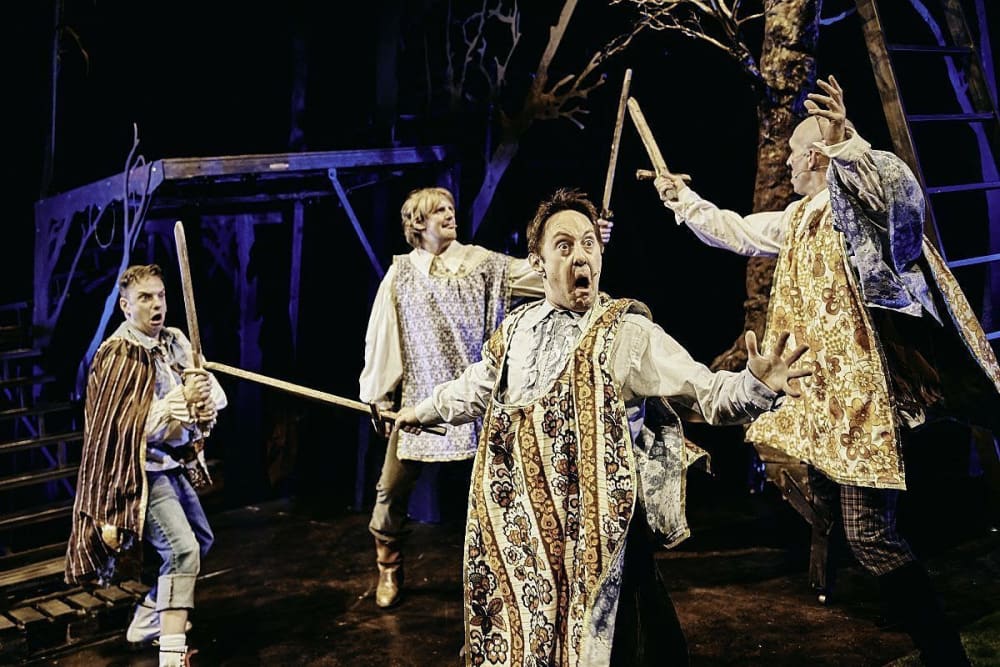 At over 700 pages, Alexandre Dumas's swashbuckling blockbuster The Three Musketeers is a mighty doorstop of a book. Fortunately, physical comedy troupe Le Navet Bete (translation: the stupid turnip) are on hand to lighten the burden by delivering the novel's highlights in a (mostly) sprightly two hours and twenty minutes.
The show opens with the four cast members introducing themselves as old friends from primary school (in fact, they met at the University of Plymouth) who used to get together and act out The Three Musketeers. Equipped with a multi-level tree house and bikes for horses (obviously!), the performers undertake hundreds of costume changes to play more than 50 characters between them.
The main body of Dumas's novel is preserved in this lively adaptation. Set in early 17th-century France, The Three Musketeers focuses on the adventures of young d'Artganan (Al Dunn) who travels to Paris to join the King's Musketeers.
Once there, d'Artagnan becomes aware of a nefarious plot against the Queen, devised by the wicked Cardinal Richelieu (Nick Bunt) and the dangerous Milady de Winter (Matt Freeman). Fortunately, he is helped by three veteran musketeers: Athos (Dan Bianchi), Aramis (Bunt) and Porthos (Freeman).
The idea of tackling a great literary work with a small number of actors is a well-trodden idea. I remember, for example, watching the Reduced Shakespeare Company tackle the Bard's back catalogue more than two decades ago. Nevertheless, Le Navet Bete manage to mine a lot of comedy gold from their source material by relying on slapstick, silliness, outdated pop culture references (Gladiator, the Milk Tray man and the music of Martine McCutcheon) and dad jokes.
The ensemble are enormously likeable and energetic, particularly Al Dunn as scrappy D'Artagnan. Other highlights include Ti Green's lovely set and Fi Russell's costumes—a pleasing mixture of period fashion and modern dress (jeans and Converse)—which remind us of the show's framing device.
That being said, there were several issues with the lighting and sound that disrupted the flow of the performance. The cast did a good job of making light of these gaffes, but they often detracted from the show's energy.
Also, despite being a relatively short show, there were occasions where the pacing flagged somewhat, which is a shame given that the best moments—such as a cleverly choreographed fighting sequence—were so strong.
Reviewer: James Ballands