The Threepenny Opera
Bertolt Brecht in collaboration with Elisabeth Hauptmann, music by Kurt Weill, English dialogue by Robert David MacDonald, English Lyrics by Jeremy Sams
Octagon Theatre Bolton
Octagon Theatre Bolton
–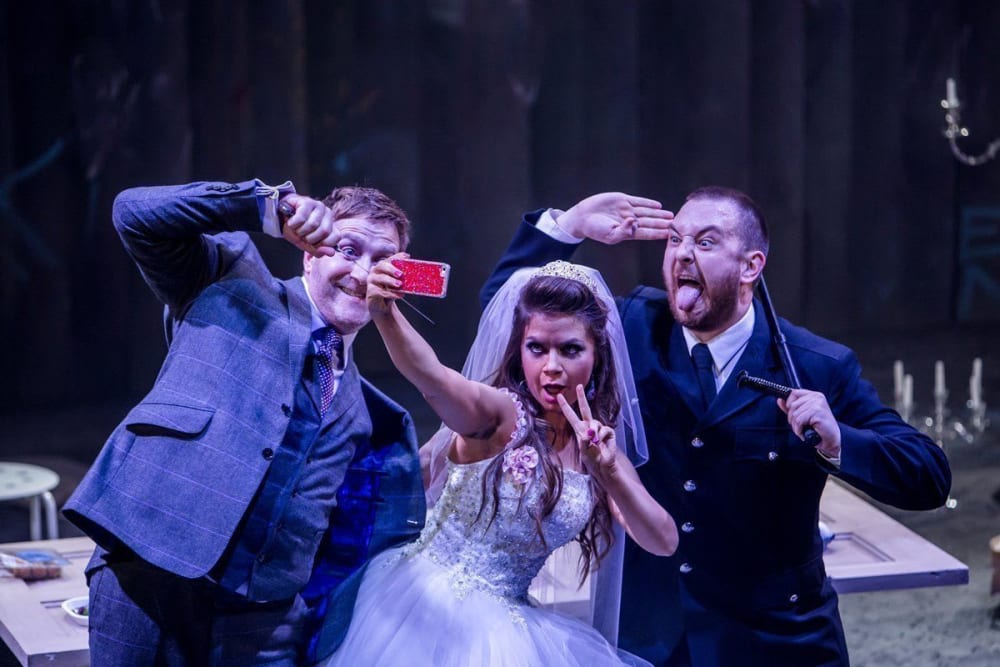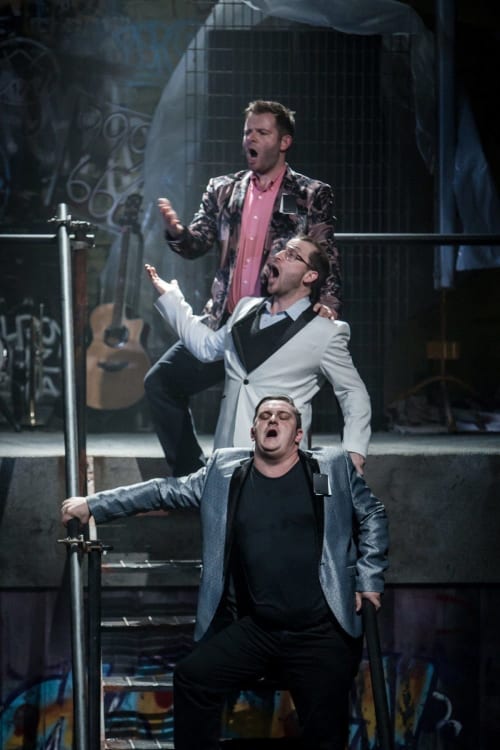 Just about a year after Kneehigh brought its contemporary take on John Gay's The Beggar's Opera (Dead Dog in a Suitcase) to Manchester, David Thacker has attempted to give the 1928 Brecht and Weill (and Hauptmann—Brecht wasn't especially generous with crediting his collaborators) adaptation of Gay's work the same modern industrial feel on a similar concrete and steel set.
It's basically the same political satire that Gay created in 1728 with some Depression-era Brechtian touches from 200 years later and a sprinkling of references to modern Britain to bring it up-to-date.
Macheath (David Birrell) is the archetypal antihero: a vicious criminal and womaniser who is nevertheless charismatic and charming. Against him is Peachum (Eric Potts), on the side of the law but less sympathetic; he runs all of the beggars in the town, allocating their begging areas and taking a large cut of what they receive. Between them is Tiger Brown (Robert Jackson), caught between his roles as Macheath's oldest friend and chief of police, therefore in charge of bringing him to justice.
But women are Macheath's downfall (his gleeful references to rape perhaps take sympathy away from him just a week or so after the Harvey Weinstein allegations). He marries Peachum's daughter Polly (Anna Wheatley), who is infatuated by him, but he has already promised himself to Brown's daughter Lucy (Ruby Ablett)—in both cases without the knowledge of their parents—so ends up in a cell with neither keen to help him out.
It's a picture of corruption in authority and abuse of the poor which could work in any age, so it's easy to see why it appealed to Marxist Brecht. This version brings in aspects of modern Britain by setting it on the eve of King Charles III's coronation with Boris as PM and Rees-Mogg as Home Secretary, but, while amusing, these touches come across more as gratuitous dressing rather than giving the story any more relevance than it already has.
Thacker's production can't seem to decide how Brechtian it wants to be. Although you wouldn't think it from most productions, Brecht stressed the importance of being entertaining, and Thacker is certainly steering in that direction, although as a whole the production feels more restrained than it could be.
There are references to contemporary politics, but what we are told that Boris or Rees-Mogg has said or done doesn't directly influence anything that happens in the play. Brecht's scene and song titles appear on a scrolling news ticker, but they do not define clear boundaries between different modes of performance, instead fading into the background as each section is forced to flow into the next as in a book musical. It doesn't have the clarity of storytelling or visual imagery that were important to Brecht, but there are some satisfyingly entertaining moments.
David Birrell's Macheath isn't clearly defined. Where Kneehigh gave him rock-star good looks and a naughty twinkle, Birrell's Macheath is a creepy middle-aged man in a camel coat who isn't sinister enough or charismatic enough to pull off the antihero role. He's a great actor so he does find something in it, particularly his powerful end song, but overall it is unfocussed.
For me, the one who stands out is Anna Wheatley as Polly (plus a great little cameo as one of the prostitutes) who gets the balance between the coarseness inherited from her mother and some lovely subtleties in the way she plays it. Sue Devaney as her mother is all coarseness and no subtlety, and Eric Potts is solid if unsurprising as her father. All the other characters seem quite underdeveloped, mostly only lurking in the background or on the stairs and not big enough to compete with some of the lead characters.
Musically, this is an actor-musician production but the actors don't carry their instruments into the scenes; instead they play on the balcony when they aren't acting, which leaves holes in some of the arrangements. They also suffer from being in front of the graffitied brick wall, so the sound bounces around like they're in a warehouse and the vocals, through speakers pointing over the audience's heads, are loud but not always distinct.
While I have quite a few reservations, and it isn't exactly hard-hitting as political theatre, it is quite entertaining overall and certainly keeps the attention for two and a half hours, which many British productions of Brecht struggle to do.
Reviewer: David Chadderton