The Threepenny Opera
Bertolt Brecht, translated by Robert David MacDonald
Birmingham Repertory Theatre, Graeae Theatre Company, New Wolsey Theatre Ipswich, Nottingham Playhouse Theatre Company and West Yorkshire Playhouse
The Quarry Theatre, West Yorkshire Playhouse
–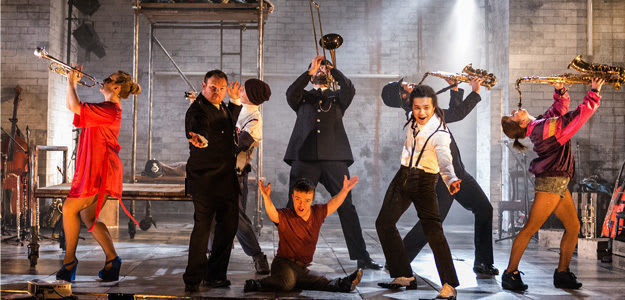 What better follow up to The Tiger Lillies' superb adaptation of Wedekind's Lulu than Graeae's adaptation of Brecht's The Threepenny Opera? Theatrical spectacle and an appropriate comment on and contempt for the corrupt financial elites who run and milk our country, and the institutions that protect them.
The story is simple. Macheath (played by Milton Lopes) an increasingly wealthy crook, philanderer and paedophile, 'marries' young Polly Peachum (CiCi Howells), daughter of J J Peachum (Garry Robson) king of the beggars.
J J is less than pleased and, even though Mac has Police Chief Tiger Brown on his side and his payroll, he's for the chop, since Tiger has had a better offer. And Tiger likes his bread buttered both sides. Macheath will hang on the Coronation Day of King Charles III. But, as the noose is lowered over Macheath's head and all hope is fled... well, put it this way, it's a realistic ending.
In fact, images that adorn a sur-screen throughout have already hinted at Mac's future, sometimes at the risk of libel I shouldn't wonder. For here are displayed fleeting and sometimes prolonged images of those great and good who have their roots and fingers in the slime of financial malfeasance, graft, and criminal perversion.
And more, there are pictures of the protectors and minders, the lord high masters of hypocrisy. So as in reality, possibly benighted politicians rub shoulders with, for example, Leeds's illustrious and once beloved son, Sir Jimmy Savile OBE, KCSG, and other assorted vermin. I suspect some respected members of the audience feared what they might see up there and maintained frozen smiles, hoping to disguise the rictus of anxiety and guilt.
Directors Peter Rowe and Jenny Sealey have done their job well. As this splendid production of Brecht's powerfully ironic assault on hypocrisy, inequality and societal brutality slammed home, I noticed several bleak faces. The more expensive seats held some bottoms that shuffled in discomfort. So! Good! Brilliant! Theatre about its proper business: telling truths.
The cast of eighteen, some with at first noticeable disabilities, fill the stage in a display of bravura and vibrant enthusiasm. A sizeable proportion of this talented cast play dramatic roles and more than one instrument. Kurt Weill's tremendous score is realised with impeccable gusto, and there are joyful renditions of the songs, their translations nicely handled by Jeremy Sams.
What would John Gay, author of The Beggar's Opera (1728), upon which this play is based, have to say about the production? My hunch is: Bravo! Bravo! Bravissimo! And most of the Playhouse audience would agree.
And agree also that they would have loved an encore of the opening number, a raucous ensemble rendition of that unforgettable number "Mac the Knife". I have no other grumbles. The tour ends here, but the production really should play London.
Reviewer: Ray Brown