The Thrill of Love
Amanda Whittington
New Vic Theatre Company
New Vic, Newcastle-under-Lyme
–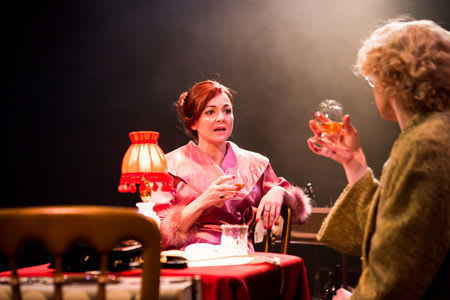 Ruth Ellis gets dressed, her bleached blonde hair adding to the appearance of the femme fatale. Outside a pub she takes a gun and unhesitatingly fires six shots towards her unfaithful lover David Blakely.
She tells the police she intended to find Blakely and shoot him. But why?
This is the start of Amanda Whittington's new play about the last woman to be hanged in Britain. Her affair with racing driver Blakely was indeed a thrill of love with tragic consequences.
The author starts from the viewpoint that Ellis was a victim of not just a bullying, promiscuous man on whom she doted but also a casualty of the criminal justice system which at that time didn't recognise the concept of domestic violence.
We never get to see Blakely; a case is built up against him through a series of revelations and opinions from the women close to Ellis.
It means that we have sympathy for her and regard her not just as a brassy blonde who was out of control.
The combination of Amanda Whittington's writing, the performance of Faye Castelow as Ruth Ellis and the intimacy of the New Vic's space make The Thrill of Love an astonishing play.
Castelow is simply marvellous, leaving you with little doubt that Blakely's harsh treatment of Ruth Ellis led to her taking the most brutal form of revenge on her lover.
The actress shows how easy it was for Ruth, an intelligent and ambitious woman in her late 20s, to settle into a world of nightclubs, prostitution, drink and drugs which she clearly relished.
When Blakely proved to be a philanderer she became intensely jealous and grew to hate him as well as love him.
Castelow gives a stunning interpretation of a troubled woman who tells her closest friends that they know nothing of her and that she and Blakely share "passion" and "chemistry".
Alongside her there are memorable displays from Hilary Tones as seen-it-all nightclub manageress Sylvia Shaw; Maya Wasowicz as Ruth's best friend Vickie Martin whose warnings about Ruth's extreme behaviour go unheeded; and Katie West as the charwoman Doris Judd who finds it difficult to condemn Ruth despite her outlandish ways.
The only man in the piece is a detective inspector, Jack Gale, solidly played by Mark Meadows. He shows genuine pity for Ruth and wants to uncover why she won't act to save herself from the gallows.
James Dacre, a former artistic associate at the New Vic, directs skilfully, especially towards the end when the lid of a record player slams down as Ruth's life ends and the auditorium is plunged into darkness.
Jonathan Fensom's set evocatively conjures up a smoky 1950s nightclub which is enhanced by lighting from Daniella Beattie, sound from James Earls-Davis and the music of Billie Holiday.
At the end of The Thrill of Love we're no closer to knowing why Ruth Ellis decided to accept the gun that she used to kill Blakely nor why she didn't offer a proper defence. But we know a lot more about her motivation and the provocation which triggered the murder.
It's a superb production and a great thrill.
Reviewer: Steve Orme