The Thrill of Love
Amanda Whittington
New Vic Theatre, Newcastle-under-Lyme
St James's Theatre
–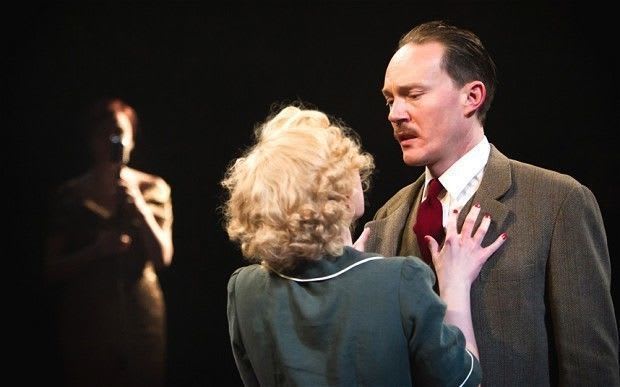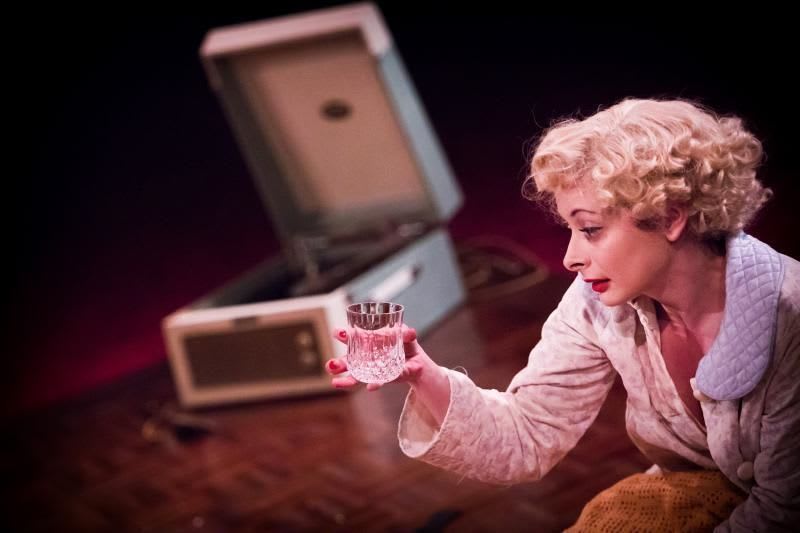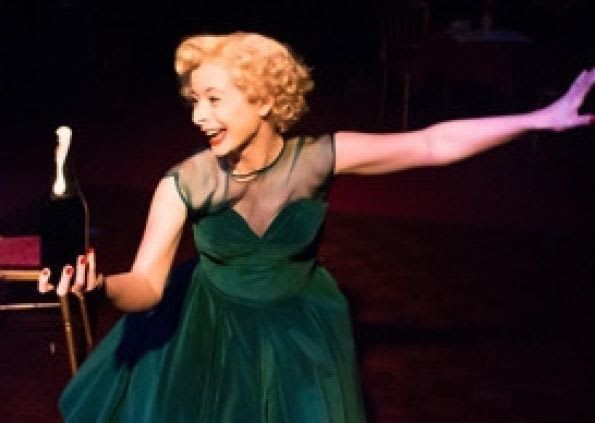 Ruth Ellis was the last woman to be hanged in the United Kingdom. She went to the gallows on 13 July 1955. Only three months earlier she had stood outside the Magdala pub near Hampstead Heath station, raised a revolver and fired six shots at racing driver David Blakely. She then handed the gun to the off duty policeman, who arrested her, and said "I am guilty, I'm a little confused."
Amanda Whittington's new play, which premières at the New Vic in Newcastle-under-Lyme who commissioned it and reaches London after a short tour, seeks to explore how this 28-year-old club hostess, model and club manager got to that situation.
Designer Jonathan Fensom turns the theatre into a red satin-draped night club dotted with red-shaded table lamps and chandeliers. As cabaret artists on either side of the stage match a scratchy Billie Holiday number, Faye Castelow strips off her clubland fineries and puts on the headscarf and drab topcoat she was wearing that fatal night. When the shots ring out, it is not lover Blakely who is left standing there but Detective Inspector Jack Gale who now looks for an answer not to "Who?" but to "Why?"
Robert Gwilym's playing turns a device into a character, whether painting a picture of smoggy fifties London or puzzling as to why Ruth won't reveal who gave her the loaded gun.
The play doesn't make it clear whether Gale is a real or a fictional detective (he's invented) and, though at least two of the characters were actual women in Ruth's story they stand for a whole world of slightly shady private drinking clubs where members of society mixed with attractive and possibly available young women.
Maya Wasowicz plays Ruth's friend Vickie Martin, who married a Maharajah she met through her club work, giving a bitchy edge to her friendship, and Hilary Tones is especially strong as the no-nonsense club manager who gives Ruth a job and helps push her upwards into managing a club herself. These women are much more clear-headed and capable than Ruth who gets caught in abusive relationships and emotional dependency. More obviously warm-hearted is Katie West's Doris, the cleaning lady who gives Ruth loyal support.
Amanda Whittington does not really produce any new insights on this world that became more widely-known after the Profumo affair a decade later, a scandal some of whose characters were already part of Ruth's world and, like the facts, not always clear cut but Faye Castelow's central performance as bottle-blonde Ruth Ellis grabs hold of the attention. She is vulnerable and touching, her dreams of love and glamour at odds with the harsh reality of her relationships.
The play is shaped as an investigation. It never shows us the men in Ruth's life: the husband, the son, Blakely (who apparently she knew was gay though this is never mentioned), other lovers, such as the one she was living with at the time of the shooting. This is an incomplete picture but that doesn't make it any less disturbing.
James Dacre's production underlines the fragmentary format with a framing of exploding flashbulbs while such songs as "Love for Sale" emphasise the commodification of women that has trapped Ruth Ellis in an abusive spiral. Ellis admitted intention to kill, though eventually pleading "Not Guilty", but where does the real blame lie? That seems to be the question that Whittington's investigative inspector wants answered.
Reviewer: Howard Loxton