The Throne
John Goldsmith
Throne Production Ltd
Charing Cross Theatre
–

Listing details and ticket info...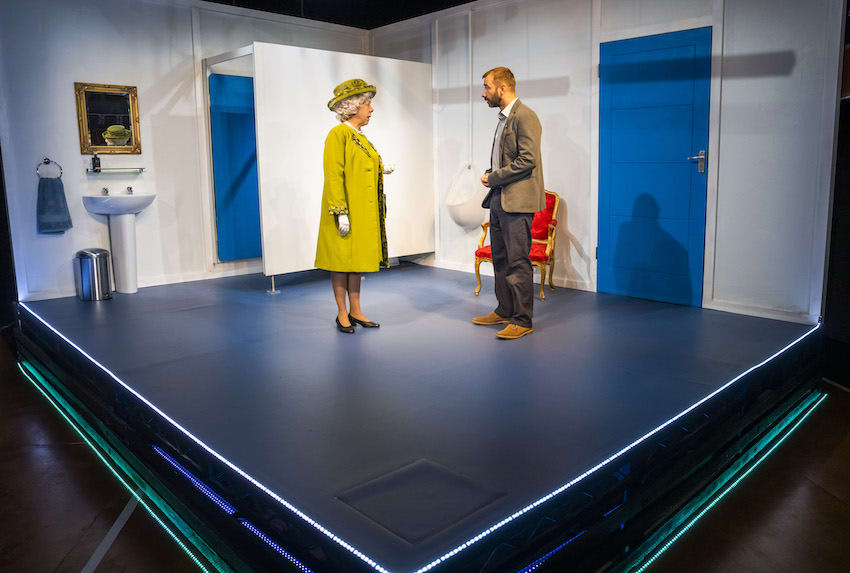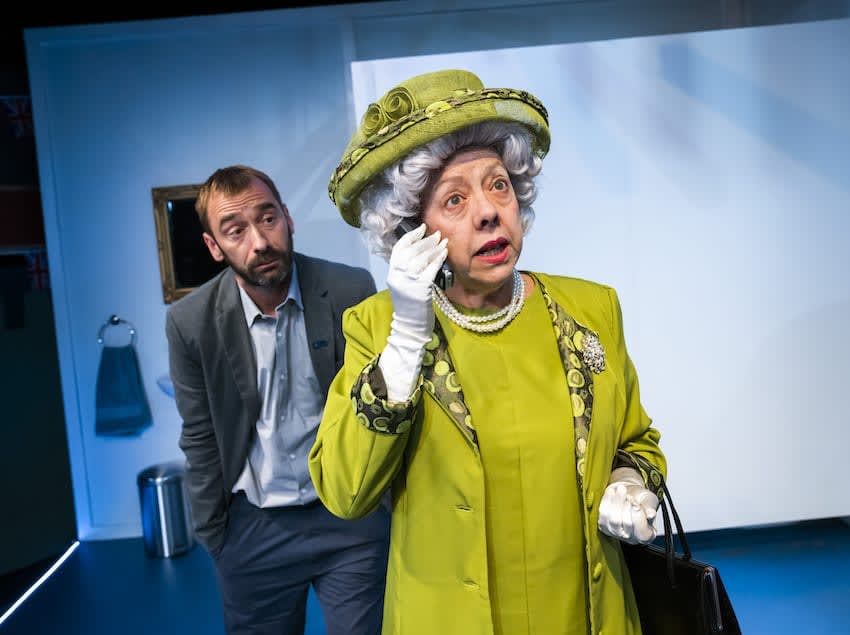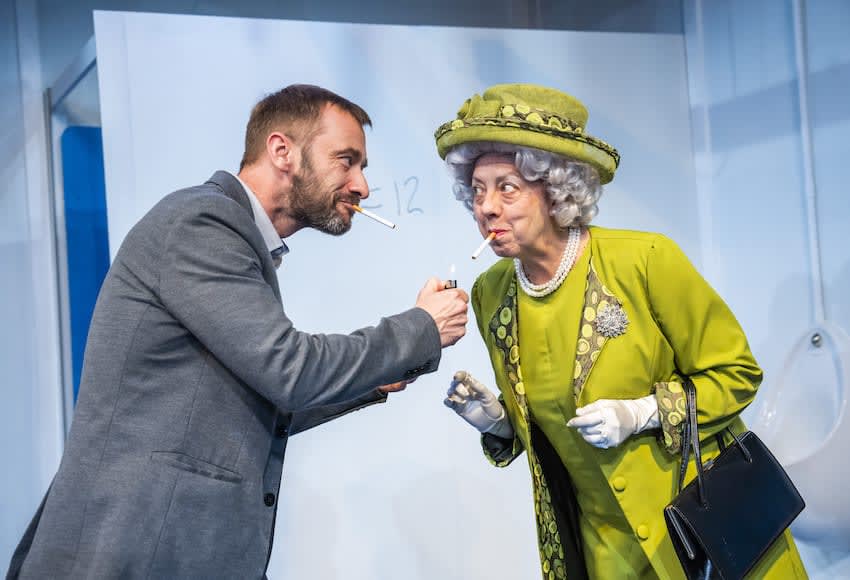 Dudley Goring Comprehensive School is expecting a VIP visitor to open their new science lab and headmaster Peter Carr is on edge lest anything go wrong. Any minute, the arrival of HM the Queen is expected. There have already been problems with the plumbing and at short notice a Portaloo suite has been installed in the middle of the school hall for her use if it is needed. Now he finds bolshie Head of Science Derek Jones has ignored the detailed instructions that were issued: he isn't even wearing a tie and what is he doing in the hall anyway? It was locked once the security men had checked it.
Derek clearly isn't a monarchist and an argument with his Head sees him resigning. Then, before leaving, need, or just curiosity, sees him slip into the temporary toilet moments before the person it is there for comes to use it.
Derek is not the only intruder, the audience has already seen a black-clad figure in a balaclava inside up to no good. There's a dastardly plot to bring this glorious reign to an end, but don't worry this is 2002, Golden Jubilee year not Platinum, and we know HM is still with us. This is fantasy farce, not drama documentary. There will be a twist to make sure HM is alright, it's not for nothing that Derek is science teacher, but meanwhile, there is a confrontation between Crowned Head and rebellious subject.
The initial embarrasment caused by the situation sees Derek much more uncomfortable. When they find they are locked in with a bomb beneath them and both in the same boat, so to speak, the contrast becomes even more comical: Derek tends to panic, the Queen remains calm. As he gains composure, they seem to get on together and soon are discussing the pros and cons for having a monarchy or a republic.
Dramatist John Goldsmith has has drawn on Her Majesty's known interests, behaviour and comments to create a Queen who is lively and engaging whether remembering a favourite horse or on Derek's phone to her husband or son. Mary Roscoe gives her a humanity that makes goes beyond caricature and she and Charlie Condou as Derek develop a delightful double act, though his character is much less consistent. They have a rapport that in the moment disguises the comical theatrical construct and we warm to them. Despite the danger, they are enjoying this encounter and we do too.
The Throne is a very slight piece. Its discussion of crowned ruler or republic doesn't dig deep and is heavily weighted one way, but it is an opportunity for two capable actors to have fun and be funny. Director Anthony Biggs keeps things light and encourages some wide-eyed acting so it makes easy-going, unpretentious entertainment. Plays, films and TV with the Queen in them seem to be popular: here is another, monarchists may especially enjoy it.
Reviewer: Howard Loxton