The Tiger Lillies: One Penny Opera

The Tiger Lillies
Underbelly, Bristo Square
–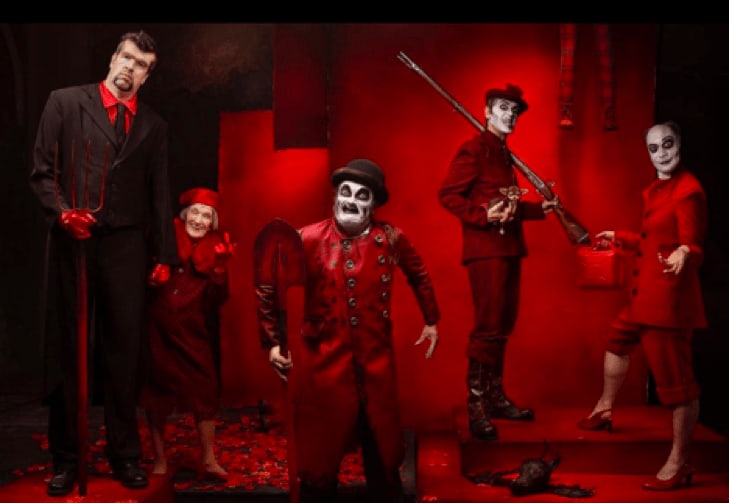 The Tiger Lillies return with their songs songs of death, violence, crime and the seedier side of life, this time applied to John Gay's Beggar's Opera but set in the band's spiritual home of Soho, long before it had been cleaned up and become fashionable.
This is more a song cycle than a musical play, with narration from Adrian Stout and songs led by Martin Jacques in his distinctive, powerful falsetto. Stout also plays bass, theremin and musical saw—I heard some laughs when he brought out the saw, which stopped when he began to produce a haunting, beautiful sound from it—while Jacques plays accordion, piano and his home-made ukulele (which looks like the top end of a guitar), and Budi Butenop accompanies on drums.
Gay's story is recognisable and holds the songs together: criminal Macheath marries Polly Peachum in secret, much to the horror of her parents, then there is crime, prostitution, murder and Macheath ends up at the gallows. However this story carries the message "crime, it pays" and Macheath ends up living in luxury in a royal palace.
Despite Stout's beautifully enunciated narration, the narrative thread isn't exactly strong. Even knowing the original, I was finding it difficult to follow the plot in this version as the songs work more often as standalone numbers than being woven into the telling of the story like in musical theatre, but some of Gay's characters and incidents are evident. The title nods to Brecht and Weill, but there is no obvious intention of raising political questions for the audience to ponder as in The Threepenny Opera.
However, the songs are exactly what you would expect if you know the Tiger Lillies, with horrific imagery portrayed through beautiful music and amazing musicianship.
While this doesn't entirely succeed as a narrative theatre piece, as a Tiger Lillies concert with a running theme, it is more than enough to satisfy their many fans.
Reviewer: David Chadderton