The Tree Climber
Tawfiq Al-Hakim adapted by Perdita Scott
El-Alfy Theatre Company
Cockpit Theatre
–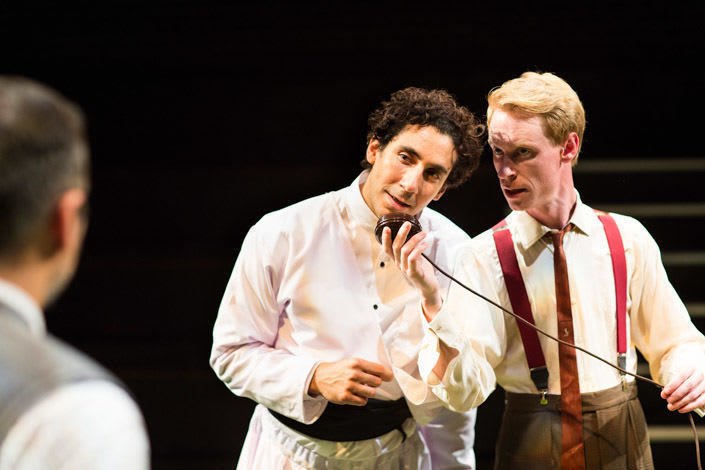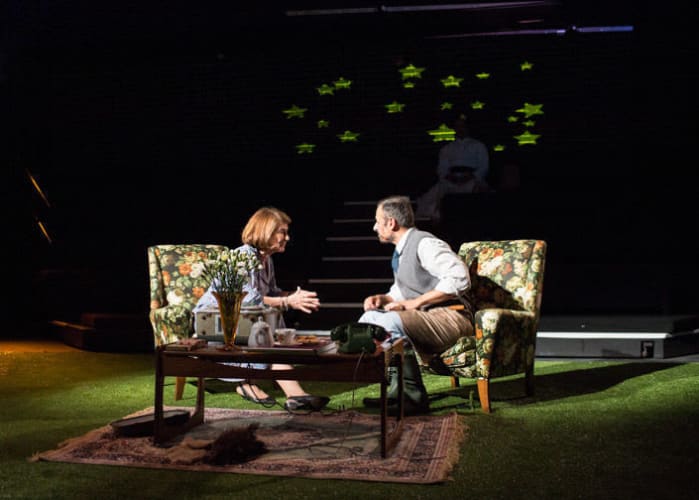 Tawfiq Al-Hakim, a pioneers of Arab novels and drama, wrote this play Ya tali el-Shagarah in 1962.
One of his most successful works for theatre, it is a rather surreal story in absurdist style about a retired railway ticket inspector whose wife goes missing. Their Spanish maid says she went out to buy wool to make a dress for a child by a previous husband who was never born.
By a succession of circumstances involving a police detective, the maid and a whirling Dervish from a past encounter who seems to time travel, he is accused of her murder and taken to prison.
The maid and her employer can conjure instant flash back re-enactments; the railway inspector has a strange relationship with a lizard he calls the Green Lady that lives on the orange tree in the garden that he clams at one point is his body. The Dervish, who seems to have mystical powers of foreknowledge, assures him that this tree can bear different fruits as the seasons change: apricots in spring and pomegranates in autumn as well as the oranges in the winter.
The audience arrives in this in-the-round theatre to find the stage laid with green Astroturf. On it, a dancing Dervish is spinning continuously while a maid dusts the coffee table and a couple of chairs set out on a piece of carpet before starting to vacuum around everywhere.
That sets up the zany atmosphere: it could become occult but doesn't, instead it goes on being a fantasy farce that is funny.
When John Game's fast-talking detective arrives, it is not clear who it was that called in the police. He is bearing a 1950s Grundig tape recorder to record his interviews but keeps switching off when he fears he had been made to say something compromising in the confused conversations that he has with the maid and with her employer.
The former railway man seems more concerned at the green lizard's sudden disappearance than that his wife has not been seen for three days. Could he have murdered his missus? He seems to say yes to any suggestion and the detective takes that as a guilt confession, even though a flashback the maid conjures up presents a happy and devoted couple—even if they never listen to what the other is saying.
Another flashback shows the ticket collector first encountering the Dervish who transposes himself from the past and his railway carriage straight into the present to stir up more problems.
The Tree Climber presents a satirical picture of a marriage so settled that neither partner seems to really notice the other and of the misconstructions that result when conversations and interrogations are between people with a different awareness.
Merce Ribot's maid seems equally wrapped up in her own world, nattering on in Spanish, and Walles Hamonde, as well as wonderfully spinning, gives the Dervish a sly humour. Fanos Xenofos makes the husband energetic and sociable; there is sometimes a fractional odd stress in his phrasing that may reflect an attempt on the part of the translator to match the original Arabic which uses a deliberately literary style of language to make people more conscious of the couple conversing without any real communication.
The wife is the only person who seems always to live in the real world and Pauline Munro makes her plain talking and normal. She never does explain her 3-day absence: she keeps that a mystery—which does have some dire repercussions.
The Tree Climber is presented as part of the Shubbak Festival, described as "A Window on Contemporary Arab Culture". It is an intriguing and amusing glimpse into a culture of which we know little, but it doesn't seem to be so different from our own.
Reviewer: Howard Loxton