The Trial of the Jew Shylock
Eric Richard, from Shakespeare's The Merchant of Venice
Poetic Justice Productions
Rosemary Branch Theatre
–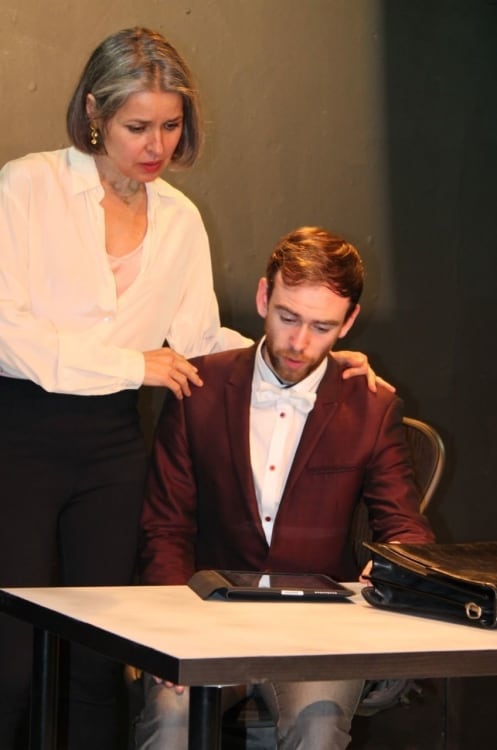 Pared down from Shakespeare's play to concentrate on the central plot line of Antonio's borrowing and its results, this treatment cuts almost everything not intrinsic to that part of the story and updates it to a modern setting.
It reveals a pretty nasty picture of prejudice and greed. "Shylock hates Antonio who loves Bassanio who loves Portia. They all love money." That is how Poetic Justice puts it in its publicity and for a succinct summing up you can't do better. Especially that last bit.
An opening scene between Joe Shefer's Antonio and Saul Matlock's Bassanio immediately establishes their relationship. This Antonio seems a really nice guy with principles. How doesn't believe in paying or earning interest, though I'd like to know how he manages to operate an international trading business without using banks.
He's certainly a pushover, even eager, when the boy with whom he's infatuated needs cash to fund his courtship. It's a shock when he reveals his savage anti-semitism, though clearly it is endemic even in this modern Venice.
You can't blame Bassanio for being opportunist. He's young and impetuous; Antonio clearly knows he swings both ways—and who wouldn't fancy an attractive girl with money? But he reveals a lot about himself when, in director Susannah Lane Bragg's version of the casket scene, the filing cabinet he chooses rewards him with Portia's portrait lying on a stash of Euros and it is them he grabs with joy.
Emma Lyndon-Stanford's Portia is so rich that she can easily offer 9k ducats (equivalent to well over a million pounds today) to cancel Antonio's debt, she can afford to be nice to everyone and, right up until her gently spoken "The quality of mercy" speech, she is, but then you realise, as she snaps the trap she has prepared for Shylock, that such sentiments only operate one way, she is as racist as the rest. It makes you want to see how these Christians would cope living in a sectarian state following a different faith.
The festering hate of Ashley Gunstock's Shylock is equally awful, but it is a response to life-long living with derision and exclusion. This is a man who puts on a face to deal with Christians, suddenly releasing scorn in his refusal to eat with them, revealing his own hurt as he launches into "Hath not a Jew eyes". It is a statement of fact rather than a plea for understanding for this Shylock, doesn't ask for sympathy, neither is he the comic monster the character was once seen as. A final scene of his humiliation is a far cry from Shakespeare's.
Josh Jewkes doubles Lorenzo, Salarino (itself combining Shakespeare's two "Salads" as actors used to call them) and Tubal. He doesn't get the chance to establish different characters and uses the same somewhat blurred delivery for all, despite some lively moments. The adaptation gives Lisa Sheerin an easier task in differentiating Nerissa, Jessica and the Duke of Venice and she gives them clear-cut performances.
Making it modern causes no problems apart from the obvious one raised by today's bank use (writing today, surely Shakespeare would have put bankers at this play's centre). Turning the caskets from which suitors have to choose to gain Portia in marriage into red, white and grey cabinets loses the iconic significance of gold, silver and lead and Antonio delivering one speech as a mobile conversation seems awkward, though it was probably intended and making it seem more natural didn't really work.
However, displaying Portia's many suitors on Nerissa's tablet and Googling for Bassanio's portrait on a computer are effective touches.
The playing is sometimes a little uneven and the scene changes a little too fussy, (Why do fringe productions in particular seem to rearrange much more than is necessary to mark a change of location?). They are covered by appropriately chosen modern numbers including "Smoke Gets in Your Eyes" and "Money, Money, Money!".
However, this concentration on one theme and its modern setting provides a focus that seems unsettlingly relevant when in many places sectarianism and the far right merge with monetarist me culture.
Reviewer: Howard Loxton