The Trial
Tim Norton
Young Pleasance
Pleasance Courtyard
–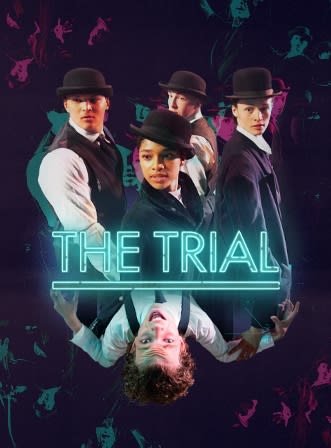 The ever excellent Young Pleasance is celebrating its 25th anniversary at the Fringe, which is quite an achievement in itself.
This year's splendid production of The Trial is a surreal adaption of Kafka's novel. It's a tale about finding your own identity, discovering who you really are and what are the boundaries between reality and the world of dreams and fantasy.
The characters are under constant surveillance and correct paperwork and ID are vital for survival.
Angus Alderson is outstanding as the oppressed Joseph K, giving a moving physical performance. He's arrested for no reason and with no warning, following his 21st birthday party.
He is taken to a hospital and appears to be on some sort of medical trial programme under the watchful eye of Dr Huld and three incompetent medical students.
This is very much an ensemble piece, skilfully performed by a talented cast of young people who very much own the piece.
Their trademark inventive stylised physical theatre is a joy to watch whether they are bowler-hatted workers or members of a jury and their facial expressions epitomise their individual characters with flair.
It's a fast-moving, spirited production with a set to match that is constantly changing with an almost military precision.
There are many moments of pure theatrical magic, from the dynamic storm scene to the impressive dance sequence, which is beautifully costumed.
But will Joseph K finally find his true identity? You must go to find out!
Skilfully written and directed by Tim Norton, Joanna Billington and Kathryn Norton-Smith, this production should certainly be on your must-see wish list.
Reviewer: Robin Strapp