The Trials
Dawn King
Donmar Warehouse
Donmar Warehouse
–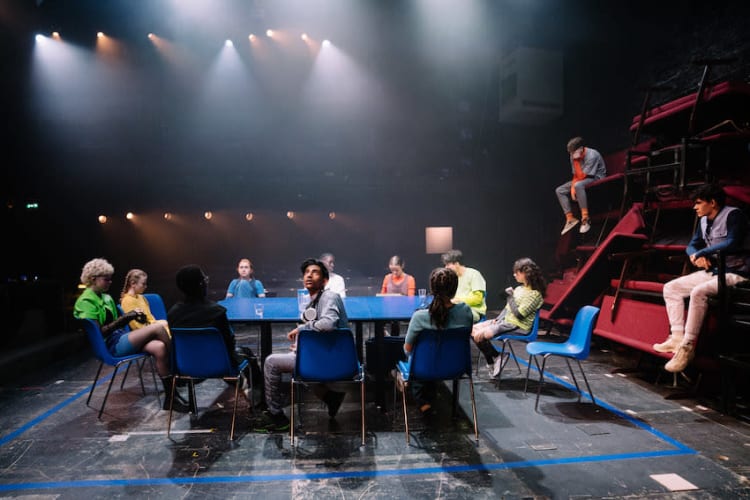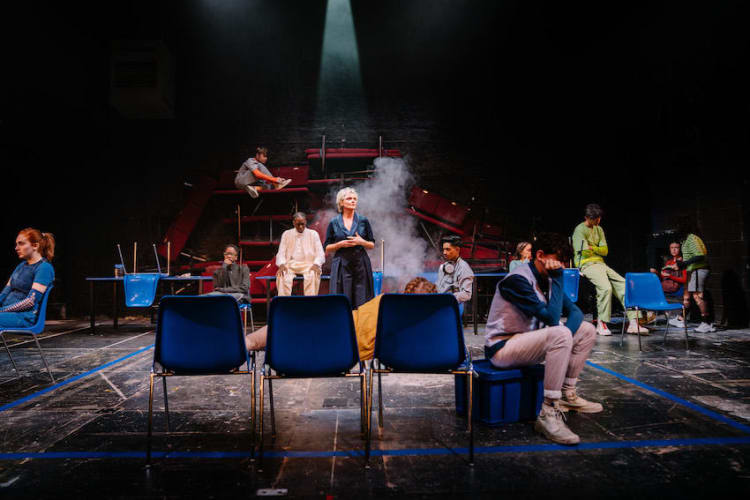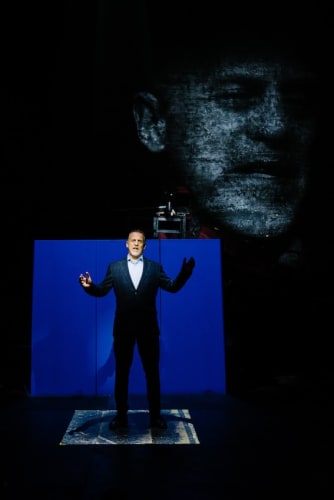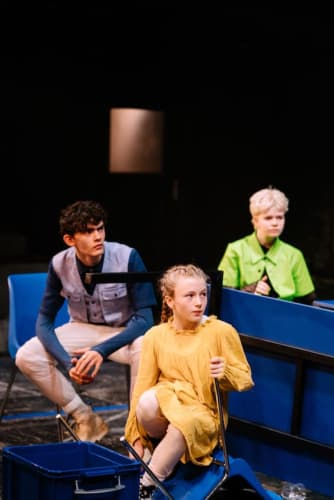 In 2011, Dawn King won the Papatango Prize for Foxhunter, her allegorical play set in a fundamentalist society that blamed foxes not climate change for the damage done to the environment. Now she envisages a near future when the world can no longer support its population and a younger generation judges its elders who failed to protect the planet for the future.
Democracy has been abandoned, strict laws control things, climate conditioning operates indoors, outside the air is thick with pollution. Millions have died but there are still too many for the plant's resources.
The biggest polluters—the politicians, the bosses of the big corporations and the super rich whose lifestyle and inaction have led to disaster—have already been judged and their sentences carried out. Now it is the turn of more ordinary people. This jury-room drama presents the trials of three of them. First, each defendant has 15 minutes to presented their own case, then the 12 person jury has 15 minutes to come to a majority verdict.
Defendant One (Nigel Lindsay) was a businessman. He claims he behaved as responsibly as possible while still running a profitable company and supporting his family. He recycled, bought an electric car, tried to make short-haul business trips by rail. He led a decent life following the laws the time but he is judged by standards applied retrospectively: he had three children, that was a second car, their holidays may have been educational but they were long-haul.
Defendant Two (Lucy Cohu) is a writer: she voted Green, her plays increased awareness and made a contribution to culture, she didn't have children but she still used up resources, art also causes pollution.
Defendant Three (Sharon Small) worked for an oil company: she acknowledges her own guilt, her eyes now open she is proud of her environmentalist, tree-planting daughter. She doesn't ask for mercy but does the woman she now is deserve it?
The teenage jury now have to make life and death decisions. Some of the jury have lost parents in ecological disasters of flood and fire: Joe Locke's passionate Noah saw his parents drown, others in the process of law like those of previously privileged Kako (Meréana Tomlinson). Amelia (Elise Alexandre) is sick with anxiety at the gravity of the outcome of the judgements they have to make but unruly Tomaz (Charlie Reid) is more concerned with his own comfort and when they will get promised snacks. Though they all don face masks, when Tomaz breaks rules by opening a window, it is Jairaj Varsani's asthmatic Adnan who is a constant reminder of conditions outside.
There is a delicately controlled performance from Honor Kneafsey as tree-planter Ren, trying to be unbiased as Jury Foreperson, while Joe Locke's Noah storms around as extreme as Gabi, though his confidence is knocked a bit by the response his advances get from trans Chris (Rue Millwood).
Jowana El-Daouk gives outspoken Gabi real fervour. Her parents were too poor to face prosecution, but is it revenge on the privileged that feeds her motivation? Opposing her with a call for compassion and reason is Francis Dourado's Mohammad, a crucially balanced performance as he seeks to win over the undecided, like Pelumi Ibiloye's Marek and Taya Tower's Zoe or Climate Defence Force volunteer Xander (Will Gao), collector of the dead when disasters strike, who is also a poet.
Xander reciting one of his poems while others do Ti Chi is one of the ways the jury relieve the tensions among them, or they may let their imaginations run free imaging things they won't now experience, like snowfall or flying, or remembering things like the taste of bacon now everything has to be vegan.
The jurors' deliberations must consider how each defendant's career and lifestyle has contributed to pressure on the planet and, of course, that's a call to all of us, that isn't just fossil fuel burning transport, wasteful heating or cooling methods or diets that produce more greenhouse gas or destroy the environment but in every aspect of life including adding to the population.
The Trials could easily become a lecture but a twist in the story adds narrative and its young performers are a reminder that it is their world being ruined and by us. Director Natalie Abrahami gets committed performances from all of them. Many are actors are making their professional debuts. They have been cast after being part of a project that has involved 1,372 young people through schools and community groups and a further 206 young people in intensive development workshops held at the Royal Central School of Speech and Drama, with support from the National Youth Theatre, working on voice, movement and performance skills, taking part in sessions on climate activism and devising new work on the subject of climate justice.
In The Trials' picture of the near future, the politicians and magnates who didn't take action are gone; it is ordinary people who are being judged. It is ordinary people who are called to account now.
Reviewer: Howard Loxton