The Trials of Oscar Wilde
John O'Connor and Merlin Holland
European Arts Company
Greenwich Theatre
–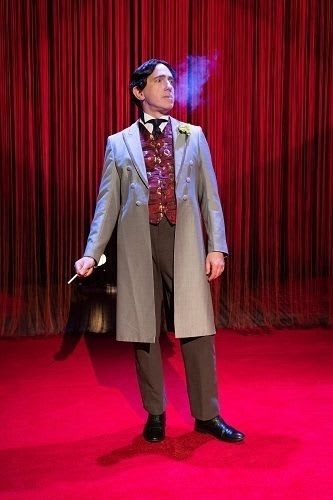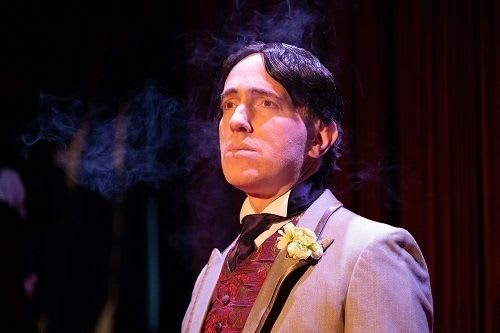 "There is no truth in any of the allegations, no truth whatsoever."
"Nothing you write is ever true?" "…not true in the sense of actual sense of correspondence to actual facts of life, certainly not; I should be very sorry to think it."
"The truth is rarely pure and never simple."
The aphorisms of Oscar Wilde seem perfectly attuned to our 'fake news' times. But, while it was not truth that concerned Wilde, neither was it deception, nor good or evil, morality or immorality. Rather, his quest was for Art and for Beauty, "the very highest sense" of which human beings are capable.
A criminal trial, however, is a search for fact not fiction. And The Trials of Oscar Wilde, a courtroom drama cowritten by director John O'Connor and Wilde's grandson, Merlin Holland, is a palimpsest of textual evidence constructed from the court records of the playwright's two 1895 Old Bailey trials—which Holland had previously published in his book Irish Peacock and Scarlett Marquess—journalist's notes, contemporary newspaper reports, and fragments from Wilde's own plays.
Wilde's fall from the heights of literary fame and adulation to the humiliations of infamy and imprisonment is a story well-known and oft-told. There is no unresolved tension in The Trials of Oscar Wilde: we known the outcome at the start. Thus, Holland and O'Connor face a challenge to construct a dramatic conflict that will inspire concern for Wilde's fate rather than mere admiration for his frivolities.
And, the authors have undoubtedly risen to that challenge. The context is deftly established at the start through brief snatches of the 'backstory' that would see Wilde exchange the theatrical stage for an unscripted public performance at the Old Bailey—one in which he would be brought down by the very words and wit which had raised him so high. The rapturous first-night reception of The Importance of Being Earnest; the Marquis of Queensbury's defamation of Wilde in the form of a calling card, "For Oscar Wilde posing as a sodomite", left at the Abermarle Club: such snatches are fluidly linked by Duncan Hands's chiaroscuro lighting and Matthew Eaton's sound design.
As Wilde's two trials subsequently unfold, the actors in the courtroom frequently address the audience. We occupy the jury box, compelled to listen and judge as the prosecuting QCs, Edward Carson and Charles Gill, relate and re-enact Wilde's improprieties, "gross indecencies" and, in the concluding words of the Old Bailey Judge, "extensive corruption of the most hideous kind".
John Gorick's Wilde is, initially, a portrait of refined artifice. Concerned solely with pose, poise and performance—hand effeminately curled on waist, wrist archly cocked, chin and nose superciliously angled—with cultured indifference, Wilde gazes speculatively into the distance, as if to elevate himself above those "ordinary individuals" who do not share his own extraordinary vision of Beauty and cannot understand the nobility of a love that is a "deep, spiritual affection", "as pure as it is perfect".
Gorick deliciously captures Wilde's delight in the public confirmation of his intellect and literary prowess, basking in his own aphoristic bon mots and in the praise of others. But, there is a moment, quite early in the play—evidenced by the slightest raising of an eyebrow or the twitching of a cheek—where vainglory is confronted by vulnerability, where aloofness glimpses humility. And in this almost imperceptible gesture, Gorick wins our sympathies for the man whose fate is sealed.
A cast of three bring the players in Wilde's personal drama to life with impressive definition and detail. Seated at the four corners of a square, crimson carpet—a swathe of red velvet debauchery—they are shrouded in darkness and with quick changes of costume, accent and bearing transform themselves with swiftness and skill.
Rupert Mason growls with aggressive aristocratic presumption as the Marquess of Queensbury. He dons wig and robe to deliver Edward Carson's clinical dissection of Wilde's iniquities with barely disguised disgust, then conveys the self-serving fallaciousness of the coarse blackmailer, Fred Atkins. As Sir Edward Clarke, Patrick Knox is a dignified defence barrister, before embodying policeman, reporter, auctioneer and masseur with equal relish. Benjamin Darlington makes us squirm when naïve, 21-year-old rent boy, Charles Parker, tells of candlelit rooms, champagne and brandy consumed and salacious goings-on in Savoy Hotel bedrooms.
As the testimonies and condemnation accrue, a spotlight falls on a seated Wilde—his back straight, his head tilted proudly, but his eyes shrouded with sadness—who is forced to relive his delights and his degradations, as flashback images from his life and his art are projected onto the red backdrop.
Perhaps inevitably, some aspects of the play feel a little contrived. There is, for example, a rather artificial quality when Wilde's aesthetic ideology is shoehorned into the courtroom drama. And some of the legal case / literary text juxtapositions can feel laboured: as when, for example, Carson's questions about Wilde's intimacy with the unsavoury Alfonso Conway, a 'loafer' from Worthing, are intercut with a voice-over of Algernon's adage, "if the lower class don't set us an example, what on earth is the use of them?"
But, the strength of both Gorick's performance and the neatness and pace of the text overcome such minor niggles. At the close, the lighting transforms the red backdrop from a swishing theatre curtain to clanking prison bars. Wilde is alone, and the truth of his own witticism—which frames the play—is confirmed: "I've now realised for the first time in my life the vital Importance of Being Earnest".
Wilde thought that his words would save him; instead they condemned him. His final words suggest that the real sadness lies in the silence: "...and I? May I say nothing, my Lord?'
Reviewer: Claire Seymour