The Truth
Florian Zeller, in a version by Christopher Hampton
Theatre Royal Bath Productions & Menier Chocolate Factory
Wyndham's Theatre
–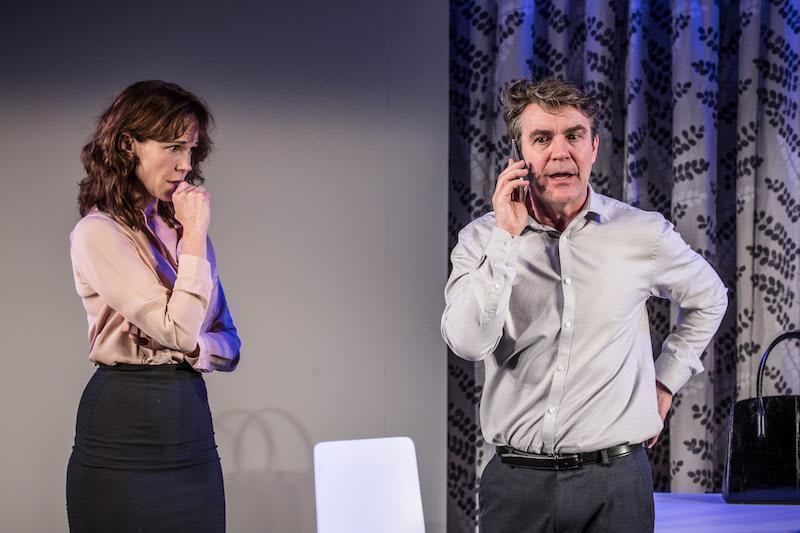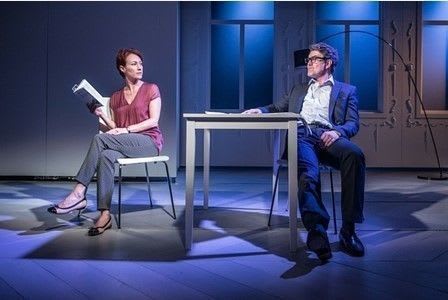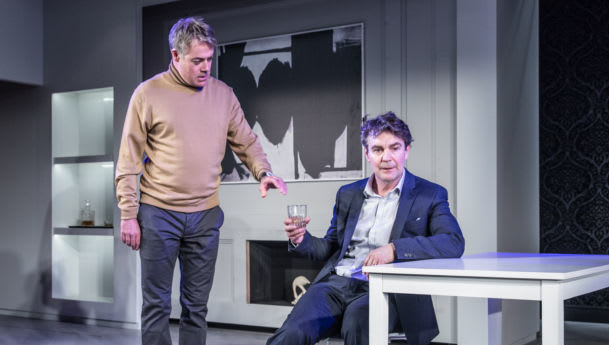 Florian Zeller, prize-winning French novelist and playwright, was unknown in Britain until Christopher Hampton's translation of The Father (Le Père) premièred in 2014. By spring this year, he had three plays running in London including this one at the Menier Chocolate Factory, now transferred to the West End.
While the other two were serious plays that dealt with dementia and depression, this one is a farce and, like so many boulevard farces from France, it's all about adultery. It is giving nothing away to reveal that the two people found in bed who've just had sex are married to other people, that's soon revealed. Strangely, they have kept their underclothes on: a hint perhaps that this isn't nitty-gritty reality but entertainment.
For six months, Michel has been having an affair with Alice (Frances O'Connor), wife of his best friend Paul (Robert Portal). When a 'phone call from Paul to Michel's wife Laurence (Tanya Franks) seems to contradict the cover story for one of their hotel-room assignations, a tangled web of inventive lying is woven.
Like almost every farce, this one demands acceptance of some unlikely or distorted feature—in this case that Michel, its central character, could actually get away with his outrageous jumps of logic, that this ego-centred Alpha could find a friend or lover who would put up with him. "I hate guilt," says Michel. "You hate all feelings," responds his mistress, fed up with being fitted in as quick sex between business meetings. If Michel does feel guilt, it is not over his marital infidelity but at being disloyal to his best friend and he can swiftly swamp that by finding an affront that puts others in the wrong.
This isn't a farce of bedroom doors and chases but of shifts of argument as sudden as a door slam. It is not for nothing that Michel thinks he's good at tennis for whatever comes at him he slams back promptly. Whatever tight corner he finds himself in, he comes up with a new lie so fast, so wild that it's more like ping pong.
Alexander Hanson plays Michel with pace and panic, big with bombast. It is a performance pitched beyond the naturalistic playing of his fellows that allows for laughing at this monster rather than hate him, but still hints at a basic insecurity behind his self-delusion.
Zeller gives his plot some very clever twists that question what actually is the truth here, that make it intriguing as well as entertaining. The Truth also raises serious questions of how to handle infidelity if it happens. Do you confess? Do you question? What action is most hurtful? Is Michel right in declaring, "if people stopped lying there wouldn't be a couple left on earth"?
But mainly it is fun, mounted with Gallic elegance by designer Lizzie Clachan and getting beautifully timed playing under Lindsay Posner's direction. Be ready for surprises.
Reviewer: Howard Loxton