The Turn of the Screw
Benjamin Britten, libretto by Myfanwy Piper
Le Monnaie / De Munt
Le Monnaie / De Munt, Brussels
–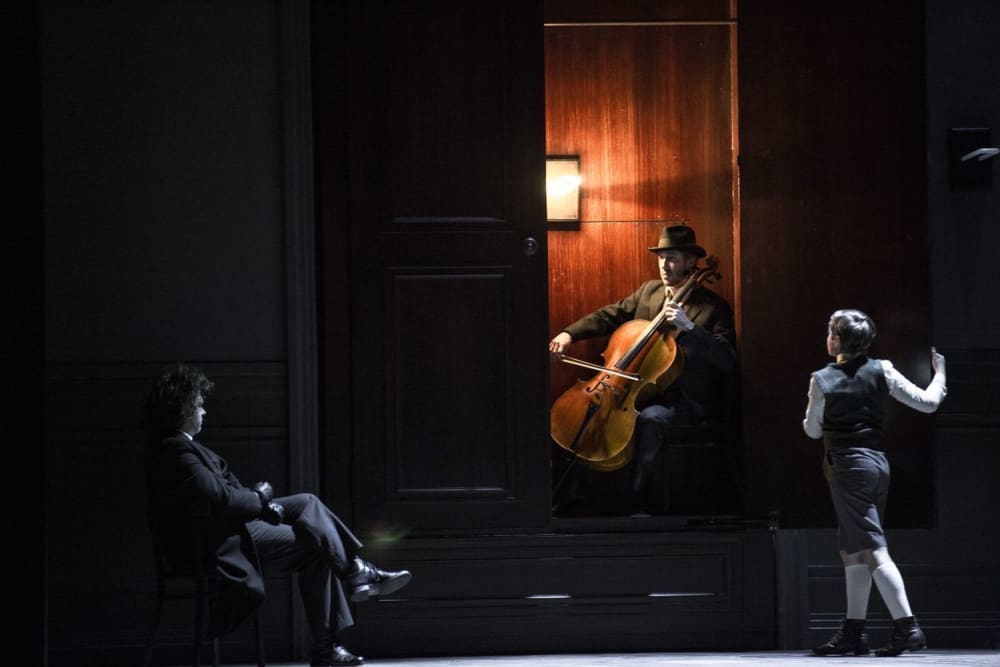 How do you stage a nightmare? I think you will enjoy Andrea Breth's surreal and intellectually exciting production of The Turn of the Screw for Le Monnaie / De Munt much more if you have already seen other productions of Benjamin Britten's brilliant 1954 chamber opera or read Henry James's chillingly ambiguous novella, published in 1898 and one of the great ghost stories, or seen the Jack Clayton 1961 film starring Deborah Kerr.
If you have done none of these things, I strongly advise you to read a synopsis before viewing this 2021 production online on the OperaVision channel for free.
Peter Quint, a former valet, and Miss Jessel, a former governess, return from the dead to haunt the house in which they were once employed. They frighten the life out of the new governess, who senses their evil and desperately wants to protect her two young charges, Miles and Flora. She is too late. The ceremony of innocence is drowned. They have already been abused and demonised.
The governess (alone, helpless, lost in a labyrinth of her own making) and a wildly dishevelled Quint fight for the soul of Miles. Is the paedophilia for real? Or is it merely in the mind of a frustrated and infatuated governess who lets her erotic fantasies get the better of her?
Audiences will be as disorientated by this deeply disturbing psychological thriller as the governess is. Strange and mysterious things happen on stage. The set (designed by Raimund Orfeo Voigt) constantly changes its shape, creating new spaces. Walls slide to reveal suited strangers. Cupboard doors open to reveal occupants. The two children spill out of a broken piano lying on its side.
There is no reality. Andrea Breth's harsh staging is totally surreal. The cruel action is a memory of past events, a Kafkaesque nightmare, an intellective abyss. The Prologue (Ed Lyon) remains on stage, a silent figure. Is he the children's guardian with whom the governess is in love?
Britten's superb score, conducted by Ben Glassberg, dissonant and unsettling, turns the screw tighter and tighter and ups the horror. Sally Matthews and Julian Hubbard are excellent as the governess and Quint. There is strong support from Carole Wilson as the housekeeper, Mrs Grose. Freudians will have a field day.
Reviewer: Robert Tanitch