The Two Gentlemen of Verona
William Shakespeare
Storyhouse
Grosvenor Park Open Air Theatre
–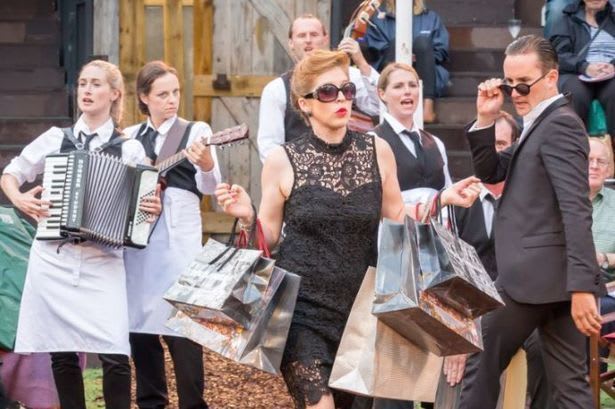 The last of the three productions to be premièred in Grosvenor Park this summer is the play generally believed to be Shakespeare's first.
Artistic Director Alex Clifton directs and he skilfully moves the narrative from a Verona which is transformed to an English seaside town to the suave sophistication of modern Milan and the wilderness of the forest. Oh, and a dog appears to steal the hearts of the audience. Throw in the most gorgeous of afternoons and the idyllic setting and the recipe for success is complete.
The central theme of the play, love and friendship, is underpinned by some strong performances led by Harry Livingstone's Proteus and Pippa Moss's Julia. Despite being in love with Julia, Proteus follows his best friend Valentine to Milan where things start to become very complicated.
The Milan Proteus finds, and where he falls in love with Silvia who is also the object of Valentine's affections, is a brilliantly portrayed vibrant and chic centre of fashion. Valentine is about to discover that Dr Hook was never more right than when he sang "When you're in love with a beautiful woman, you watch your friends" as Proteus proceeds to set about winning the hand of Silvia.
While we may not be treated to the sight of 'Silvia's Mother', we are left in no doubt that her father, The Duke of Milan, is also the Main Man and Ben Tolley is pitch-perfect as the patrician Don who suspects a blossoming romance between Valentine and Silvia and so keeps her locked, Rapunzel-like, in her tower. The antics of Robert Willoughby as Valentine, as he tries to conceal the rope ladder with which he plans to spring Silvia, have the audience in stitches, and blushes in the case of one lady.
The reason for his concern? None other than Fred Lancaster's excellent Turio, a hapless, wannabe 'King of Cool' and the person who The Duke wants to marry Silvia. Turio's every entrance is a well-choreographed treat accompanied by a team of waiters to whom you really wouldn't want to complain about the food. However, all is not what it seems and Turio, who has been unable to win the heart of Silvia, gladly accepts Proteus's offer of help to woo her which leads to a hilarious balcony scene, and some very dodgy doggerel.
Proteus has already made his position clear when he states, "in love, who respects friend?" This makes Hatty Preston's Silvia's disdainful dismissal of his advances all the sweeter and ensures that she, alongside the thoroughly modern Julia, are the performance's dominant characters. However, special mention must go to Danielle Henry who is a ball of energy as Speed and to Johnson Willis as Launce and of course Rubie as his dog Crab who was available to meet her adoring fans as they left.
Grosvenor Park Open Air Theatre has been another resounding success this year and has left a larder full of memories to sustain us through darker hours.
Reviewer: Dave Jennings