The Two Gentlemen of Verona
William Shakespeare
The Guildford Shakespeare Company
University of Law Gardens, Guildford
–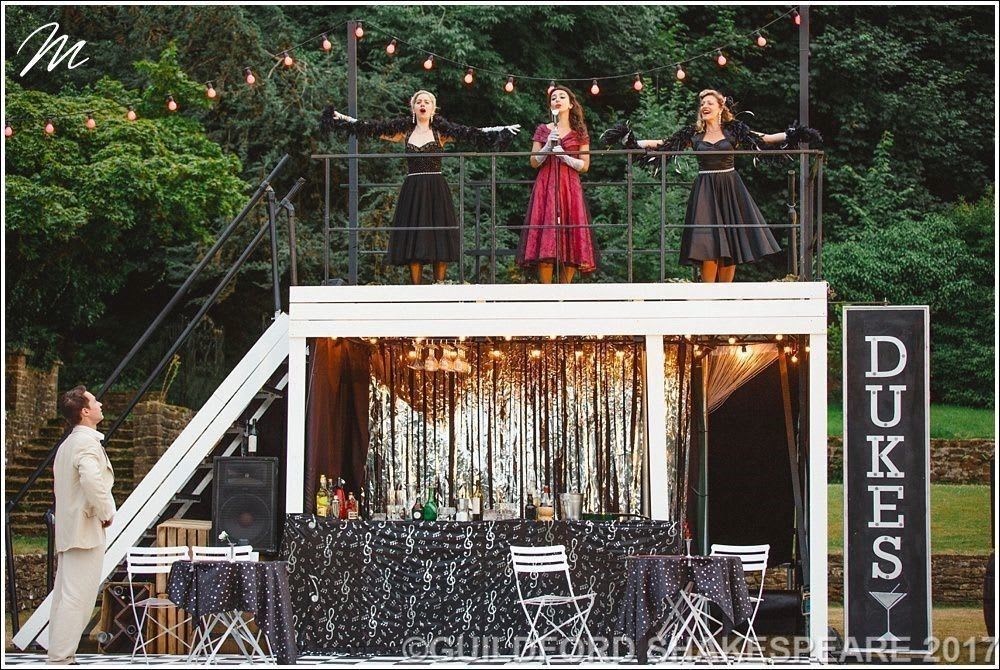 Hot on the heels of the the mystical, magical, mysterious and truly hilarious Midsummer Night's Dream presented in the eerily atmospheric Rack's Close venue, the same cast now performs the more down-to-earth The Two Gentlemen of Verona in the beautiful and sedate gardens of Guildford's University of Law, once again providing an evening of pure theatrical pleasure, if on a somewhat more serious note.
That is not to say that comedy is lacking, one aspect provided here by Paul Trussell as rejected suitor Sir Thurio. Long lanky and lugubrious, he is given to examining one of his large feet as if surprised to find it still there on the end of his leg and his comical facial expressions have the audience in fits of laughter as every nuance of his feelings, anger, disappointment, panic, relief are painfully obvious. He's not too hot on the serenading front either.
Matt Pinches' comic genius comes into sharp, and very funny, focus too with his version of Launce and his dog Crab, a definite highlight of the show as Lance woefully tells how he takes punishment for his beloved dog rather than have the dog suffer. Crab (aka Buddy) show his appreciation by nearly knocking his master over in a surfeit of enthusiastic love and licks. Not sure why Lance is Welsh but the accent seems to add to the comedy. Great performance.
The Two Gentlemen of Verona is believed to be Shakespeare's first play and he seems to have included every plot line he could imagine, most ideas surfacing again in later plays and in many ways similar to Midsummer Night's Dream. There is a domineering father, an elopement, girl disguised as a boy, an escape into a forest—but most of all it is about the craziness, intensity and confusion of young love and how it can lead to betrayal and infidelity. Could this have been the original Shakespeare in Love? Surely the character Proteus can not have been himself.
I have never cared for Proteus and cannot understand why his first love Julia could still love him after he rejected her in favour of Lady Sylvia, betrayed his best friend Valentine and even tried to take Sylvia by force when she rejects him. However his speech, delivered with bewildered intensity by Jack Whitham, shows a young man crazy with desire battling with his conscience and so confused by his feelings that he doesn't quite know what he is doing. I can almost (but not quite) understand.
Director and adaptor Charlotte Conquest has embraced the spirit of 1950s Italy in this production. Wine flows freely, Milanese Sylvia is a famous opera singer and there is more than a touch of the Mafia in Owen Oakeshott's version of her father Duke, full of bonhomie until crossed when his tone becomes frighteningly menacing.
I have come to expect exceptional performances from this company and they never let me down. Co-founder Sarah Gobran is as outstanding as ever, whether as cafe waitress, night club singer or brigand in the forest. Meghan Tyler is a sweet and innocent Julia and very funny trying to act like a man, Ailsa Joy is every inch a famous opera singer, Owen Findlay as Valentine is as naïvely innocent as Julia and Emma Fenney is as engaging as servant Speed as she was as Puck.
Could there possibly be a better way to spend a balmy summer evening?
Reviewer: Sheila Connor