The Two Most Perfect Things
Adrian Fisher and Stuart Barham
The Words and Music Theatre Company
Riverside Studios
–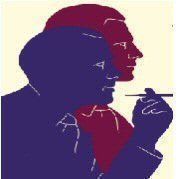 In this Jubilee year, there have been many celebrations of the 'Best of British'. This production fits neatly into this category as it honours the two theatrical legends of Noël Coward and Ivor Novello. Elegantly staged with an imitation marble set and the cast in evening dress, a sophisticated tone is projected which contrasts well with the frothy nature of some of the pieces.
The show is not quite a concert as narrative material is weaved amongst musical extracts, however the emphasis does lie firmly with commemorating the songwriting talents of the pair. With a cast of four (plus musical director Stuart Barham at the piano) there are plenty of opportunities for individual moments in the spotlight. The men, Adrian Fisher and Darren Bennett, play Coward and Novello respectively whilst the ladies, Nova Skipp and Margaret Preece, move from representing the men's squabbling mothers through to their adoring fans.
These are experienced performers and it is refreshing to enjoy such clean and crisp delivery without the use of amplification. Occasionally the sharp bite of Coward's lyrics is lost due to the beautiful harmonies, but the group rendition of Novello's "Keep The Home Fires Burning" at the end of act one is a moving one.
The songs are packed tightly together and exquisitely sung, but this is at the cost of some biography material. Aficionados are unlikely to learn anything new and the uninitiated will leave with only a brief overview of the two men's lives and careers. For those unfamiliar with the works of Coward and Novello, the programme will be invaluable. The song titles are highlighted in different colours to denote the authors and this is very useful as long-winded introductions to songs are wisely avoided.
With such a wealth of material to choose from it was always going to be a difficult script, but Adrian Fisher and Stuart Barnham have done well to balance diary extracts, newspaper reviews and quotes from fellow performers. Whilst the darkness in Coward and Novello's lives is only really alluded to, one must be reminded that this is billed as a "celebration of the lives and careers" and so it there will inevitably be a bias towards the memorable aspects.
This is a charming production and the affection for the material is clear in performance. With a trimmed script for the Edinburgh Festival run, it will no doubt be an even more enjoyable show. It sounds churlish to suggest that there is currently too much entertainment but the concert section after the curtain call, whilst superbly put together, could have been the finale in its own right.
The impact that the two men exerted over British theatre cannot be underestimated and it is appropriate that The "Master" and The "Governor" are recognised publically in a show that has been produced with such respect and care.
Reviewer: Amy Yorston