The Two Popes
Anthony McCarten
Royal & Derngate, Northampton
Everyman Theatre, Cheltenham
–

Listing details and ticket info...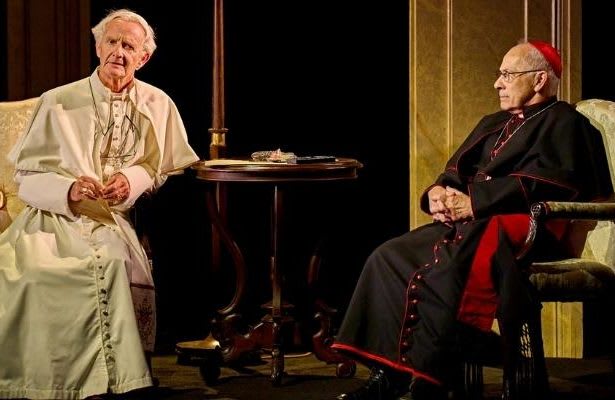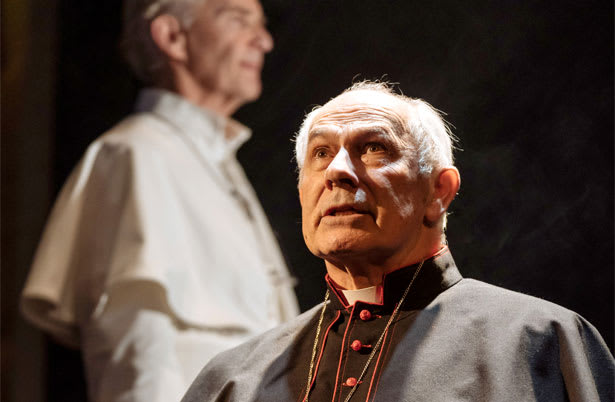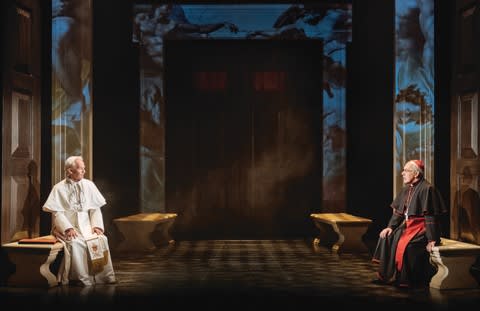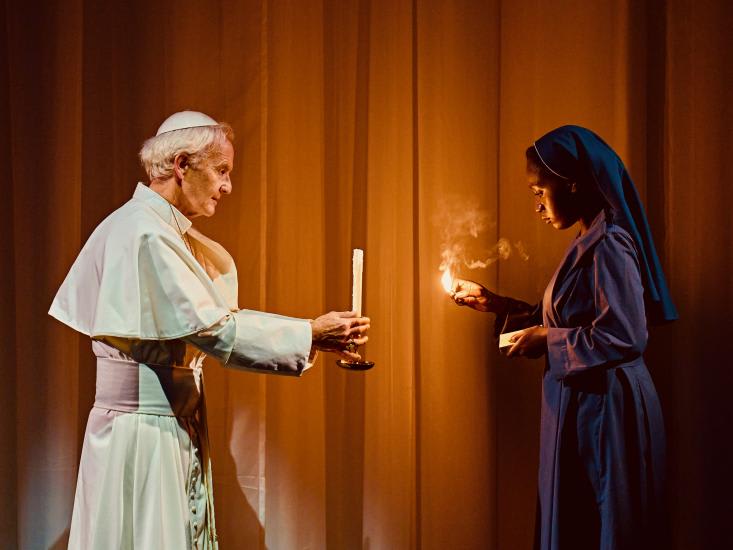 In 2013, the 86-year-old Pope Benedict XVI resigned, something a pontiff had not done for 700 years, but stayed on in the background as 'Pope Emeritus'. His obvious successor would be cardinal Jorge Bergoglio, the future Pope Francis, but the radical Argentinian, 75, also wanted to step down and had come to Rome hoping Benedict would sign off his retirement.
And so, as Benedict tells him, "I cannot resign unless you agree to stay." Their discussion about the role of the church and each man's fitness to lead it is at the heart of Anthony McCarten's gripping and at times harrowing play, later adapted for the Oscar-winning film.
The two men could not be more different—Benedict cold, ultra-Conservative, contemptuous of change, other-worldly, longing to retreat to his Bavaria of books, cats, Mozart, and peasant soups, the tango-dancing, one-time Marxist cardinal charismatic, radical, frustrated at the Vatican's refusal to adapt to the modern world.
The church is in trouble, but faced with loss of faith in the west, corruption in the Vatican bank, widespread child abuse and questions regarding divorce and celibacy, we first see Anton Lesser's Benedict proudly proclaiming he has reached page 455 of his theological treatise. Even Lynsey Beauchamp as his devoted Sister Brigitta asks: "Is this the best use of your time?"
Bergoglio, on the other hand, played by Nicholas Woodeson, comes onto the stage, microphone in hand, addressing the poor people of Buenos Aires to whom he has devoted his life.
Neither Brigitta nor Sister Sophia, her opposite number in the cardinal's court, appear in the film, but their roles here reflect the attitudes of their masters. For while Brigitta shares Benedict's love of the quiet life, Sophia, played by Leaphia Darko, has been inspired to become a nun by Bergoglio's denunciation of the crimes of big business.
Arguments are traded back and forth, about continuity versus change, about duty and the role of the church in society, but the play is as much about human frailties as about theology, and with two of Britain's finest actors on top form, the script fizzes with life as the two men confess their failures.
Benedict knows he has been ineffective, unloved, and stands wraith-like, abandoned at the end, having been accused, in one slightly awkward line I suspect of having been inserted recently, of supporting 'trickle-down' religion.
It's hard to admire the man, yet Lesser's pained expression, his tone of apology for himself and his German jokes—they "don't have to be funny"—evoke compassion for this sad figure.
Woodeson gives a towering performance, his confession of having collaborated with the junta, having taken tea with the loathsome General Galtieri, is riveting. His action saved the lives of all his Jesuits, but not other priests, two of whom were tortured, for five MONTHS, he snarls. You could feel the effect ripple through the theatre.
Reviewer: Colin Davison