The Two Worlds of Charlie F
Owen Sheers
Opera House, Manchester
–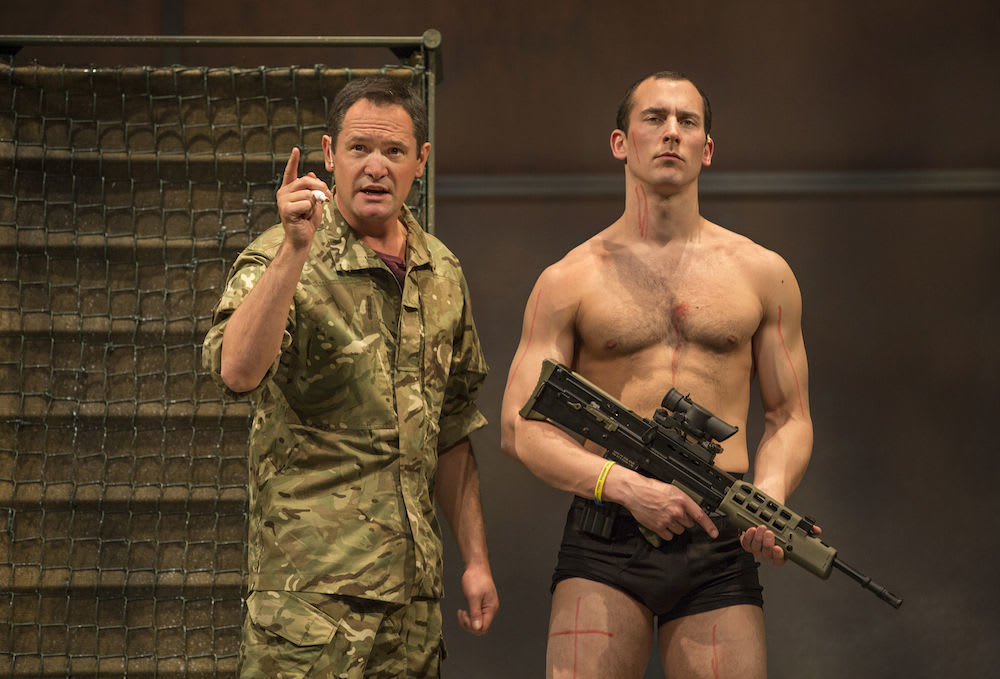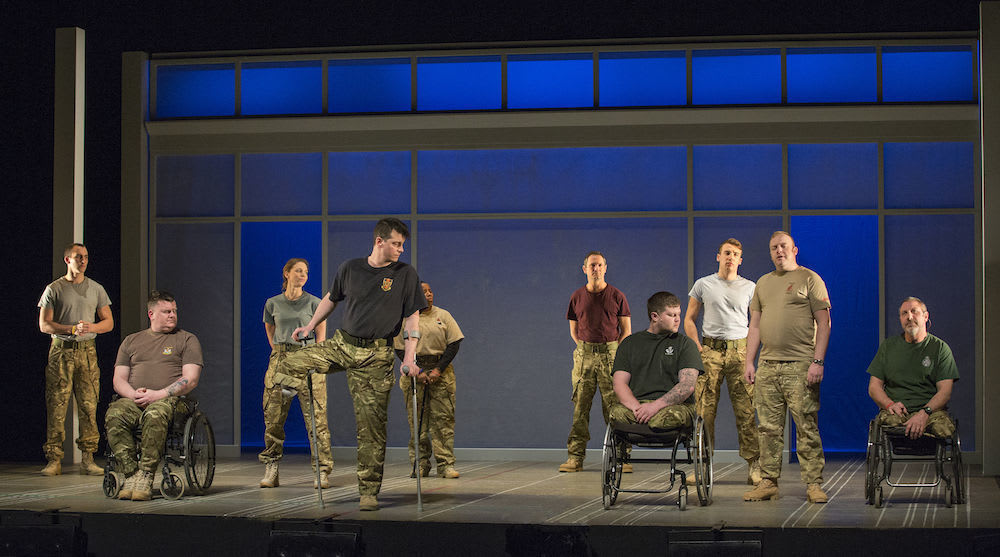 The play's message is driven home when you open the programme to see a dedication to one of the original cast members who died last year at the age of 23, and then a slip of paper falls out to say that two of the current cast members are unable to perform tonight.
Not that you'd know from this tightly-bonded ensemble of actors and injured ex-soldiers, but when your cast has suffered horrific physical and mental injuries and seen sights of which we can barely imagine, this may not be an uncommon occurrence.
The play is in the form of a revue, told through dramatic scenes, monologues, songs, dances and Greek chorus-style narration. There isn't so much a narrative thread as a sequence of snapshots of the issues soldiers and their families have to endure.
So we see the men and women signing up, shipping out, missing home, searching for explosives, seeing themselves and their colleagues blown up, having therapy and trying to come to terms with life as an injured ex-soldier through the words of playwright Owen Sheers but spoken largely by performers who have lived through everything that they show to us. This, of course, gives it much more poignancy and authenticity, but it is also told with a great deal of humour.
It gives a true insight into the lives of the soldiers out in Afghanistan, and into the minds of those who have come back. It is quite heartbreaking when Charlie tells us he craves physical contact with his girlfriend at the same time as he is pushing her away.
Some of the cast are obviously not trained actors but get across their stories perfectly effectively, although others are actually very good. In the title role, Canadian Cassidy Little opens the show, resting the stump of his missing right leg on his crutch, with a monologue that borders on stand-up comedy but with an underlying seriousness, which he delivers with perfect timing and authority. Darren Swift, who lost his legs in a terrorist attack in Northern Ireland, also gives a strong performance.
The ensemble of more experienced actors filled in for the missing performers, with some notable performances from Tom Colley as Sapper John Booth and Owen Oldroyd Major Daniel Thomas, with the female soldiers, wives and girlfriends all performed by Miriam Cooper, Venetia Maitland and Lily Phillips, the latter also the show's choreographer.
Stephen Rayne's direction produces some nice scenes but occasionally poor positioning of actors, with a few of the clichés of this type of theatre in clear evidence. There was a lack of military precision in the lighting with a lot of late cues and dark spots, but hopefully these were opening night issues. A couple of the songs provide atmospheric moments, but many of them are a bit weak and add little to the show.
While some elements of the production could be better, there is real substance, warmth and humour that makes the whole thing quite compelling, and at just two hours including the interval it never outstays its welcome.
Reviewer: David Chadderton