The Unfriend
Stephen Moffat
Playful Productions, Chichester Festival Theatre, Eric Kuhn, Karl Sydow and Sue Vertue/Hartswood Films and Sayers and Sayers Productions
Criterion Theatre
–

Listing details and ticket info...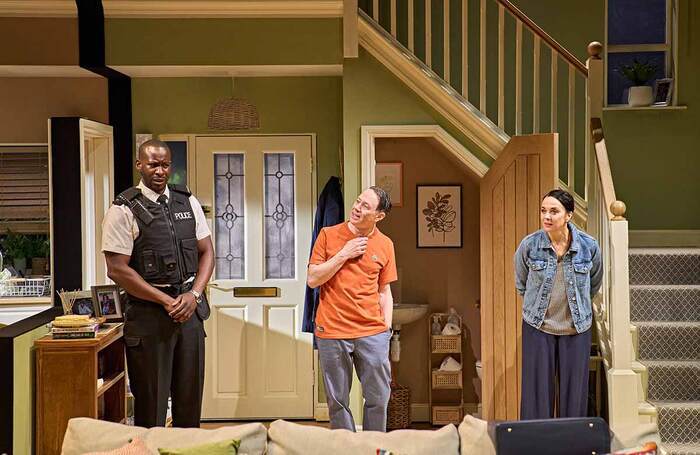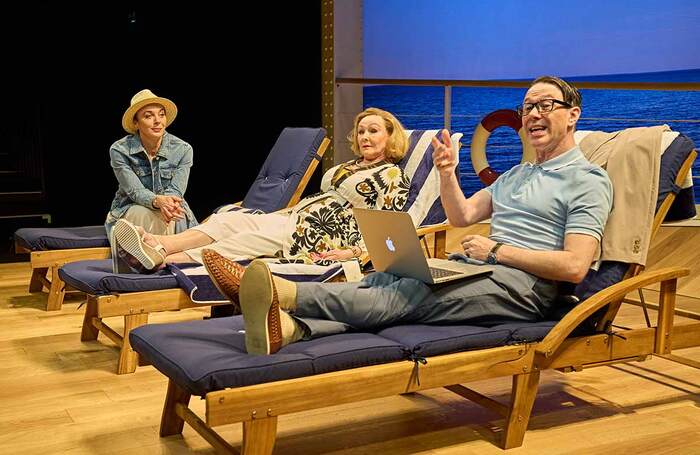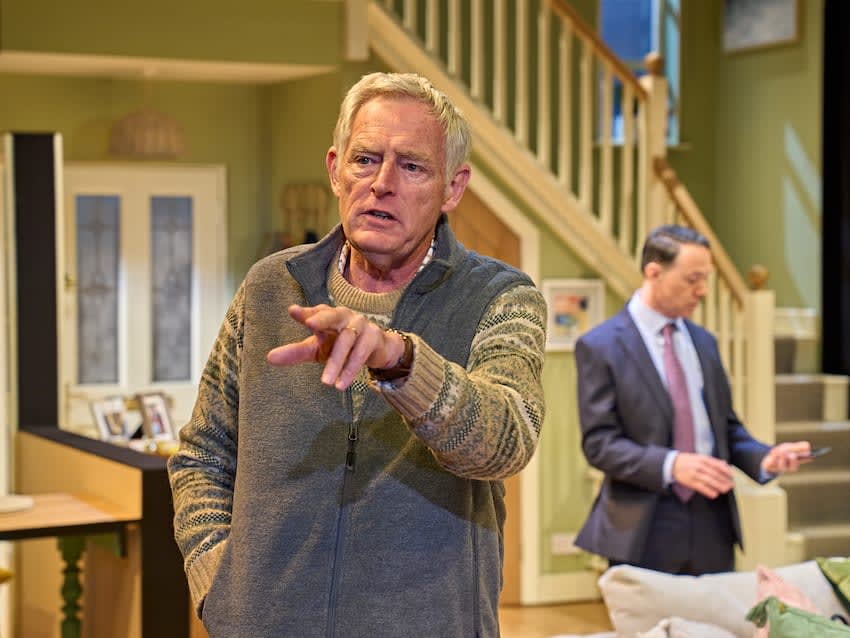 Have you ever exchanged addresses with a holiday acquaintance with a promise that you'll keep in touch? Yes, we all have. And did you keep in touch, once you got home and back to the rest of your life? What if they then turn up on your doorstep?
That's what happens to Debbie and Peter in Steven Moffat's lively comedy, the Chichester Festival Theatre production of which is now in the West End.
Elsa Jean Krakowski is an overbearing American who elbows her way into their lives when they meet on a cruise ship and inveigles their e-mail address out of them without sharing hers. Next thing they know, she is coming to visit. Debbie has Googled her and come up with a news item that accuses this loud-mouthed Trump supporter from Denver of multiple murders. Before they can think of a way to put her off, she is at the door of their middle-class home in the suburbs, a week early and loaded with luggage.
Uptight and tongue-tied by good manners, Debbie and Peter politely play host, worried about the risk to their unmanageable children—what can they do when Elsa wants to cook dinner? Will she poison them? When they cook up reasons to get her to go, their children countermand them. They not only like her, she has changed their behaviour for the better.
This is Comedy in capital letters. Moffat packs in the laughs as timid British middle-class mores face unquestionable confidence with escalating awkwardness, Robert Jones's set framing it all in reality.
Frances Barber is a hoot as big-mouthed Elsa. Is she a total phoney or are her humane interventions the real thing? She is outrageous, but within bounds or British reticence might break down.
While Amanda Abbingdon's Debbie keeps some control over her panic, Reece Shearsmith's Peter squirms with embarrassment, his face distorting in his efforts to handle it. His is a comic book performance that knows how to press the audience's buttons and Mark Gatiss's direction does too. Like a moment held as luggage is lugged upstairs or a delightful sequence made up of sound effects. It makes the threat that Elsa could murder both present and funny.
Michael Simkins, as the next-door neighbour whose name Peter can never remember in a recurring gag, captures his nonentity in the same style. In contrast, Gabriel Howell and Maddie Holliday as the couple's dysfunctional children develop a normality that emphasises their father's farcical behaviour as does Marcus Onilude's cool performance as PC Junkin, who comes to interview Elsa.
Moffat and Gatiss have delivered an audience pleaser, skewering one aspect of British behaviour in a tale that might have a violent ending. A warning too: think twice when you are on holiday!
Reviewer: Howard Loxton