The Universal Machine
Book and lyrics David Byrne, lyrics and composition Dominic Brennan
PIT
New Diorama Theatre
–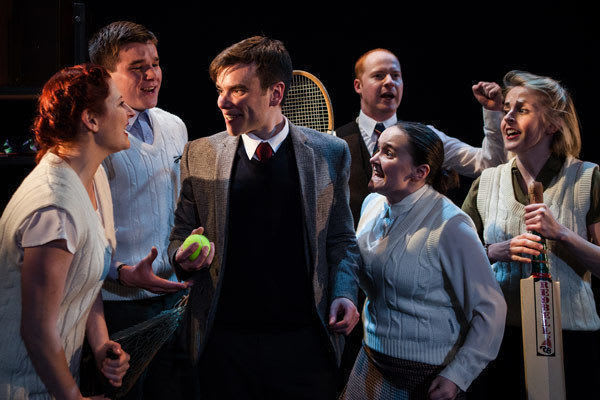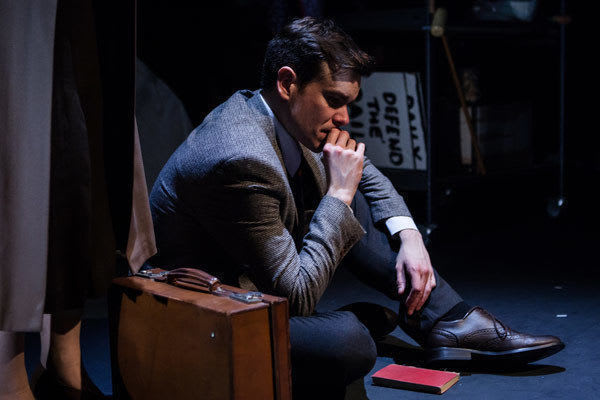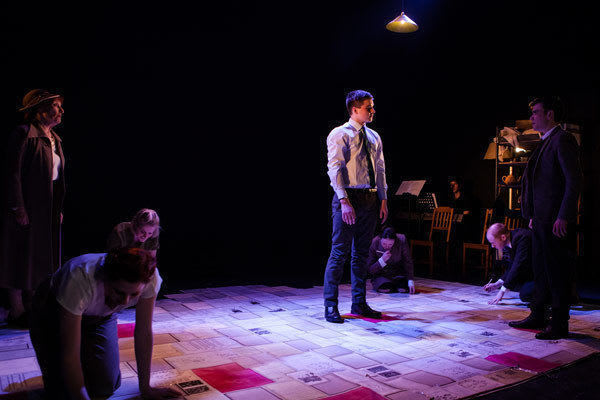 The human body is a machine, a machine that can think, thought Alan Turing, but he envisaged making a machine that could think, a machine that was lasting and repairable. This is a musical about the man whose work formed the foundation of modern computer science and the study of artificial intelligence.
It traces his life from schooldays to his suicide after conviction on a charge of gross indecency and the chemical castration by injections of female hormones that he accepted instead of a prison sentence. Although he was awarded an OBE in 1945 in recognition of his wartime work, the secrecy that enshrouded it and his homosexuality meant that it was many years before his contribution to science was generally known. Now his achievement is widely acknowledged, and to some extent this musical is a celebration of his achievement, it is also a sensitive study of the man.
Writer and director David Byrne does not present a detailed biographical study; this is rather like one of those composite murals that pick out key points in a history and in the same way Dominic Brennan's music encapsulates the emotional stresses of Turing's personal story. Dialogue flows easily into song and both are blended with a fluid form of physical theatre that is a feature of this company's creations.
The score, which begins with a simple piano accompaniment and then introduces electronic instrumentation, sounds deceptively simple and is an expression of feeling rather than providing catchy numbers, skilfully played and well sung by the cast, especially by Judith Paris in her touching performance as Turing's mother.
Alan Turing was not an easy mixer but driven by his own fascination with his work. Richard Delaney, while capturing that obsession and remoteness, also suggests the warm personality beneath, desperate for someone with whom to share life, like Chris, the older boy at school with whom he hoped for so much working together, but who died, a boy whom Byrne suggests stayed forever in Turing's heart. It is beautifully encapsulated in a number in which Turing sings of the two weeks of holiday when he can escape and be himself, the 50 that make up the rest of the year to endure alone.
The rest of the cast play multiple roles and sweep from scene to scene pushing the school desks on wheels, a continuing suggestion that Turing stays locked in his school days that, with projections and a graphic presentation of Turing's machine, provide the setting. There is a cameo from Cecilia Colby as a work colleague who offers a marriage blanc to give Turing protection, though even that he can't go through with, and Andy Mcleod is academic Max who recognizes his talent while Michael Faulkner plays both Chris and the young man whose liaison led to Turing's conviction.
The piece is not without humour. There is a comic, almost caricature bossy landlady (played by Leah Milner), and a bright number on young Turing's aversion to sport, and there is a lively treatment of the development of the "bombe", the machine Turing created at Bletchley that helped break the Enigma code. However, though this engaging production celebrates Turing's achievement, it is his personal struggle and the more elegiac moments, such as when Turing thinks of a reunion with Chris, that make it most moving and will long stay in the memory.
PIT in this production presents a work in which music, movement and drama all come together in a satisfying composite.
Reviewer: Howard Loxton