The Unreturning
Anna Jordan
Frantic Assembly and Theatre Royal Plymouth
Curve Theatre, Leicester
–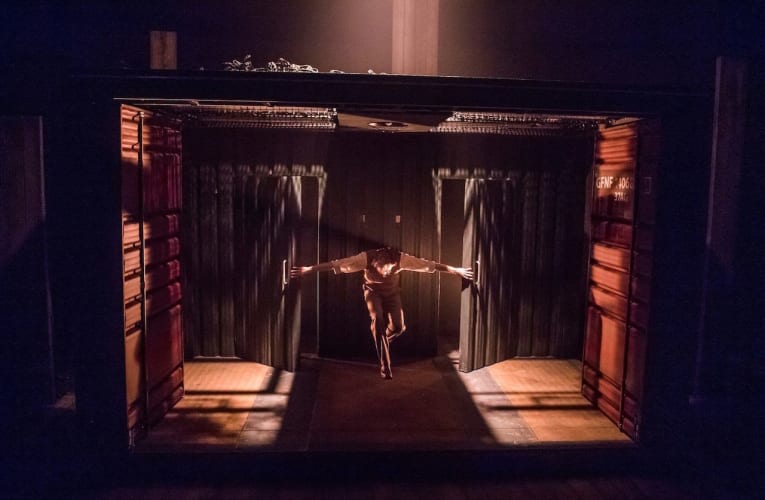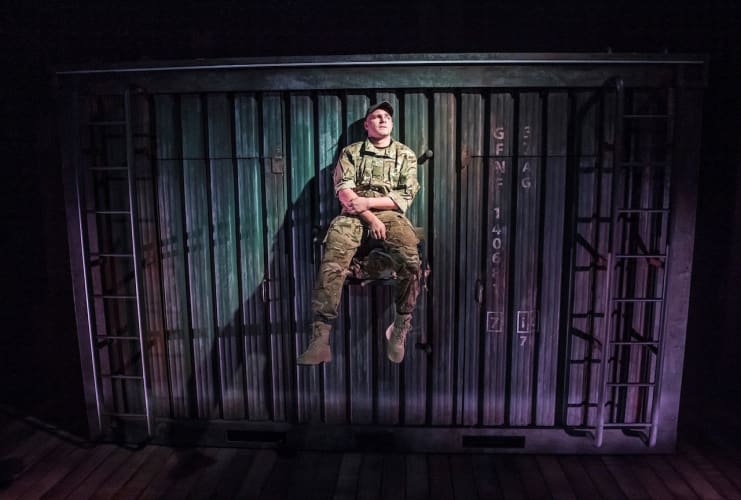 What does home mean to you? In times of conflict and war, thoughts often turn back to home, its comfort and solace, and this is the premise for The Unreturning, the co-production between Frantic Assembly and Theatre Royal Plymouth now nearing the end of its UK tour.
The Unreturning pulses with a powerful energy, a perfect storm of stunning design (Andrzej Goulding), sound (Pete Makin) and lighting (Zoe Spurr) combined with absorbing performances from the four-strong cast, all working in, around and on top of an imposing metal container revolving centre-stage.
"We should slip seamlessly between scenes with pace", say the stage directions and writer Anna Jordan, director Neil Bettles, the cast and company certainly execute this to great effect, literally and figuratively poetry in motion.
Jordan uses free verse and a language of gritty realism to weave together separate stories of three young men who are on their way back home to Scarborough. In 1918, a shell-shocked George (Jared Garfield) returns to his young wife, Rose. In 2013, Frankie (Joe Layton) arrives back from Camp Bastion under a cloud and into a media storm following an attack on an Afghan boy. We look forward to 2026 where Nat (Jonnie Riordan) leaves a Norwegian refugee camp to come back to a Britain broken by civil war to search for his brother.
Kieton Saunders-Browne plays Finn, Nat's brother, although all the cast double effectively—special mention to Layton who switches in a moment from rough, tough Frankie to a heartfelt portrayal of Rose, George's shy young wife desperate to help her damaged husband. The physicality of their scenes and of George's recollections of his life at the Front are brutal in their emotional kick.
These are the experiences and stories of young men; they are tough, physical and highlight their burdens of guilt and expectation in times of conflict. When you are away, home is a place of safety and security and provides the impetus to keep going, but will it be the same when you go back? Jordan captures the sensuality of the characters' recollections: leaning into the wind, the salt on their tongue from the sea air, the smell of toast and fried eggs cooking.
Frantic Assembly is studied as part of the national curriculum and the audience for this performance certainly reflected the GCSE and A level age group. It is to Frantic Assembly's credit also that the four skilled actors in this production are alumni of the company's Ignition scheme, which over the last 10 years has given theatrical experience and opportunities to over 600 young men from a variety of backgrounds. This scheme is now being extended to include young women, and I wonder how many in the audience will have been inspired to consider a career in theatre as a result of this impressive production.
These are pertinent stories covering some familiar themes, but it is how they are performed which lifts this piece above the norm. Production values are high and I am tempted to say performed with military precision, yet that doesn't do justice to its fluidity, flexibility, almost shapeshifting.
Heartfelt, raw, and with an ending which felt surprisingly hopeful, this is an insightful examination into the physical and emotional casualties of conflict.
Reviewer: Sally Jack