The Unreturning
Anna Jordan
Frantic Assembly
The Drum, Theatre Royal Plymouth
–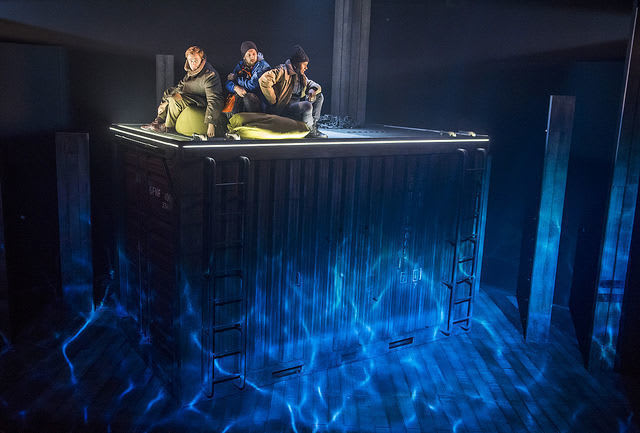 Frantic Assembly has done it again, this time with a memorable treatment of the well-worn—but worthy—theme of the impact of war on the individual psyche and the need to belong.
Anna Jordan's poetic piece interweaves three Scarborough-based stories, flicking back and forth in history as timeless threads are followed, linked and knotted in an intense, unbroken 100 minutes.
George (Jared Garfield) is shell-shocked, his gentle nature eroded by the horrors of the Great War trenches, the nightmare memories and the inability to leave the past in the Flanders mud. No one understands and he just can't cope.
Thuggish Frankie (Joe Layton who also quite remarkably manages a sympathetic Rose) is back, in disgrace, from the pressure cooker hell of Camp Bastion where IEDs, marauding Taliban and too few men create an intolerable situation few could escape intact. Captured on video, his explosive reaction is media meat as he is picked apart by the circulating press vultures while family and neighbours vote with invective and dog turds through the letterbox. Or Jägerbombs.
Then there is Nat (Jonnie Riodan), refugee from a wartorn and Big Brotheresque England which, with overtones of bombed Aleppo, is ignored by the watchdog world. Trafficked to the safety of Norway and stymied for years in a transit camp, he risks all to return to his hometown in search of his rebel brother (Keiton Saunders-Browne making his professional stage debut).
All have the basic need to come home but none return as they left, their wounds run deep and leave scars which will never fade.
Director Neil Bettles sets a brisk pace with vignettes merging one to the next driving the emotional rollercoaster with moments of reflection, humour and trademark physicality breaking the intensity just enough to take the next deep breath before plunging back into the abyss. Beautifully done.
Offsetting the wordiness and mesmerising stories, Andrzej Goulding has created a deceptively simple set. A single dull metal container with sliding hatches, multiple doors, ammo box wall and ladders rotates to become (with some assistance from Zoe Spurr's lighting and Pete Malkin's soundscapes) everything—boat, consulting room, trench and bed included.
Slick timing of entrances and exits, partitioning and positioning moves the action seamlessly back and forth through time tracking the heart-wrenching tales to, mostly, their perhaps obvious conclusions.
This eighth co-production between Frantic Assembly and Theatre Royal Plymouth is quite unforgettable.
Reviewer: Karen Bussell