The Verdict
Margaret May Hobbs from the novel by Barry Reed
Middle Ground Theatre Company
The Lyric, Theatre Royal Plymouth
–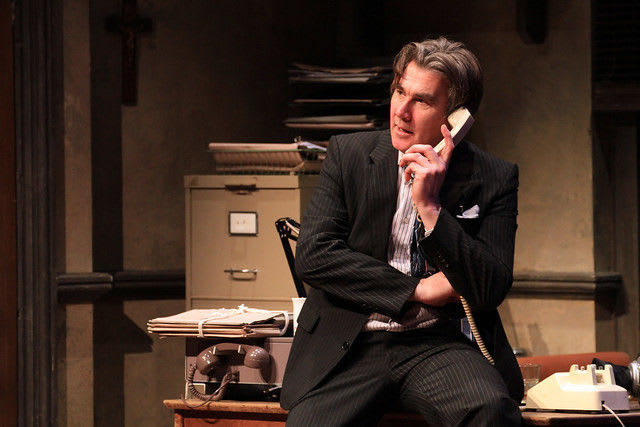 Known best as David Mamet's Oscar-nominated film starring Paul Newman and James Mason, Barry Reed's novel has now been adapted for the stage with varying success.
It's long, many scene changes are clunky, the frisson of the courtroom highs and lows is dampened by required brevity, the denouncement is somewhat obvious from very early on and with obtained evidence somewhat questionable but overall, it's a watchable, if pedestrian, job.
Michael Lunney not only directs and acts (Dr Crowley and Eugene) but has also designed the busy set, portraying both seedy office and Irish bar but with dropped-in panelling and swiftish furniture removals to allow cinematic scenes in church and court offices in the first half while the second act is set throughout in the courtroom with the audience sitting in the jury's spot.
Ian Kelsey (Corrie's Vinnie Ashford, Howard Bellamy in Doctors and regular appearances in Blue Murder, Casualty and more) is a convincing down-at-heel ambulance-chasing lawyer—Frank Galvin—whose marriage is on the rocks as is his (very) regular tipple and whose back-story is tragic. His moral hackles are eventually raised higher than his wont for easy cash when introduced to Deborah Ann Doherty—whose third labour resulted in a heart-breaking vegetative state and her children's distressing plight—and her campaigning mother (Anne Kavanagh), desperate for enough money to bring the family together and care properly for her daughter.
With his wry mentor Moe Catz (with Denis Lill superb) reluctantly on board, the duo takes on the might of the Catholic Church, its top legal team (which has plenty of cash to splash, bribes to offer and underhand tactics galore), and, seemingly, a biased judge.
All the elements of the successful and popular courtroom drama are here: the sharp-tongued underdog, love interest (Josephine Rogers), the pathos, the smarmy, subterfuge, the patronising, twists and, fingers crossed, comeuppance with a last gasp stroke of luck. And the help of the wonderfully acerbic, and luckily available, Lionel Thompson MD (a show-stealing performance from Okon Jones).
Paul Opacic (Emmerdale's Steve Marchant) is haughty Rex Towler MD who, with awkward anaesthetist Daniel Crowley MD, is at the heart of the matter and on trial for negligence alongside St Catherine Laboure Hospital coached to the nth degree by the dream legal team headed by the undefeated J Edgar Concannon (Christopher Ettridge). Polemics abound over the sanctity of the medical profession, the advancement of law and no fault protection, and morals—Catholic, craven and crusading—are tested.
Very watchable Hollywood-brought-to-stage, some excellent performances but overall a rather routine courtroom drama.
Reviewer: Karen Bussell