The Vortex
Noël Coward
Chichester Festival Theatre
Chichester Festival Theatre
–

Listing details and ticket info...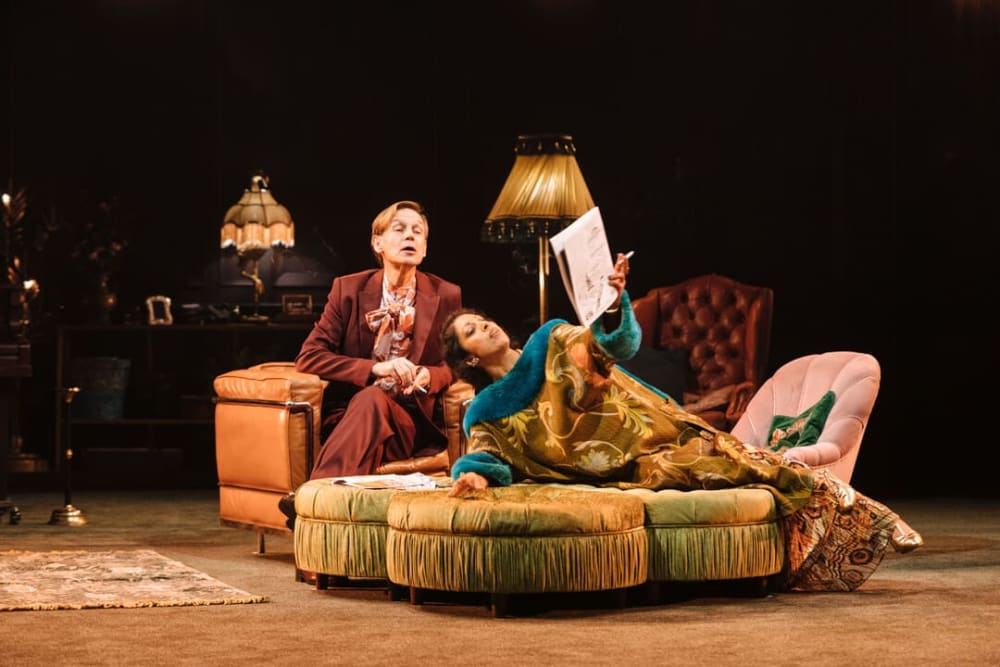 Written in the early 1920s this, I believe, was the first of Coward's plays to tackle serious issues and must have been quite a shock for audiences used to his slightly flippant, brittle and frivolous style.
It was also a shock to the Lord Chamberlain who wanted it banned as it was too unpleasant, dealing, as it did, with drug taking and nymphomania, and the tabloids referred to it as "dustbin' drama' which of course assured it's success with the public, and it ran in several West End theatres before transferring to Broadway, ensuring Coward's place as a playwright of substance. The requisite license was obtained by Noël himself convincing the Lord Chamberlain that his play was "a moral tract of the highest order about the evils of drugs" and The Vortex survived!
Designer Joanna Scotcher's opening scene is set in a luxurious London flat before moving to an equally luxurious country house, yet, in spite of the expensive look, each place is still a home where family and friends gather to communicate, or argue, or flippantly insult each other. They spend their time drinking cocktails, smoking endless cigarettes, playing bridge or ma yong, all in an attempt to keep themselves 'amused' and the gramophone plays almost all day.
Brittle and witty dialogue here comes from friend Pauncefort Quentin, mostly derogatory remarks thrown into the conversation and played by Richard Cant very much in Coward's style with the correct intonation and timing on each and every word, getting laughs where laughs are appropriate. Not too many laughs as the play proceeds and we see the darker side of Coward's work as if he sees in these people the futility of their existence, with no focus to their lives, and regrets that it has to be so yet, when things go wrong, believing it is not their fault, it is just they way they are as if they have no real control.
Having been involved in a minor accident, singer Clara Hibbert (Jessica Alade) arrives in a very melodramatic manner, throwing herself on the couch and calling for something to calm her nerves, and now the recipient of caustic remarks from Pauncefort which she ignores, but it is the arrival of Florence Lancaster which causes the most stir.
Played superbly in flamboyantly hysterical manner by Lia Williams, this is someone used to being admired and adored as a beautiful young woman and trying her very best to remain young and vibrant forever. Her method, sadly, is to take young lovers, one after another, totally ignoring her rather sadly pathetic husband (Hugh Ross) and causing her son Nicky (Joshua James) to turn to drugs in attempt to make up for lack of mother love.
Of the assembled company Priyanga Burford's Helen Saville is the only one who sees beneath the surface of the jollity that something is definitely wrong and, it seems, the only one to really care.
This psychological drama, played out to its emotional ending by real-life mother and son (Williams and James), comes to a very dramatic head as close relationships shatter and regroup, but finally leaves us with the feeling that all is not lost. There is always hope.
Reviewer: Sheila Connor