The Walworth Farce
Enda Walsh
Nicky Allpress
Southwark Playhouse
–

Listing details and ticket info...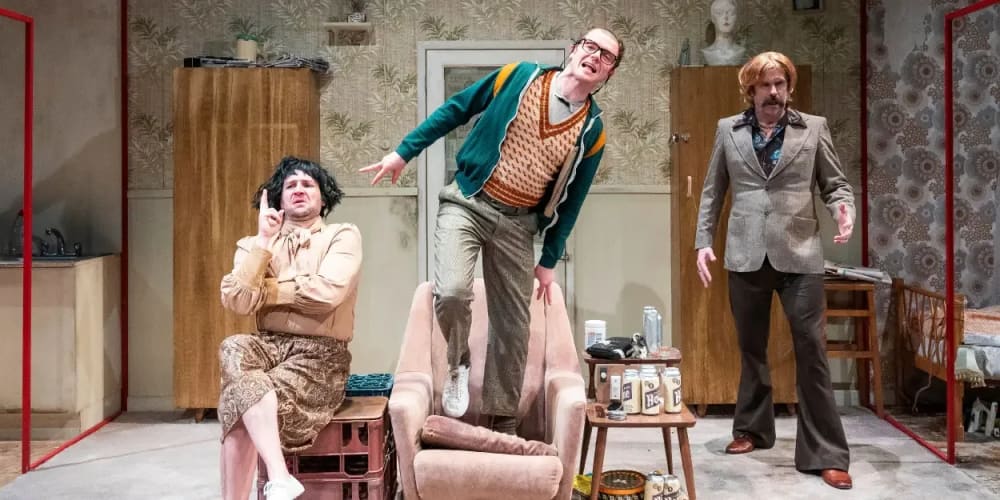 It may be hard for those who hang out in the swanky coffee shops sipping lattes at the Elephant and Castle these days to believe that the area was once a grubby, gritty, crime-ridden part of central London. The skyline that's now dominated by slick, posh pads was once occupied by an overpowering pink shopping centre, dirty subways and dozens of post-war tower blocks thrown up at speed to house the working classes.
That's the setting for Enda Walsh's disturbing black comedy The Walworth Farce, which sees Dinny (Dan Skinner) and his two sons Sean and Blake (Emmet Byrne and Killian Coyle) holed up in a grim flat perched high above the Walworth Road.
The boys are deeply damaged by a childhood in Ireland that was both dysfunctional and violent to the point that one of them may have witnessed a horrific double murder scene. Now in London, life is equally horrible. Their prospects and self-worth are at rock bottom and their mental health is on a knife edge.
Sean and Blake are at the mercy of the intimidating and abusive father who bullies and batters them into acting out a utopian version of life back in the motherland on a daily basis. This is now a ritual centred around roast chicken, a variety of uncombed and utterly unflattering wigs and the prospects of winning the coveted 'best actor' trophy that sits pride of place on a dedicated shelf. It's a process that neither boy enjoys, respects or believes—but fear prohibits them from doing anything about it.
Nicky Allpress has the benefit of Walsh's deep understanding of the Irish language, and all its joyful choreography to play with. This makes for some intense moments of laughter and humour, quickly followed by some shocking, down-to-earth realism. At times, the staging may appear a bit 'out of sorts', but there's so much going on that rarely matters for long—the rare moments of weakness are quickly overshadowed by the many handbrake turns in this fast-paced play.
The musicality of the script, use of colloquialisms and dodgy props allow both Byrne and Coyle to bounce around from character to character during their in-house play within a play. Their deep love for each other as brothers is believable and mesmerising—so all credit goes to both lads in equal measure. Their multi-character performances and seamless sliding between characters is genius.
The juxtaposition between the comedy farce and deeply sad reality of life for them is heart-breaking and real—particular for Coyle who hasn't left the flat in a long, long time. There's little praise for Dinny as a husband, brother or indeed father—but heaps of admiration go to Skinner who turns this disgusting, delusional beast into the vilest of men.
It's no coincidence that Chris Smyrnios, artistic director of the new and long-awaited Southwark Playhouse Elephant, decided to open this venue with a play set just a stone's throw away from the venue. There's little left of the old Elephant and Castle thanks to this latest wave of gentrification, so Anisha Fields's set design is a sobering reminder of what the homes that once stood close to the theatre would have looked like. Her subtle hints of Ireland didn't go unmissed by this Irishman who, like Dinny, lived in the shadow of the Elephant for many years.
The Walworth Farce is a special piece of theatre that's challenging and uncomfortable to sit through at times for various reason. But it's also a pure delight to experience this talented company bring to life Enda Walsh's 2006 hit once more for a new audience in a new and much needed space.
Reviewer: Thomas Magill