The War of the Worlds
Isley Lynn
Rhum and Clay
New Diorama Theatre
–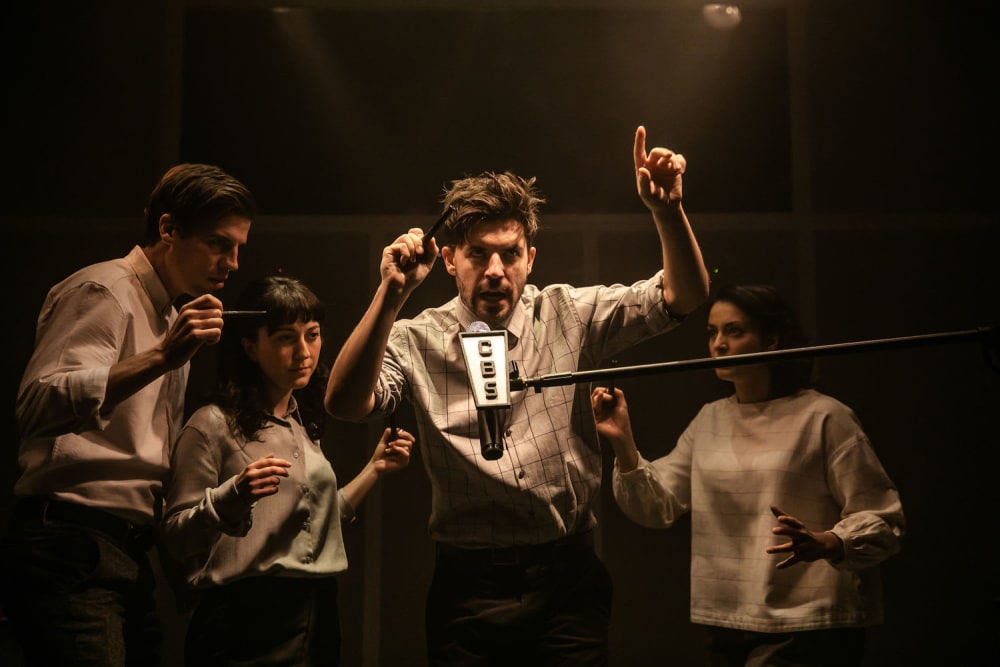 Rhum and Clay draws inspiration from Orson Welles's 1938 radio broadcast based on H G Wells's all-pervasive alien invasion yarn, War of the Worlds, for this latest devised piece, in collaboration with playwright Isley Lynn.
Welles was first and foremost a dramatist; using radio to poke fun at the hyperbole of news reporting and much in the same vein, the company creates fictional prime time broadcasts as well as playing out, in part, Welles's original recording.
Rhum and Clay physically breathes life into verbatim bulletins with a ceaselessly energetic, atmospheric rendition, all shadows and spotlit haunted eyes, setting up the environment for original radio broadcast and contemporary news coverage through multiple weird scenarios.
The play opens onto the Welles broadcast, then flashes forward to the present where we are introduced to wide-eyed Meena (Mona Goodwin), a media studies graduate on a mission to make a podcast to investigate the mysteries of Grover's Mill. Meena visits small town New Jersey to unearth the truth behind the story of a 13-year-old girl supposedly left to fend for herself by her family, haunted by the news of aliens landing. Who is this girl and who is Meena? Is she the seeker of truth or creator of fiction?
In an era of Trump and Brexit—duly mentioned but not explored—where "fact is fiction and fiction is fact" and Fake News lends universal mistrust of politicians, we don't know what to believe as the story unfolds. The play grapples with this terrain by gently jibing at such concepts, ensuring humour runs throughout from the suburban cousin in the hardware store to bedroom-bound Internet-obsessed son and waitress in the alien café. The characters are rich and spirited, but what are their motives and who is telling the truth?
This is not linear narrative, but swings back and forth from the actors embodying Orson Welles by popping pipes in their mouths to troublesome teenagers vaping at the dinner table. While stories don't instantly connect, it doesn't deter from the sweeping rhythm and pace of drama, directed economically by Julian Spooner and Hamish McDougall and movement directed by Mathew Wells.
Nimble ensemble movement work is what keep things moving and is magnetic to watch as the actors drive forward as a sealed-tight unit, only to be split apart into different settings. As the cast morph in and out of character with such conviction, drawing distinctly on Lecoq backgrounds, direct physical expressions lend form to complicated, multiple narratives clearing often, the fog of confusion and creating clarity in the storytelling.
Lighting designers Pete Maxey and Nick Flintoff use a palate of Technicolor greens and icy blues to create a sense of otherworldliness and fear of impending Martian invasions feels palpable when the colour glints and reflects in the eyes of the cast. While the sound design urgently marks out a sense of danger reaching full crescendo towards the end of the play, it also denotes quieter moments allowing for the bigger ones to bellow.
All four actors put in an admirable performance but Amalia Vitale is especially captivating in her effortlessly physical transformations of character. Vitale literally slips into multiple roles with the seamless elasticity of putty as she inhabits characters from the New Jersey waitress at the alien café donning "Martian mac and cheese" to pitch-perfect news reporter.
I left the theatre in anticipation of seeing more of Rhum and Clay's creations and, despite spending the last 80 minutes thinking about it, was still left wondering whether the whole premise was just one giant tease or a deeply meaningful piece about the wellbeing of our world and precariousness of its future.
Reviewer: Rachel Nouchi