The War of the Worlds
Isley Lynn and the company
Rhum and Cay Theatre Company
Pleasance Courtyard
–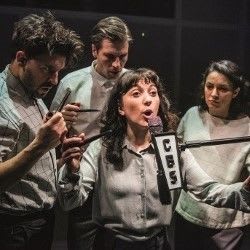 So, what is fake news? Can we truly believe what we read online or in the newspapers or indeed television news?
Rhum and Clay has a superb pedigree in producing striking physical theatre that is passionate, vibrant and challenging. It is storytelling at its finest.
Their version of War of the Worlds, written with Isley Lynn and devised by the company, is based on Orson Welles's radio broadcast in America that caused widespread panic amongst the population as they believed that an alien invasion from Mars had begun. The realistic news broadcast using on-the-spot reporters and allegedly live coverage was totally believable to the USA citizens and hearing the words used in the radio play makes you realise how credible it would sound.
The company brings a clever twist to this story. Meena is a podcaster who is trying to make it big in broadcasting. Discovering a letter from her dead mother concerning her brother leads Meena to travel to Grover's Mill in New Jersey, the site of the fictional invasion, that has a memorial plaque commemorating the attack.
But Meena is more interested in the story of a family who abandoned a woman during the broadcast and discovers a series of secrets, lies and conspiracy that is totally surprising.
The versatile, gifted cast—Julian Spooner, Amalia Vitale, Jess Mabel Jones and Mathew Wells—multi-role with exquisite ensemble work and blend the 1930s recording studio to modern day with ease.
Their message is powerful. Are we in this digital age taken in by politicians and their spin? Can we really tell the difference between fact and fiction today? A thought-provoking production that richly deserved the long and enthusiastic applause from the audience. Try to see it.
Reviewer: Robin Strapp