The Wardrobe
Sam Holcroft
Wellington Theatre Company
theSpace on the Mile
–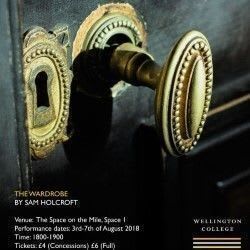 Wellington Theatre's production of The Wardrobe performed by the talented students of Wellington College in Berkshire is a clever concept that explores relationships, class and secrets.
At the centre of the play is the wardrobe dominating the stage holding the secrets of the lives of people across five centuries from the reign of Henry the VIII and Elizabeth of York to the present day.
Through a series of vignettes that span the historical period, we learn about the two Jewish scholars who in 1633 hid in the wardrobe living a double life of going to church on Sundays and learning Hebrew after work and the discovery of bananas from Bermuda.
There is a moving scene set in the 1800s comparing the ill treatment of the workers by their master and the rich life that the owners have.
The Industrial Revolution also brought the misuse of young boys to clean the chimneys and the deaths caused by the plague are convincingly portrayed.
The 1940s bring a soldier about to go to war much to the distress of his fiancée.
The play ends in the present day, with the angst of modern life and the reliance on technology and social media.
This is an ambitious play, charmingly costumed and well acted by this young company and was well received by an enthusiastic audience.
Reviewer: Robin Strapp