The Watsons
Laura Wade
Chichester Festival Theatre
Minerva Theatre, Chichester Festival Theatre
–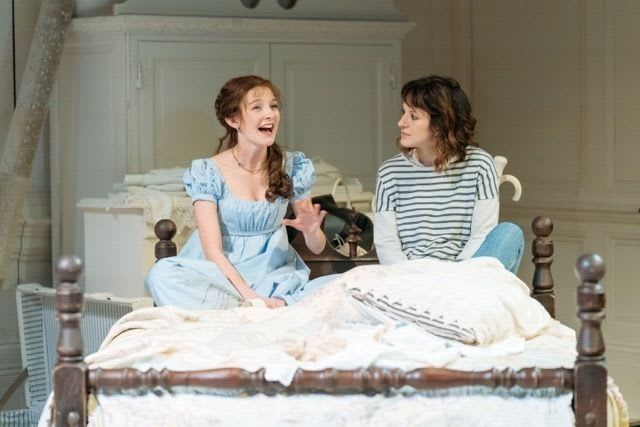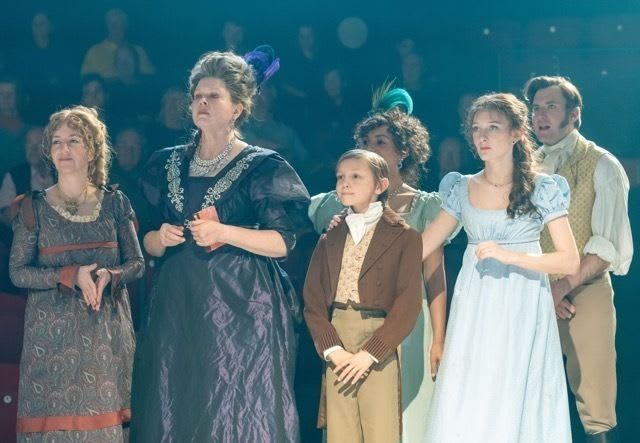 Jane Austen began her novel The Watsons in 1804 and wrote five chapters before abandoning it completely for reasons unknown. There have been several attempts to finish her story but this is the first one to appear as a play and what a delight it is.
Beginning quite sedately in true Jane Austen style, we meet the Watsons: a family with three daughters all in need of a husband. Does this sound familiar? Eldest daughter Elizabeth at 28 has resigned herself to being a nursemaid to her ailing father, middle daughter Margaret has nothing much to say for herself here but her moment comes later and youngest daughter Emma, who has been brought up by a rich aunt, is now returned to her family and doomed to live in genteel poverty unless she can find a husband. She is very beautiful and, at this point, seems demure and a little shy as she prepares for the coming ball. Will she find her man?
Scenes almost overlap, they change so quickly and with so little fuss, and suddenly the white panelled back wall of the Watsons' drawing room opens up to display in a framed picture style—The Osbornes, "our grandest family", the rich people who will be at the ball, young and painfully shy Lord Osborne, his sister and his autocratic widowed mother, Lady Osborne, and completing the group a rakish Tom Musgrave and, in contrast, clergyman Mr Howard with his nephew and ward 10-year-old Charles Howard (a very accomplished performance from young Leonardo Dickens who doesn't put a foot wrong throughout even in the complicated dance routines).
Almost immediately, we're at the ball where Emma is making a great impression on the men, including young Charles, and there's a lot of fun and laughter as Joe Bannister's Lord Osborne hilariously tries to express himself, obviously infatuated but cannot get the words out. Then just when we think Emma has got her man and accepted his proposal with unseemly haste, the whole concept changes and we find the author has written herself into the story and is about to have trouble with her characters.
The writing is brilliantly clever, witty and often very very funny and director Samuel West and his partner, writer Laura Wade, are obviously very much in tune, making the whole show work like a dream. West keeps the action flowing at a cracking pace without losing any of the sense or humour of the text, while Isobel Waller-Bridge's music matches perfectly with each situation from the lively dancing at the ball to the even livelier street dance style and even to a very stylishly staged funereal exit of all the characters.
By this time, Laura has revealed herself to her characters who are dismayed to find they are obliged to do what she wants with them and they all have something to say about that! Jane Booker's Lady Osborne doesn't want to be deprived of the 'blissful widowhood' she has enjoyed for the last 10 years, young Charles has no intention of staying 10 years old for the rest of his life and Emma—a true Jane Austen woman if ever I saw one—is vociferous in her intention to have control of her own life! Laura eventually loses patience with them all and, exasperated, retires to bed while her characters argue, squabble and make decisions with no regard for the sense of anything—after which they blame Laura for leaving them to their own devices. These invented people are very human!
Characterisation is superb, as are all performances, turning these fictional figures into people we all know, and a special mention for those who had the most to say for themselves—Grace Molony as Emma and Louise Ford as Laura.
Hugely entertaining, surprising and even thought-provoking—a terrific show for the end of a very enjoyable Festival season.
Reviewer: Sheila Connor