The Way of the World
William Congreve
A Chichester Festival Theatre production
Chichester Festival Theatre
–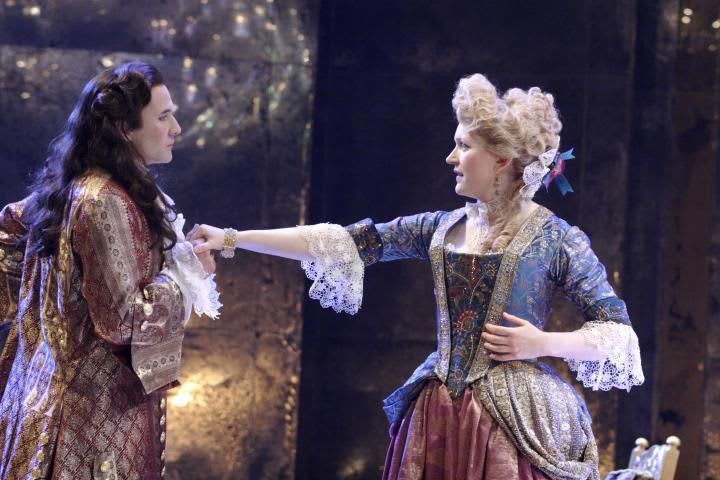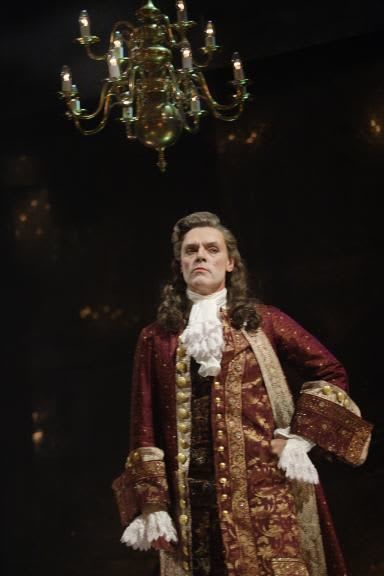 Money and the acquisition of it plays a major part in this Restoration comedy of manners with the men freely admitting that is the only reason for their marriage. "Wherefore did I marry but to make lawful prize of a rich widow's wealth" says Richard Clothier's arrogant and conniving Fainall, while happily indulging in an adulterous affair with Mrs Marwood, who in her turn loves the fashionable socialite Mirabell who is in love with Lady Wishfort's niece Mrs Millamant. Even Lady Wishfort (interesting name), although of advancing years, would not be averse to sexual pleasure should it come her way.
The well loved Penelope Keith makes much of this part, and gets the most laughs, planning how she will present herself to her 'suitor', arranging her posture in the most alluring way she can think of because first impressions are so important, although her servant Foible comments, "Your ladyship has frowned a little too rashly madam. There are some cracks discernible in the white vernish".
Affairs abound, gossip is rife, relationships are complicated, but scandal must be avoided at all costs and reputations left intact—no matter how false and and shallow is the veneer of respectability. Ripe ground for blackmail and the revealing of secrets and Hermione Gulliford's vengeful Mrs Marwood stalks the corridors to watch and listen, every expression revealing her intentions.
None of the characters elicit our sympathy, not even Rebecca Johnson's much wronged Mrs Fainall, yet the play (first produced in 1700) lives on with Congreve's dazzling wit shining through all the legalities, political and financial, of the time. If there is a hero and heroine it is Jo Stone Fewings's Mirabell and his intended bride, the spoilt and capricious Mrs Millamant, and in one of the most interesting and amusing scenes, known as The Proviso, each lays down the rules and behaviour they demand of the other when married, although Millamant admits that in time she might, just might, "dwindle" into a wife. Claire Price emphasises the line perfectly.
The only honest and strait-forward character is Lady Wishfort's nephew Sir Wilfull Witwoud, brought in from the country to court Mrs Millamant and be the husband her aunt has chosen for her. Jeremy Swift's characterisation fits to perfection Fainall's description of "an odd mixture of bashfulness and obstinacy... good-natured and does not always want wit". He has a habit of stamping his booted foot for emphasis—more cautiously when the foot is slippered.
His half-brother is a different matter altogether, and Giles Taylor skips happily through the play in a delightfully amusing interpretation of a camp and foppish Witwoud, a follower of Millamant as well as fashion.
This is not an easy play, there are too many confusing relationships and complicated plots and I would have appreciated a little more precision in the speech and emphasis on the rhythm of the dialogue, but there is a fine line between clarity and over-stretching and Rachel Kavanagh has achieved a nicely balanced production. The scene is set firmly in the early eighteenth century giving Paul Farnsworth scope to indulge in a wealth of glittering chandeliers and bewildering reflections with some sumptuous costumes, not forgetting beauty spots and fans.
Terry Davies's music, exquisitely played by violinist Jonathan Truscott, adds mood and atmosphere, and it all sorts out in the end with slights and injustices forgotten in a stylish dance. Everything is excused because it is, after all, the Way of the World.
Reviewer: Sheila Connor