The Wedding Singer
Chad Beguelin and Tim Herlihy
Dan Looney in association with Paulden Hall Productions, Jason Haigh-Ellery, Tom O'Connor Productions & Tim Lawson
Theatre Royal Plymouth
–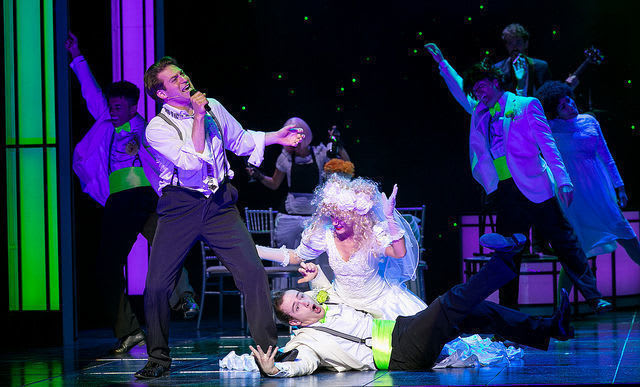 Frothy, flimsy, formulaic and fun.
The 1998 Adam Sandler and Drew Barrymore Hollywood romcom has been given the now-routine translation to stage treatment—but adapted by the original writer Tim Herlihy (with Chad Beguelin) which gives it more bite.
And, although the plot is celluloid thin and Matthew Sklar's score (played live) mostly forgettable, The Wedding Singer is putting bums on seats and collecting standing ovations from a surprisingly mixed—given the crudity and '80s overload—audience.
The dubious decade is all-prevailing with ads and images, film trailers and fashion mistakes aplenty. Francis O'Connor's design incorporates the lot plus locker rooms, wedding venues and bedsits in a somewhat simplistic, bland but highly adaptable set.
Jon Robyns is romantic-at-heart Robbie, naïve and so in lurve with love. Composing trashy songs and, with his ragtag band Simply Wed, bringing laughter and joy to couples on their happy day. Until that is, he is jilted at the altar by raunchy fiancée Linda (Tara Verloop).
Doomed to despair in his eccentric grandmother's (Hi de Hi's Ruth Madoc) basement, Robbie hits a hilarious downward spiral of ruining weddings, causing mayhem and finding comfort in a dumpster.
He also crosses paths with sweet waitress Julia (Cassie Compton) whose own love life is less than simple: her long-term sweetheart is changing his spots as he hits the high life in Wall Street grabbing money, and any available women, and making bad investments en route. But still, he can offer a rich lifestyle and security—surely every '80s girl's dream?
Cue the usual stuff: will they won't they? Should they, shouldn't they? Bad timing, misunderstanding and running about ad tedium but with some less usual fun asides: Las Vegas fake celebs being of particular note.
X-Factor heartthrob Ray Quinn excels as nasty Glen, sleazy and avaricious with "All About The Green", one of the more memorable songs, while Ashley Emerson is believable as would-be rocker bassist Sammy, gormless and fuelled by hormones.
Stealing the show are Stephanie Clift as slutty blonde Holly, with some great lines well delivered, and voice-of-the-night Samuel Holmes as keyboard player George whose comic timing and deadpan delivery hits the spot.
So—frivolous and somewhat routine but some laugh-out-loud moments, sound performances and clearly very popular.
Reviewer: Karen Bussell