The Weir
Conor McPherson
English Touring Theatre and Mercury Theatre, Colchester
Cast, Doncaster
–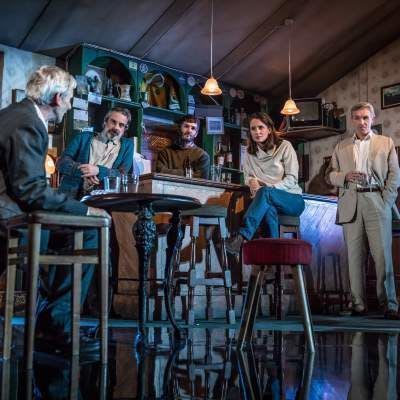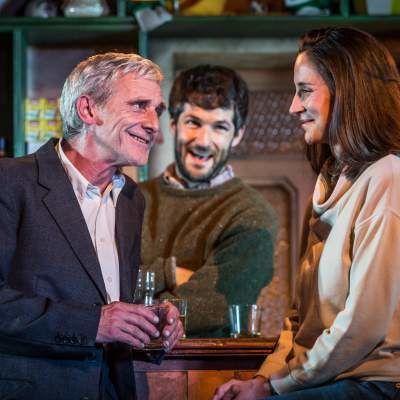 "Are you of a nervous disposition?", the lady sitting next to me inquired as I settled down to watch this fresh revival of Conor McPherson's Olivier Award-winning play The Weir.
"No", I replied, "but it's not really that kind of play".
When I first read The Weir as a callow undergraduate, I remember feeling disappointed that this ostensibly spooky play—in which a small group of characters exchange ghost stories on a dark winter's night—did not offer the creepy pleasures of, for example, The Woman in Black.
Having now watched The Weir on stage, I realise two things. First, McPherson's play is genuinely creepy: the characters' tales may not be M R James calibre shockers (nor are they intended to be), but nevertheless they have a distinctly unnerving quality. Second, and most important, The Weir is a play of extraordinary subtlety and insight that haunts the imagination far more effectively than most supernatural tales I've seen or read.
Set over a single evening in a small pub in the Irish countryside, landlord Brendan (Sam O'Mahony) shoots the breeze with two of his regular customers—Jack (Sean Murray), a fifty-something mechanic, and Jim (John O'Dowd), his forty-something assistant. Their conversation soon turns to the arrival of Valerie (Natalie Radmall-Quirke), a young woman from Dublin, who is renting a house from local businessman Finbar (Louis Dempsey).
When Finbar arrives with Valerie, the four men are eager to acquaint the newcomer with her surroundings, which leads to them sharing local tales of the uncanny, encompassing fairies, Ouija boards and paedophile ghosts amongst other things. However, Valerie has her own story to tell, and her personal account of the supernatural proves to be more disturbing and heart-breaking than all the others that came before.
It's astonishing to think that Conor McPherson wrote The Weir at the age of 26, as the play demonstrates a deep—even Chekhovian—understanding of loneliness and the sadness of unfulfilled lives. This is particularly true of Jack, who laments the loss of his true love on a daily basis.
The excellent cast skilfully capture the beauty of McPherson's poetic, colloquial dialogue, and deliver psychologically astute performances. Brendan is the least showy of the five roles (he's the only one who doesn't tell a story), but Sam O'Mahony hints at existential fears lurking beneath the character's merry exterior. Will thirty-something Brendan wind up a cantankerous bachelor like Jack?
Louis Dempsey impresses as Finbar, the local lad made good, whose success (and successful marriage) rubs his fellow drinkers up the wrong way. However, his irksome jocularity appears to mask a deep insecurity. John O'Dowd offers a poignant sketch of social awkwardness and introversion in his portrayal of the largely silent Jim.
Natalie Radmall-Quirke is a cool and compelling presence on stage, and her delivery of Valerie's tale is spellbinding. Equally terrific is Sean Murray, who captures Jack's facility as a storyteller and his underlying sadness.
In the past, detractors of The Weir have described the play as static—this is largely because McPherson confines the action to a small rural tavern (an exquisitely detailed set by Madeleine Girling). However, this label shouldn't be applied to Adele Thomas's production, which demonstrates how stagnant lives can be turned into captivating drama.
Reviewer: James Ballands