The Weir
Conor McPherson
English Touring Theatre
The Lowry
–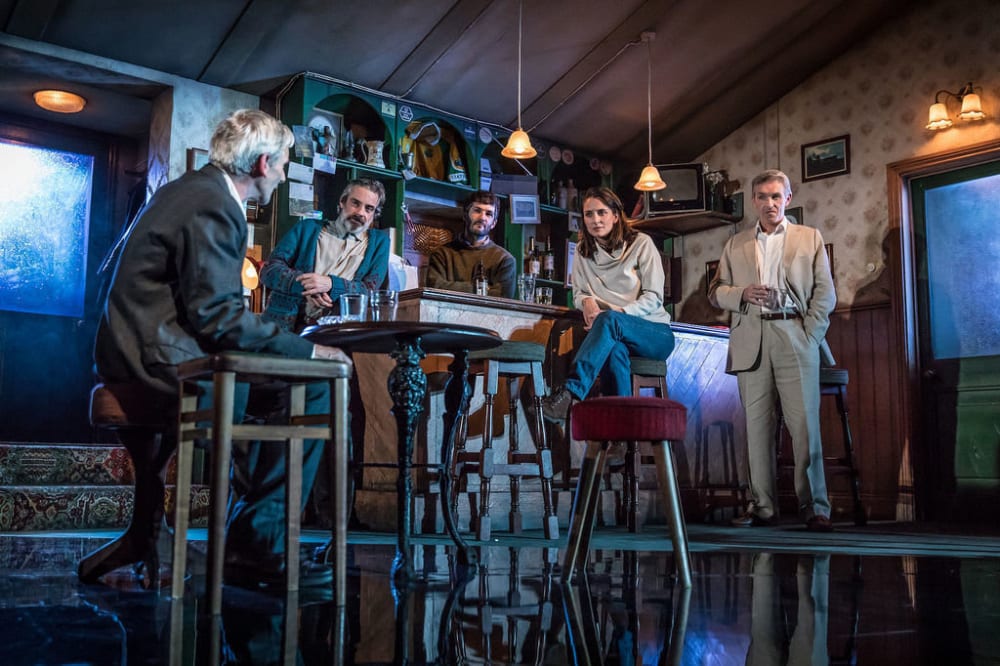 It's now more than twenty years since I saw the Royal Court production of this play in London, just a year after I'd seen another play by this hot young Irish writer at the Bush, This Lime Tree Bower. Both are about storytelling, but this new piece placed the storytelling into a much more conventional theatrical form—although this certainly didn't dilute the power or the intricacy of the writing.
We're in a quiet pub in the middle of nowhere in rural Ireland; we are told it gets busier in the tourist season when the Germans come (they call them "the Germans" but they don't actually know where they are from). Jack (Sean Murray) enters and has served himself before young landlord Brendan (Sam O'Mahony) arrives. The conversation is slow and repetitive. Jim (John O'Dowd) arrives, an odd job man who is struggling to find work at the moment, and they gossip about Finbar (Louis Dempsey), a local businessman who bought up half the town and then moved away.
Finbar, the only married one amongst them, is apparently showing a new resident around, a young woman who has moved into the area on her own. He arrives with Valerie (Natalie Radmall-Quirke) from Dublin, and all the old fellows fawn over her. They tell stories, starting with fairies, moving on to ghosts, frightening themselves more than their guest. But the stories are more than just campfire spooky tales: they are the folklore of this town but personal to the teller and based on their own experiences.
Jim's story tips over from eerie to upsetting and Finbar tries to call a halt to it, but Valerie insists on joining the confessional. Her story is also supernatural and personal but intensely harrowing, explaining her sudden solitary appearance in the town. This becomes a night that, you feel, will change all of their lives in some way.
McPherson's writing is sharply observant and finely detailed, filled with little quirks and nuances of speech that are different for each character. It's remarkable that a writer in his mid-twenties could write such convincing characters within such a wide age range, but he can also take his audiences from tears to belly laughter in a moment, and then back to intense concentration the next.
Adele Thomas's production reproduces that slow pace of rural life perfectly, but then draws us in for the compellingly told stories, which get more intense as the play progresses. Radmall-Quirke plays perfectly the outsider observing her keen hosts with amused politeness who then shares her darkest experience with them in a gripping scene. The quieter characters, Brendan and Jim, are given just as much attention as the showier parts with subtly detailed performances from both.
The naturalistic performances on Madeleine Girling's perfect reproduction of the interior of a friendly but dingy pub contrasts with some subtly atmospheric but not always naturalistic lighting of Lee Curran and Richard Hammarton's very sparse music and sound effects, just upping the tension at the right moment.
ETT has created an intense and compelling production of a modern classic which is highly recommended.
Reviewer: David Chadderton