The White Card
Claudia Rankine
Northern Stage with Leeds Playhouse, Birmingham Rep, Soho Theatre in association with HOME Manchester
Soho Theatre
–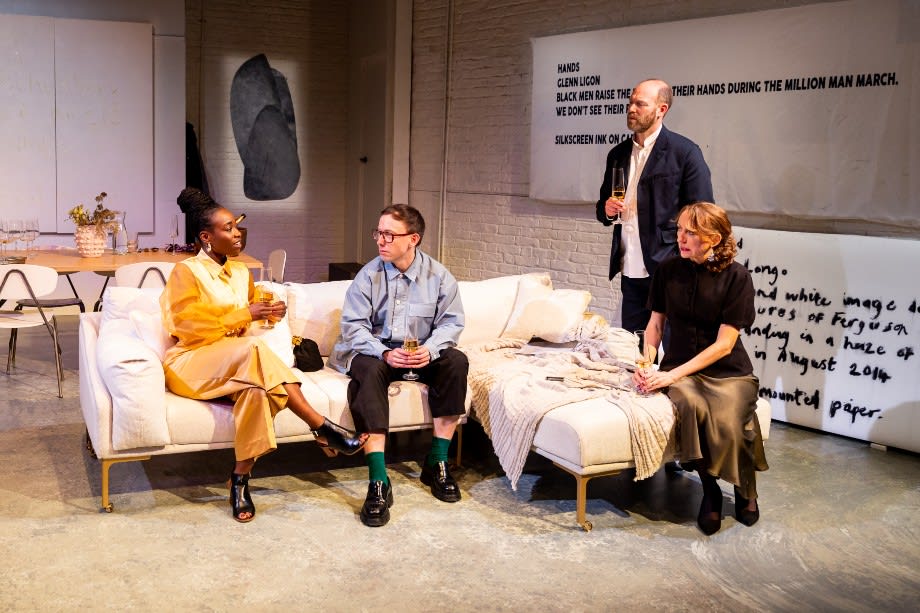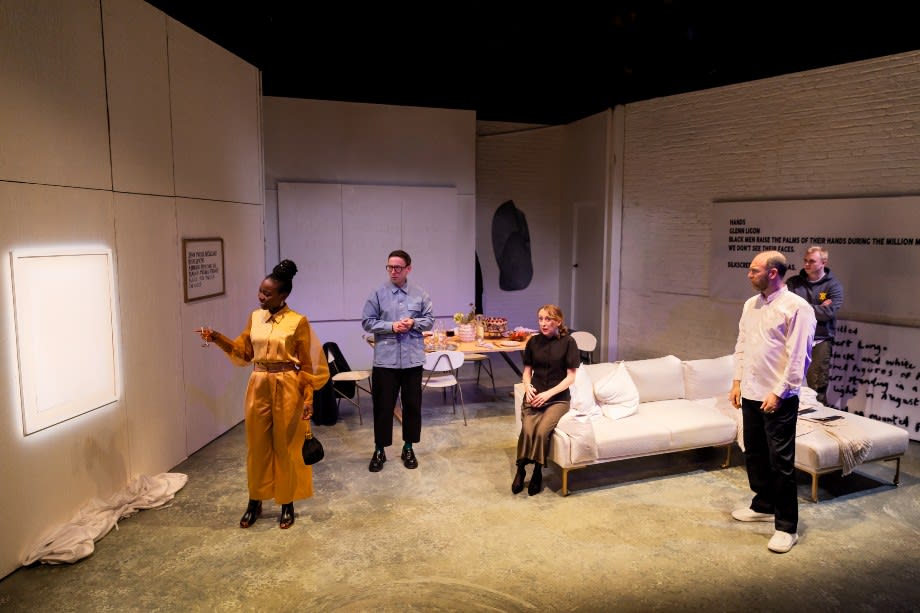 A dinner party has been arranged for the celebrated black photographic artist Charlotte (Christine Gomez) in Claudia Rankine's The White Card.
The host Charles (Matthew Pidgeon), a white, wealthy art collector, is hoping with the help of his art agent Eric (Nick Blakeley) to buy Charlotte's pictures which focus on the racial violence against black people.
In preparation for the gathering, he has given the black maid the night off and curtained a special picture he will unveil after the meal. Jazz music gently plays in the background.
The walls already display pictures of black suffering. There is a picture from Ferguson where Michael Brown was killed by police and Glenn Ligon's picture Hands which give us a mass of outstretched hands at the Million Man March.
Although Charlotte is not sure she wants to sell her work to Charles, she describes her current project, which involves restaging the 2015 racist shooting by a white supremacist of nine African Americans in a Charleston church.
The atmosphere is pleasant and relaxed despite the occasional clumsy comments of the white hosts, Charles and his wife Virginia (Kate Copeland). However, conversations become more heated when their son Alex (Nick Blakeley) arrives back from an anti-Trump protest.
A supporter of Black Lives Matter, Alex is less impressed with their plans to purchase pictures of black suffering, pointing out that Charles earns his wealth from building prisons which disproportionately lock away African Americans. That's a bit of an issue to Charlotte who regards racism as an outcome of corporatism. To cap it all, Charles unveils his new acquisition, a picture of Michael Brown's autopsy, which shocks and disgusts Charlotte and Alex.
The last third of the play takes place one year later when Charlotte has modified her views. Charles arrives at her studio by arrangement to find out why she donated her recent pictures to a museum rather than sell them to him.
She explains that she no longer creates pictures of black people suffering because that just contributes to a "black death spectacle" and a process of cultural appropriation. It feels to her as if, even in death, the victims of white violence were being carried in the hold of a ship. Comparing him to a white Ferguson policeman, she says, "his obsession with black people as criminals and yours with black people as victims are cut from the same cloth."
Charles argues that his purpose in acquiring such pictures is motivated by his horrified reaction to the 1998 racist murder of a black man dragged behind a truck for three miles. He argues that he didn't want to contribute to the silence, to the forgetting of the continuing suffering.
But Charlotte doesn't think the answer to such things is a "white saviour". Instead, she claims there needs to be a better understanding of the invisible white advantages of living in a racist world. That is what her new pictures will be meant to encourage.
This is an intense, riveting performance that tunes into some of the most difficult debates around the representation of racial injustice.
Reviewer: Keith Mckenna