The White Card
Claudia Rankine
Northern Stage, Leeds Playhouse, Birmingham Repertory Theatre and Soho Theatre
The Courtyard, Leeds Playhouse
–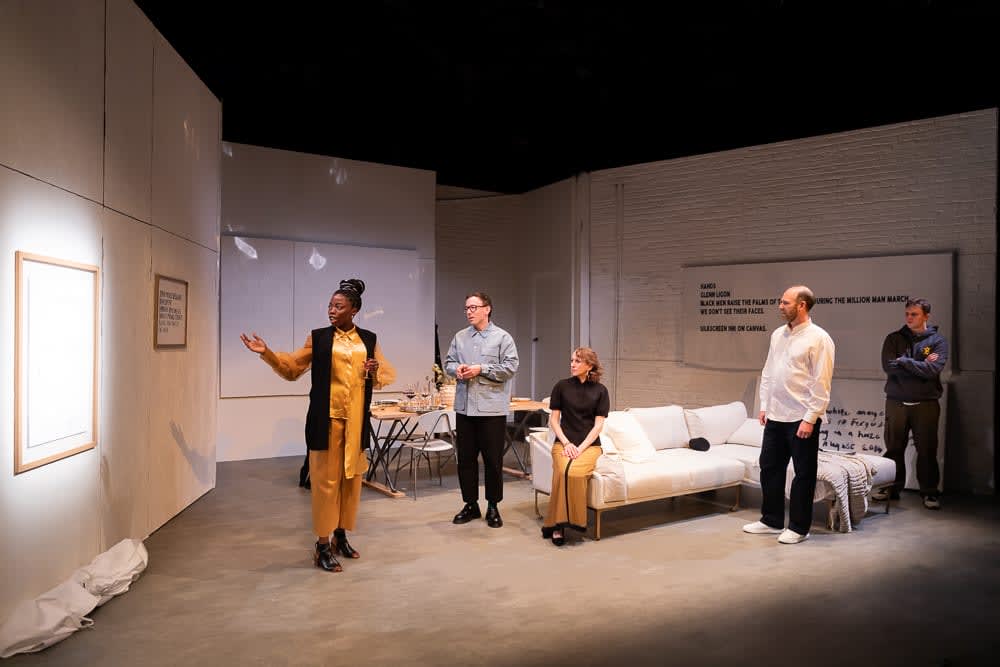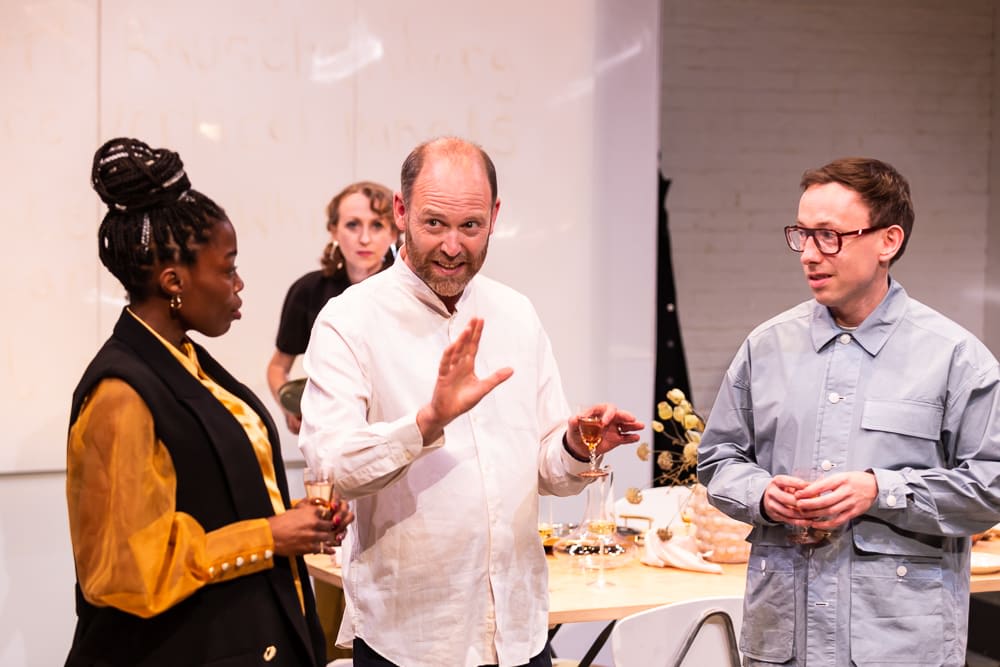 As I arrived at this UK première production of 2018's The White Card, I was curious about how Claudia Rankine's craft would translate to the stage. Her poetry collections are associative, cumulative, knotty and lyrical, for all their often conversational forms and academic underpinnings. They use cultural touchstone moments to scrutinise the experience of being black in a contemporary world that white people see as defaulting to their experience.
Director Natalie Ibu situates the play similarly, as occupying the space of discomfort created where white people want to help, but still don't seem 'to see (or want to see) whiteness. This space in The White Card is a dinner party thrown by a wealthy white art collector and his family and associate. Into the domestic space steps Charlotte (Estella Daniels), a successful black visual artist whom the others wish to woo, hoping that she will sell them some of her work and possibly act as a figurehead for their institution. The room is adorned with images of black repression and resistance; the family adore Serena Williams; the son, Alex (C J Coleman) comes home from an anti-Trump rally. They have even dismissed the maid for the evening, conscious of the optics—though not, it seems, overtly concerned about the politics—of employing a woman of colour to serve this particular meal.
While the collector, Charles (Matthew Pidgeon), and his wife Virginia (Kate Copeland) are entrenched in wealth unknowable to most and blunder smugly into performative allyship, the play astutely and sharply questions the white portion of the audience's own attempts to distance themselves from the actions and words of its characters. Even as I might gasp, wince, or laugh nervously at some of the more overt missteps and microaggressions we witness, I was conscious of how this reaction was itself trying to perform a gap between my own politics and those of the characters. It is also, ultimately, white capitalist structures, rather than specific instances of wealth, that are exposed here, and even just by sitting there in that theatre, we are complicit in these systems. The walls and furniture are blank, shimmering white, the play later alerting us to the myriad ways that this colour is so easily, but so wrongly, interpreted by white folk as neutral, an absence of any distinguishing feature.
Rankine's work has always been about art as well as about race, the American (or Western, Anglophone) experience, and much more. Though described as poetry, her books are woven through with striking imagery: reproductions of artworks as well as cultural images drawn from TV and other media. In Ibu's staging and Debbie Duru's set design, the well-known (and expensive) artworks mentioned by Rankine's characters are represented by white canvases, blank except for text describing their contents, materials and artists. The gallery text which usually accompanies such pieces has thus been made the substance of the art.
In this inside-out form, and in some of the questions it asks of its audience, I was somewhat reminded of Jackie Sibblies Drury's stunning Fairview. The White Card is not as playful and piercing in form as that play, but it pursues its own goals with similar prescience and perceptiveness. There are reversals and upsets, but to say more would be to co-opt some of the play's impact. It's a fantastic staging, well performed and always compelling. Rankine's play is avowedly a thought experiment which seeks to stage arguments through the words of its characters, but its rhythms are masterfully crafted and realised all round.
And its language is seared at the edges by violence. Looking at one of the myriad images of white on black violence referenced in the show, Charlotte observes, "it takes my breath away." Eric (Nick Blakeley) responds to an offer of a drink with "I won't twist your arm," and the special wine reserved for wooing this influential artist is named La Tache—'blood stain'—for its deep, indelible redness. Various flashpoints later arise, where aggression is exerted more overtly against Charlotte, whether through specifically selected words or, more shockingly and more to the point, by careless phrasings that enact the violence of incidental white supremacy. Rankine's eye is, as ever, impeccable.
Reviewer: Mark Smith