The White Devil
John Webster
Globe Theatre
Sam Wanamaker Playhouse, Shakespeare's Globe
–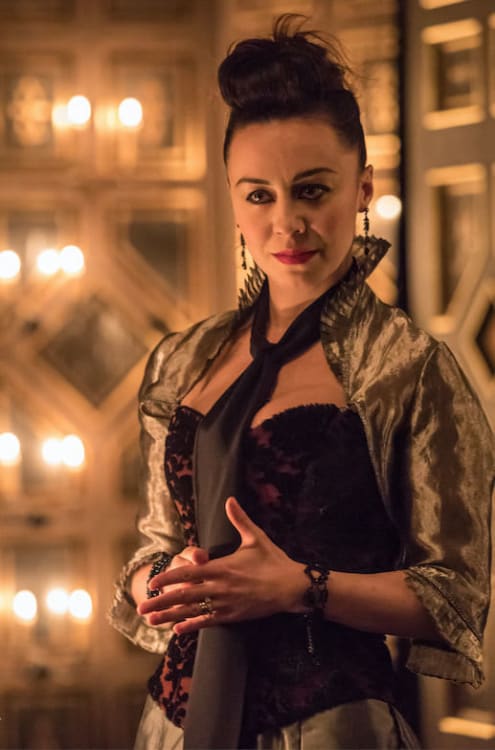 I don't recall having seen a Jacobean Revenge play so deliberately amusing as Annie Ryan's production of The White Devil.
Hardly a scene takes place without some character delivering a line or a gesture that had the audience laughing. If you were passing the Sam Wanamaker theatre, you might have imagined a comedy was in progress.
Joseph Timms is particularly effective as Flamineo, the fast-talking wide boy on the make, determined to sell his sister for advancement. He has impressive comic timing and dominates the show.
Jamie Ballard gives a mocking intensity to the superficial charm of the sexually predatory Duke of Brachiano.
Even scenes of murder are shaped to make us laugh. When Brachiano gets a conjurer to generate a dumb show of the murder of his wife Isabella (Mercy Ojelade) and his lover's husband, we get a version in the style of a silent movie comic melodrama with two characters finishing the scene by throwing up their arms in exaggerated shock.
However, the comic delivery of lines and the visual jokes don't detract from the very clear and lively presentation of the story. There are also some visually striking scenes. Vittoria's (Kate Stanley-Brennan) contradictory emotions and mixed physical reactions as she is reconciled with Brachiano is believable and moving
But the show does lose something of Webster's biting attack on the brutal corruption of the powerful. We don't get a sense of power differences between the characters though it is there in the words.
This even applies to the play's sharp account of the male abuse of women. Flamineo can refer to women as "mutton" and declare "women are like curst dogs: civility keeps them tied all daytime, but they are let loose at midnight."
It never carries any sense of injustice or threat. At most it gets a laugh. In the words of Donald Trump, it is simply "locker room talk", and that disguises the threat it poses to women.
One of the lost opportunities of this production is the court scene when Kate Stanley-Brennan gives a riveting performance as Vittoria being tried as a scapegoat for murders committed by men.
What she says is confident, eloquent and persuasive. She speaks as a strong assertive woman but the significance of what she has achieved by speaking this way is dramatically undermined by playing the powerful and dangerous male characters who circle her as clowns to laugh at.
Many people laughed at the picture of the UK Prime Minister holding hands with Donald Trump. It is not something she usually does with politicians and was probably unwanted on this occasion but she doesn't say so. Trump is a powerful world leader.
There's the problem with this production. It leaves things at a level we can laugh at.
Vittoria probably speaks for Webster when she says, "oh, happy they that never saw the court, Nor ever knew great men but by report."
This is a play littered with the dead and maimed bodies of women but what we get never allows us to appreciate Webster's depiction of the dangerous cruelty of those in power.
This production is fun but it should be more than that.
Reviewer: Keith Mckenna