The White Feather
Book by Ross Clark and Andrew Keates, music and lyrics by Ross Clark
Arion Productions
Union Theatre
–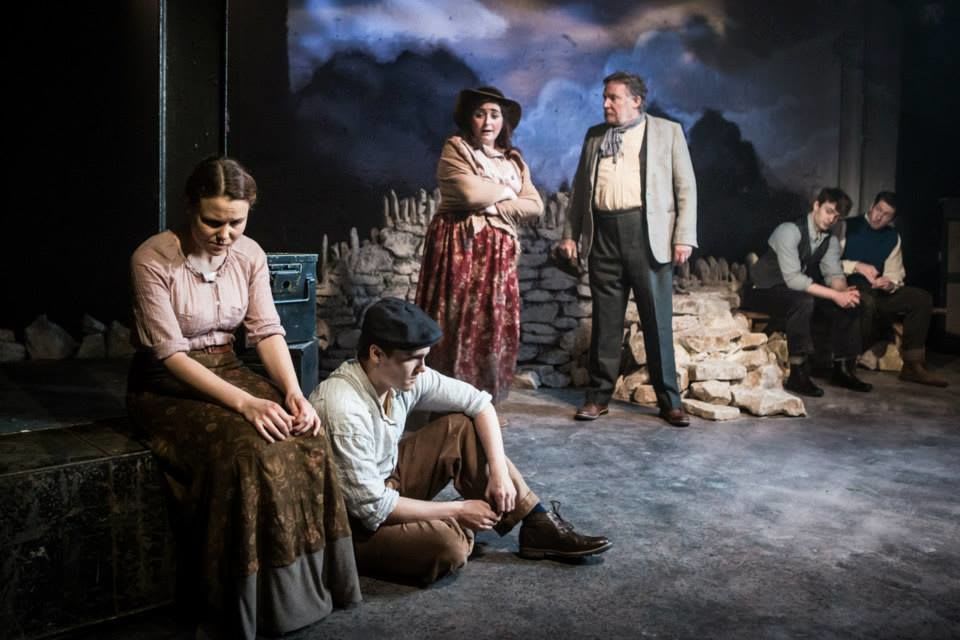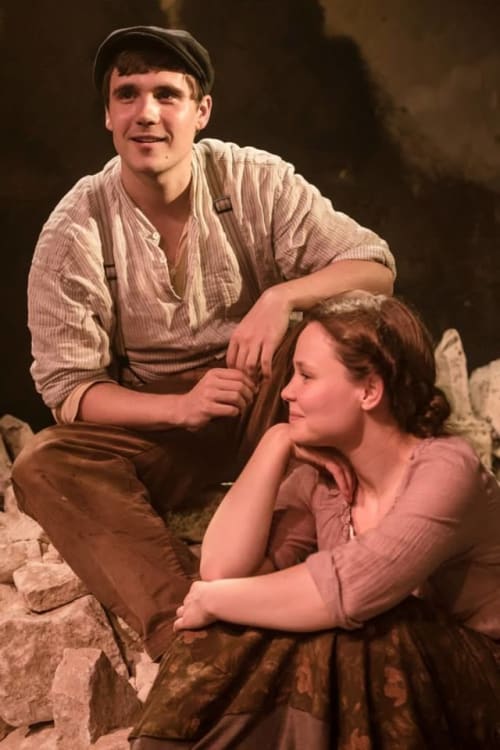 The Armed Forces Act of 2006 granted a symbolic pardon to soldiers who were executed for cowardice during the First World War. This new British musical is the fictional story of one of them, a lad who volunteers when still under age in the early days of the war but it sets out to paint a much wider canvas.
It attempts to take in approaches to patriotism and class relations, secret homosexuality and pacifism and of course the white feather of its title with which some sought to shame those who had not volunteered for the slaughter.
The mood is emphatically English; Ross Clark's music often seems to have its roots in English folk song and those homegrown composers who celebrated the countryside. It opens with a sung celebration of Suffolk as Christopher Blades's farm labourer Willows sings "True Suffolk Man" and, though the action begins in the 1920s, moves back to the First World War, then on to modern times Natasha Prynne's costumes remain the same, rooted in a bucolic early twentieth century which makes a sharp contrast to scenes at the Front.
Tim McQuillen-Wright provides a permanent setting of a stone field wall with a stile in front of an atmospheric landscape that Neill Brinkworth's lighting can darken from a warm summer day to seem like a trench parapet below threatening gun smoke.
That sunny 1925 scene continues with a duet for a couple of young countrywomen, Emma and Hannah (Cameron Leigh and Kathryn Rutherford), about to set off to France where, they sing "In Paris We'll Learn to Dance" against which light-hearted high spirits are contrasted with the regret on the part of another local woman that her brother's name does not appear on the newly-erected war memorial. This is Georgina Briggs and this is largely her story and that of her brother.
Abigail Matthews's Georgina is fresh-faced and innocent; though sometimes lacking in volume and projection, she sings with great charm and an emotion that makes up for occasional lack of verbal clarity.
The scene now shifts back to 1914 when Georgina and her brother Harry (Adam Pettigrew), a lad of only sixteen, are burying their father. Alost immediately he is ordered back to work by Willows though their employer, landowner Adam Davey (David Flynn), shows more compassion for the bereaved children.
The war has begun and the recruiters are out. Soldiering sounds exciting as well as patriotic and Harry, though underage, wants to volunteer. He can't be dissuaded and takes the King's shilling. His older friend Peter later follows him but Mr Davey holds back.
A young man called Edward who is part of his household, who seems to have some medical problem to keep him civilian, urges him either to marry (for only single men were then being called on) or to enlist. White feathers, that symbolic accusation of cowardice, send by Emma and Hannah drive him to sign up but not before he has asked Emma to live in his manor house and run his farm and his household.
At the front, Adam Davey has both Harry and Peter under his command. When they all come home on leave, it is clear that Harry's nerves are shattered but they go back to France, Harry breaks down when an attack is ordered and, since refusing the order is seen as cowardice, ends in front of a firing squad. That's why he is not on the war memorial.
Returning home, Adam marries Georgina and Edward is sent away when he tries to continue their relationship but when Georgina discovers Adam's involvement in her brother's death she walks out on the marriage. The rest of the story concerns her trying to clear her brother's name and a partial reconciliation.
Along the way there are lilting tunes including a gentle and touchingly sung romantic duet for Adam and Georgina, a disturbing report of trench life movingly sung by Lee Dillon-Smith as Peter and a sardonically escapist number for Zac Hamilton's trouble-eyed Edward.
It is a cast that work well as an ensemble as well as in creating distinctive characters with one of the strongest performances coming from Katie Brennan as villager Edith. Andrew Keates's direction creates a rather romanticised view of Suffolk village life, which serves to emphasise the contrast with the trenches while Georgina's gentleness belies the firmness with which she can run a farm and the determination with which she pursues justice for her brother's memory.
Clark and Keates have tried to pack a great deal into this work and, though the time sequence would be confusing without the scene list in the programme, have created a chamber musical that is a reminder of how many ways people suffered in the 1914-18 war. Though its subjects are serious it isn't gloomy, its music and choreographic touches still leave one smiling.
Reviewer: Howard Loxton