The White Witch of Rose Hall
Simon James Collier
Joseph Jeffers
Broadway Theatre
–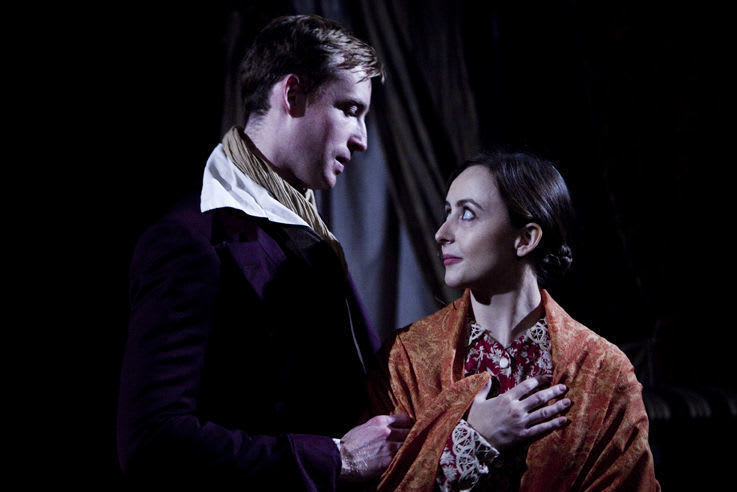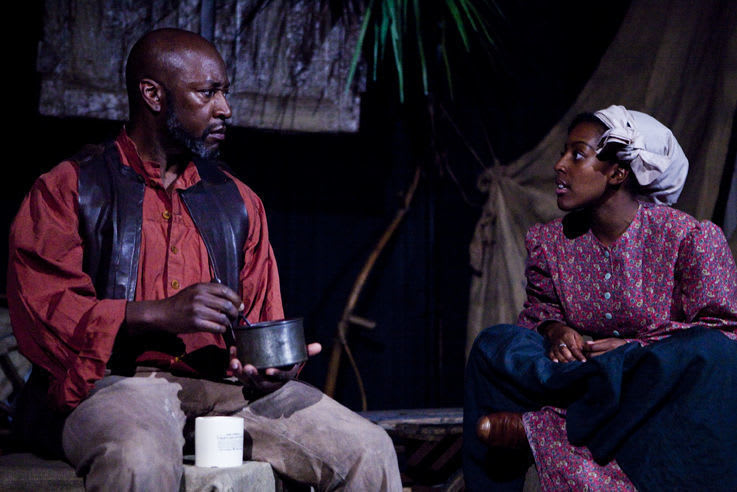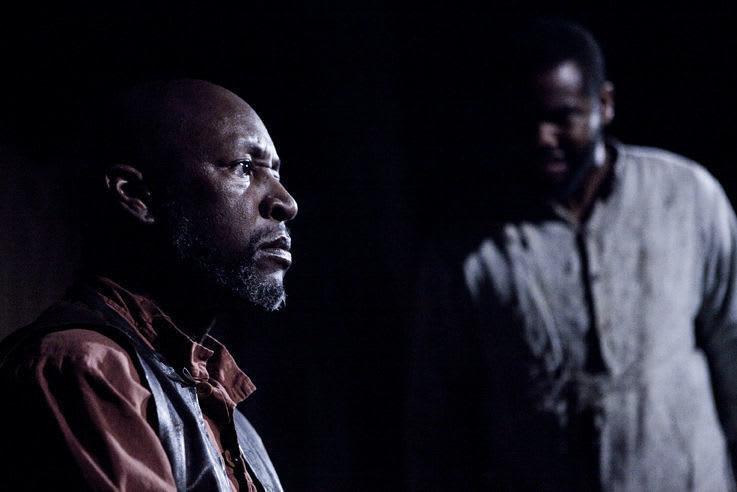 This is a complex Caribbean story based on real events that took place on the Rose Hall Plantation near Montego Bay in Jamaica.
The true facts are difficult to ascertain, but oral tradition has turned them into a tale well-known in Jamaican folklore and Johnny Cash's "Ballad of Annie Palmer" is one version of it.
This version places the story in the first half of the nineteenth century near the time when slavery was abolished in the British Empire and begins when Robert Rutherford, a young Englishman, arrives to take up a job as a bookkeeper on the Rose Hall plantation.
Rutherford (Tom McCarron) becomes the centre of a love-triangle involving the plantation owner Annie Palmer (Gemma Rook) and a free black girl called Mille (Alicia McKenzie) who decides to become his servant to be close to him. Rutherford tries to avoid involvement with either but his wish not to offend perhaps makes Annie misunderstand the situation and he is clearly becoming fond of Mille, which isn't surprising when she is as lively and attractive as McKenzie makes her.
Annie Palmer, who has spent her earlier life in Haiti, has learned skill in witchcraft and voodoo and has an uncanny power over her slaves and those who go against her. We see just how violent and sadistic she can be in scenes in which she and her slave master Ashman (Robert Pollington) torture and then kill a captured runaway (Nathan Abadadze). In legend she is said to have murdered the husband who brought her to Rose Hall and also killed two more.
The situation is complex if you don't know much about Jamaican history which sometimes makes the detail in Simon James Collier's version a little difficult to follow, but he makes the most of the clash of personalities in this dramatic story and Omar F Okai's direction exploits the drama with beating drums an Obeah woman (Hawa Khan) trying to counter Annie's spells and a joyful scene of dancing welcome for Rutherford from Millie's people.
The action is intentionally melodramatic with Annie energetically casting jagged-gestured conjurations. Rook's straight-backed, upper-class English voice and manner could make her viciousness and ruthless sexual manipulation even more disturbing but fearsome, though she needs more projection for the malevolence inside her to be felt by the audience.
As happy-hearted Millie, Alicia McKenzie has perhaps an easier task but she charmed the audience as completely as she beguiled Rutherford with immaculate timing of every glance. McCarron's Rutherford suggests the quandary the man is but the script does not develop the character and though he comes over as likeable and well-meaning, the actor little chance to reveal real character in this fast-moving production. He seems to have fled Bristol after killing a man, but this past is barely mentioned.
Despite his propriety, Burbidge, Rutherford's colleague in the plantation office, has followed local sexual arrangements, which gives Alec Gray a sliver on which to develop his character, but he is limited by his place in the story. Millie's father Takoo is introduced in a slower-paced night scene, and this enables Michael Smith-Stewart to exploit his strong stage presence and rich vocal power.
A faced-paced production and rapid delivery from most of the actors sometimes left me playing catch-up, but the majority of the audience I saw it with seem to have been brought up with the story and were with it every minute. They gave it a satisfied and very enthusiastic reception.
Reviewer: Howard Loxton