The Who's Tommy
Music and lyrics by Pete Townsend, additional music & lyrics by John Entwistle & Keith Moon
The New Wolsey Theatre Ipswich in co-production with Ramps on the Moon
Birmingham Repertory Theatre
–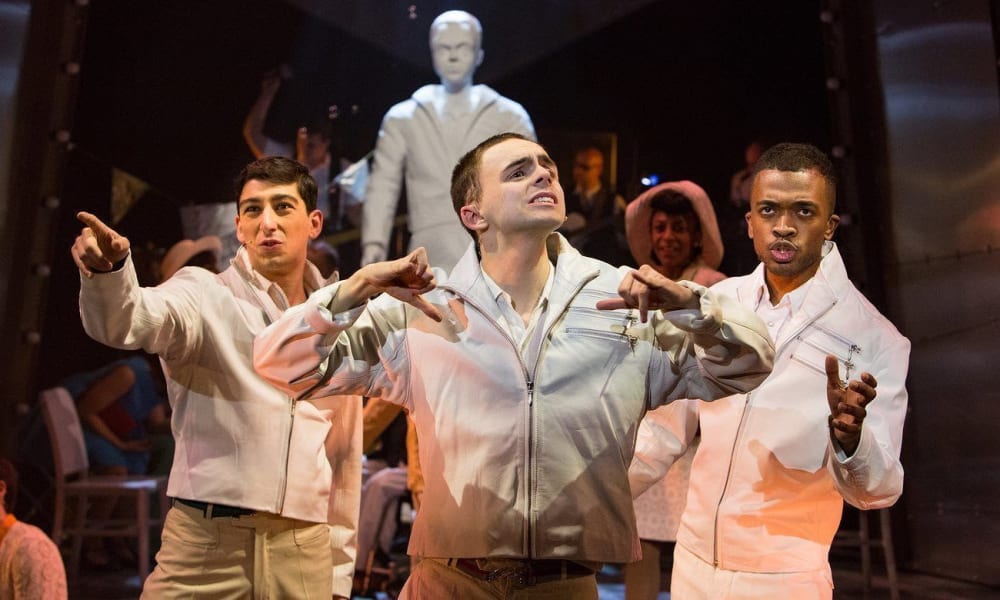 The latest incarnation of The Who's Tommy takes us on a truly bizarre, opulently surreal rock opera journey through the life of a "deaf, dumb and blind kid" whose pinball wizardry propels him to Messianic heights.
The action, performed by disabled, deaf and abled performers alike, unravels on a set resembling the chrome interior of a space rocket, at the back of which the live band delivers an updated version of Townsend's 1969 concept album.
This production lends itself to a stinging critique of the treatment of the disabled, indeed opens with an image of Donald Trump mocking a disabled reporter. Evidently, Ramps on the Moon is making bold moves in the direction of achieving a "step change in the employment and artistic opportunities for disabled performers and creative teams, and a cultural change in the participating organisations to enable accessibility to become a central part of their thinking and aesthetics."
The story begins logically enough. Nora (Donna Mullings) marries Captain Walker (Max Runham) during the war and, whilst carrying his child, receives the news that he has gone missing in action. Years down the line, child in tow, she meets Frank (Alin Jayda) with whom she settles down, only for her husband to return.
A fight breaks out and little Tommy (singularly portrayed from childhood right through into old age by William Grint) witnesses the murder of her father by his stepfather, an event so traumatic it causes him to retreat into a world sans sight, sound and touch. As he grows up, he is subjected to further physical abuse as well as to the useless ministrations of an inflexible and arrogant medical fraternity.
The story hurtles at a pace and the stage bustles ceaselessly with movement and dance as well as with signing for the deaf, which is integrated dextrously into the performance as an added theatrical element. The plot jolts along in so many unexpectedly weird and disturbing ways, to music that is simultaneously catchy and off-kilter, that one barely stops to consider the bizarreness of it all until it's all over.
The superlatively creepy Uncle Ernie (Garry Robson), for example, who pops into the Tommy household to do some light, avuncular fiddling, is given his own unnerving soundtrack, while Tommy's sadistic cousin Kevin (Lukus Alexander) drops by to engage in some casual, bathroom cruelty before graduating Tommy to the playground where the bullying can continue en masse. Tommy's father, meanwhile, hovers spirit-like in the background, melodiously urging his son to "See me, feel me, touch me".
Here the narrative enters less logical territory. Tommy is given some kind of ambiguous "treatment" at the hands of Peter Straker's Acid Queen, an outrageous drag-queen with exorbitantly priced "healing" powers. Tommy's legendary pinballing, as well as his partial recovery, elevates him to superstar status and he becomes a figure of hope to those who are similarly afflicted, while his erstwhile abusers become fawning sycophants and sharers of the limelight. No poetic justice here, then.
Amy Trigg's Sally Simpson is beguiling as the callow, velvety-voiced super-fan who crumples at Tommy's feet while it is difficult to determine which the ubiquitous and mercurial Becky Barry plays more of over the course of the evening: roles or instruments.
One wonders if the stage is a little too clamorous at times. The lyrics may tend towards the simplistic and the captioning could serve as a compulsive distraction to those who don't need it, but this is to nitpick.
It is thrilling to feel the hard-edged chords vibrate through the very fabric of the building and uplifting, not to mention revelatory, to see so many remarkable performers, who might otherwise have gone overlooked in an industry preoccupied with physical perfection, pulled together in one riotous whole. Why has British theatre, so concerned with capturing reality, so systematically discounted physical diversity in the past? And how many more disabled, yet brilliantly able, performers have had their careers unfairly hampered over the years?
The storyline may make you queasy at times but this anarchic, kaleidoscopic and captivating production picks you up from the very beginning and only lets you down when the final, sustained twang has sounded.
Reviewer: G. Mills