The Who's Tommy
Music and lyrics by Pete Townshend, book by Pete Townsend and Des McAnuff, additional music and lyrics by John Entwistle and Keith Moon
A New Wolsey Theatre Ipswich production in co-production with Ramps on the Moon
The Crucible
–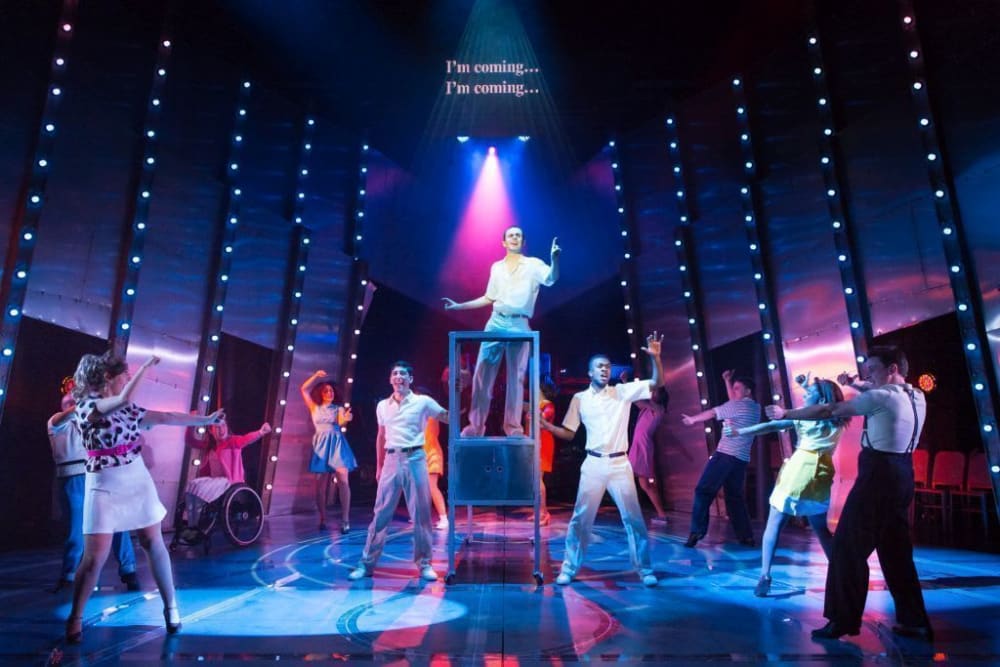 This is the most exciting musical show to have reached the Crucible Theatre for some time.
Tommy is an innovative rock opera, first staged in 1979 based on a concept album released by The Who ten years earlier. The production is impressive not only for the blasting power of the music but for the inclusivity of the casting and staging.
Ramps on the Moon is a theatre project which draws in a wide range of theatre companies, national, regional and with specific interests, to present work which celebrates the ability of disabled performers and integrates them, as equally talented actors / singers / musicians and dancers in a show that includes non-disabled artists.
Tommy tells the story of a child who is traumatised when he witnesses the shooting of his father by his mother's new husband (father having been presumed dead in WW2) and retreats into "locked in" syndrome, symbolised by his obsession with staring into a mirror when life becomes unbearable.
The first half of the show pulls no punches. He is abused by his uncle, bullied by his cousin, subjected to ineffectual medical treatment and just saved by his new father from some kind of exploitative sex cure. Meanwhile, the music gives us wonderful numbers, like the plangent "See me, Hear me, Touch me, Heal me" performed by Max Runham as Tommy's real father, who is not so much a ghost but someone who appears from time to time as Tommy's alter ego, voicing what he is unable to say.
Meanwhile, there are superb numbers like "Acid Queen", brilliantly delivered by Peter Straker in a glittery frock, and "Pinboard Wizard" when Tommy discovers his exceptional skill, an ensemble piece which sets the house alight.
Director Kerry Michael has been particularly astute in his casting. Tommy is played by William Grint, who takes us through from a boy in short trousers riding a tricycle to a Messianic figure adulated by hysterical fans. This is a compelling performance since William is deaf and vocally impaired, and although he is 'voiced' effectively by Matthew Jacobs-Morgan and Julian Capolei, who both sing wonderfully, William holds the stage throughout and is persuasive and moving as the central character.
The same can be said of Donna Mullings as Tommy's mother, again deaf with vocal impairment, who plays the part with emotional integrity and is brilliantly voiced by Shekinah McFarlane, who is her stage shadow and has a gloriously rich and powerful singing voice, reminiscent of gospel singers.
I particularly enjoyed the performances of Garry Robson as the repulsive paedophile uncle and Lukas Alexander as the bullying, sadistic cousin Kevin, both heartily booed at the end of the show, but this was a flawless cast in which everyone deserves a mention.
The music, performed by Tony Quinta, Steve Simmonds and other musicians who doubled up in acting roles, is compelling.
Some members of the audience will have come because they grew up with The Who, and others, much younger, will have listened to their parents playing the music or discovered it for themselves. There was a huge buzz in the interval, maybe because people were talking about attitudes to disability in the late 1960s and how things have moved on since then in terms of representation, inclusivity and a more sensitive use of language.
Ramps on the Moon should be congratulated on its commitment to making its work "more diverse, inclusive and representative of all those living in our communities". This is a really exciting, ground-breaking show.
Reviewer: Velda Harris