The Who's Tommy
Music and lyrics by Pete Townshend; book by Pete Townshend and Des McAnuff; additional music and lyrics by John Entwistle and Keith Moon
New Wolsey Theatre, Ipswich and Ramps on the Moon
West Yorkshire Playhouse, Leeds
–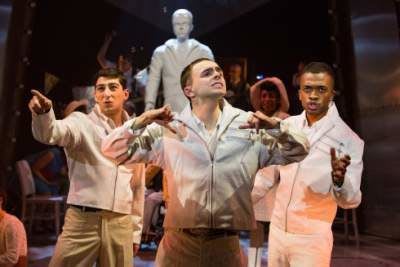 It's been nearly 50 years since The Who released their breakthrough album Tommy (1969) to great critical and commercial acclaim. Since then, Pete Townshend's rock opera about a "deaf, dumb and blind kid" who "sure plays a mean pinball" has enjoyed several noteworthy reincarnations.
In 1975, the eccentric British filmmaker Ken Russell (Women in Love, The Devils) turned Tommy into an equally eccentric film, with a star-studded cast including Ann-Margaret, Oliver Reed, Tina Turner, Elton John and Jack Nicholson. In 1979, the album received its first live staging at the Queen's Theatre, London. In 1992, it was turned into a lavish Broadway musical, winning five Tony awards, including one for Townshend's score.
Tommy must surely have one of the most bonkers plots in all musical theatre. In 1945, four-year-old Tommy Walker (William Grint) witnesses the murder of his father, Captain Walker (Max Runham), at the hands of his mother's boyfriend, Frank (Alim Jayda). To clarify, Tommy's mother, Nora (Dora Mullings), embarked on this new love affair after being told by military officers that her husband had gone missing and was most likely dead; in fact, he was languishing in a German POW camp.
The trauma of witnessing his father's death renders Tommy blind, deaf and dumb. The next few years of his life are unbearably grim as his catatonic state makes him easy prey for the attentions of Uncle Ernie (Garry Robson), a grinning pederast, and Cousin Kevin (Lukus Alexander), a pint-sized sadist who delights in torturing him when his parents are elsewhere.
However, things take an unexpected turn for the better when Tommy discovers a talent for playing pinball, which makes him a local celebrity. He eventually regains his senses and this miraculous recovery results in him becoming the head of a new pseudo-religious movement.
Tommy is the second production to emerge from the Ramps on the Moon project, which is devoted to making theatre a more inclusive experience. The 22-strong cast includes a mixture of D/deaf, disabled and non-disabled performers, and the production includes surtitles, audio description and sign language. Far from being an imposition on the musical, this approach feels absolutely right. After all, Tommy is a musical in which the title character is disabled as the result of extreme trauma, and we watch in horror as he is mistreated and misunderstood by those around him.
William Grint—one of the production's deaf performers—excels in the title role, powerfully conveying the character's sense of entrapment and deep longing for his deceased father. The device of having two other actors provide his singing voice (Julian Capolei and Matthew Jacobs-Morgan) cleverly demarcates the difference between his internal and external selves. Similarly, Nora is movingly played by deaf performer Donna Mullings, but the character's inner thoughts are articulated through the powerhouse vocals of Shekinah McFarlane.
The multi-talented cast—many of whom dance, sing and play musical instruments—are truly exceptional. Lukus Alexander plays Cousin Kevin with demonic glee and Garry Robson is suitably loathsome as Uncle Ernie. In stark contrast to these two monsters, Max Runham gives a lovely, touching performance as Tommy's deceased father. There is also a show-stealing turn from Peter Straker as the Acid Queen, the role made famous by Tina Turner in the film. His performance is every bit as full-blooded and eccentric.
Neil Irish's folding metallic set and Arnim Freiss's striking lighting designs combine to make Tommy a visually spectacular production. I was also hugely impressed by Mark Smith's thrilling and dynamic choreography, which manages to integrate sign language into the performers' movements in a way that feels natural and seamless.
I'm not particularly fond of The Who's music and I have some reservations about Tommy's ludicrous plot, particularly in the second half where our eponymous hero becomes a messiah-like figure. Despite these quibbles, I was bowled over by this bold, kaleidoscopic production, which bursts with energy and invention.
Reviewer: James Ballands