The Wicker Husband
Book by Rhys Jennings, music and lyrics by Darren Clark, based on a short story by Ursula Wills-Jones
Watermill Theatre Company
Watermill Theatre Newbury
–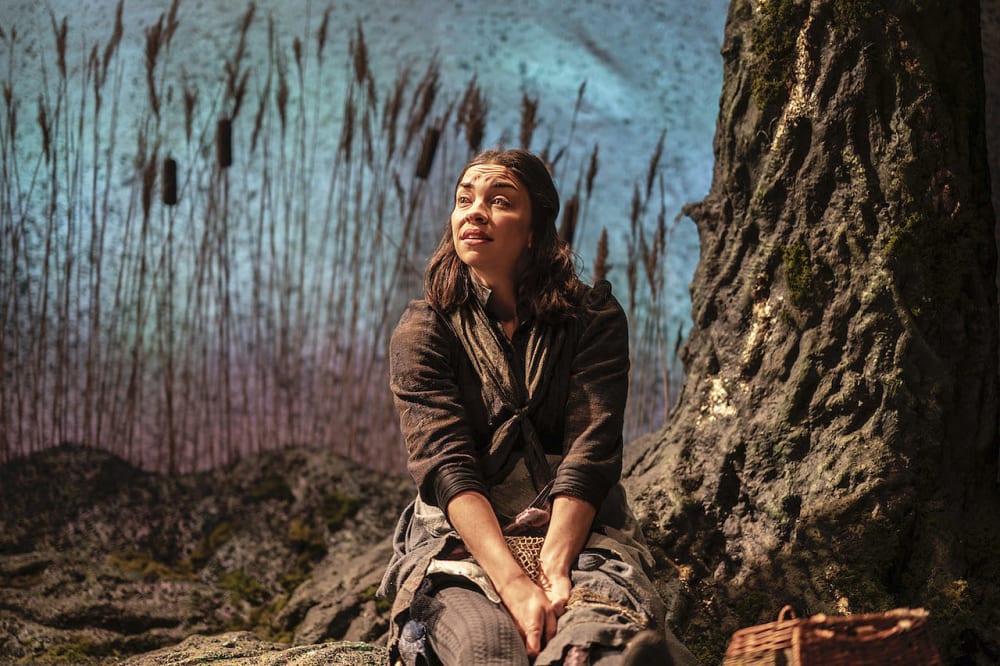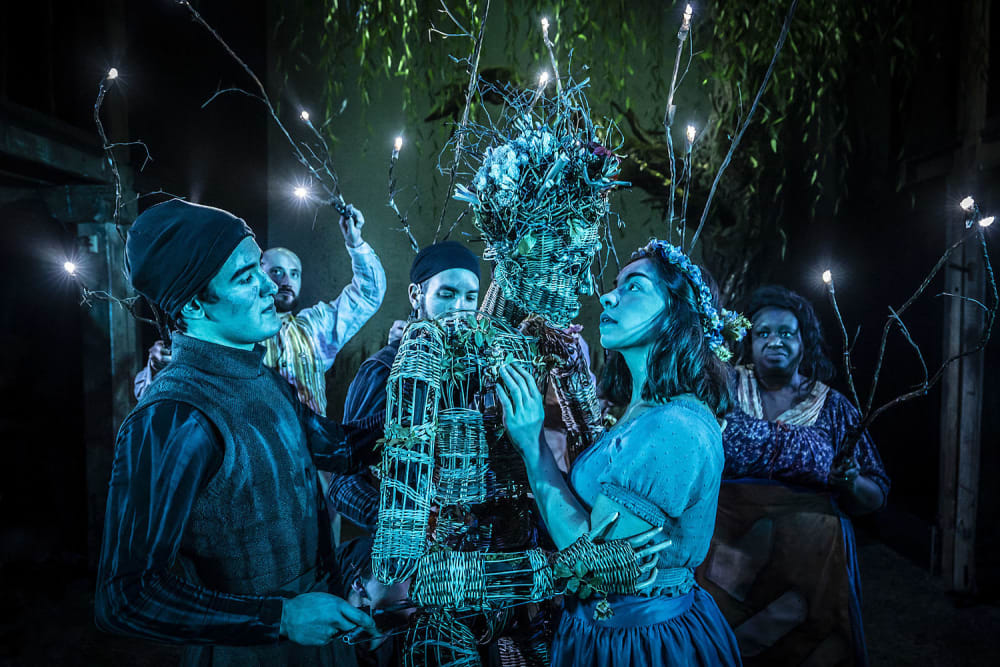 Receiving its world première this week, The Watermill Theatre's magical production of The Wicker Husband is an absolute delight. It's performed with energy and panache from a wonderfully multi-talented cast of actor-musicians whose enthusiasm is a joy to watch.
It's an inspiring, uplifting folk musical based on a short story by Ursula Will-Jones where outsiders are ostracised by the villagers and in particular the poor fish seller whom they call the Ugly Girl, an impressive portrayal by Laura Johnson.
She find solace from the willow tree by the river where she confines her innermost thoughts whilst catching and gutting her fish. But her life is to change forever when a wicker dog called Basket steals her catch and she meets the Old Basket Maker, an outstanding, powerful performance by Julian Forsyth, who commands the stage and agrees to weave her a loving wicker husband.
As a life-sized puppet designed and built by Finn Caldwell (War Horse) and skilfully operated by Eilon Morris and Scarlet Wilderick and voiced by Yazdan Qafouri, who sings beautifully, the Wicker Man is meticulously brought to life and the marriage is arranged.
The jealous villagers plan a vicious plot to thwart the love that the Ugly Girl feels for her Wicker Husband with disastrous results.
Zoë Rainey is the elegant Tailor's Wife who has lost her baby but considers herself to be a class above the villagers, whilst her husband (Jack Beale) is very much under her thumb and longs to escape her dominance.
Angela Caesar is the vivacious Cobbler's Wife whose assertive husband (Stephen Leask) is determined to create havoc to the couple, as the Innkeeper (Jonathan Charles) and his wife (Claire-Marie Hall) join in the hatred of the Ugly Girl and her new found happiness.
The music and lyrics by Darren Clark conjure up a rich tapestry of ballads and uplifting soaring chorus numbers, all superbly performed by the accomplished cast under the on-stage direction of MD Pat Moran and Jon Whitten.
There is so much to enjoy in this exuberant production from the striking choreography by Steven Harris to the rustic pastoral design by Anna Kelsey with atmospheric lighting by Hartley T A Kemp.
Directed with verve and élan by Charlotte Westenra, this joyous production thoroughly deserved its spontaneous audience standing ovation.
Sadly, the current coronavirus resulting in the closure of theatres has meant that audiences will miss this moving production. Hopefully it will be able to be re-scheduled and it's not to be missed.
Reviewer: Robin Strapp